2012 draft class helps power Warriors to finals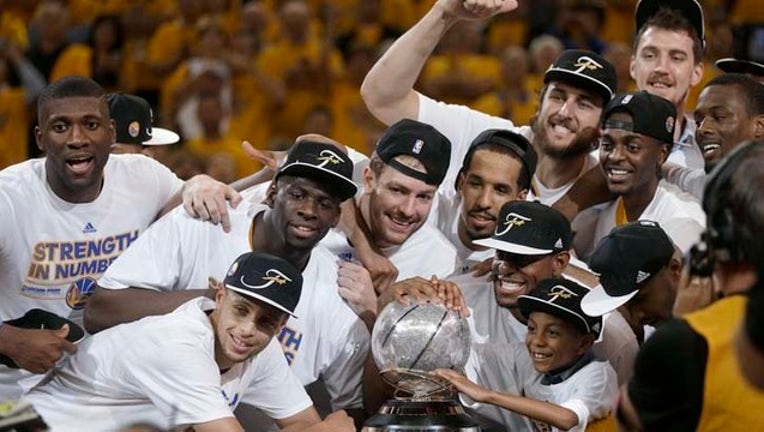 OAKLAND, Calif. (KTVU) – It's hard to get just one gem in an NBA Draft class, just ask the Golden State Warriors.
Over the years, the team has selected such draft busts as Ekpe Udoh, Richard Hendrix, Anthony Randolph, Jermarco Davidson, Stephane Lasme, Patrick O'Bryant and Ike Diogu.
So one has to marvel what the Warriors were able to do with the 2012 draft.
In the first round, Golden State selected Harrison Barnes with the seventh pick and Festus Ezeli with the 30th choice.
In the second round, the Warriors selected Draymond Green and Ognjen Kuzmic.
On Wednesday night, Barnes and Ezeli played pivotal roles in the Warriors 104-90 victory over Houston to advance to the NBA Finals.
Barnes scored 24 points – including a 2:20 run of nine straight points and two rebounds in a key stretch of the third quarter after Klay Thompson was injured – to give the Warriors what proved to be an insurmountable 87-72 lead.
Ezeli came off the bench to fill in for the foul-plagued Andrew Bogut to score 12 points and pull down nine rebounds – five of those on the offensive boards.
While Green had a subpar game, he still managed to score nine points, grab 13 rebounds, dish out four assists and block one shot.
The moment did not escape Barnes.
"Making the playoffs is not something I take for granted," he said at a post-game news conference. "I remember coming to media day (for draft picks) and the media asked me what do you want to accomplish this year – I said – 'Make the playoffs' and you all laughed."
"Three years later, we're going to the NBA Finals. I remember there was a special moment tonight when I looked down the court and it was me, Festus and Draymond on the court. We were all drafted together and just to go from where we started – not knowing how to play, just being rookies in the league – to now being able to advance to the Finals together. It was a special moment."