2nd teen arrested in brazen San Jose home invasion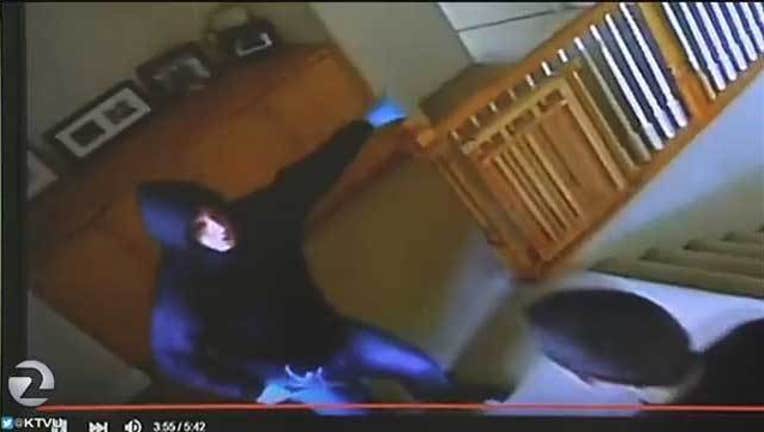 article
SAN JOSE, Calif. (KTVU) – A 16-year-old was arrested Thursday in connection with a brazen home invasion that occurred in San Jose last Friday.
The teen was being interviewed by robbery detectives Thursday and will be booked into Santa Clara Juvenile Hall.
This second arrest comes after a 17-year-old, whose image was captured by a surveillance video during the home invasion robbery, turned himself into police, authorities announced Wednesday.
The 17-year-old was booked into the Santa Clara County Juvenile Hall on home invasion robbery charges.
Investigators said the incident started as a home burglary and quickly became a frightening attack with the two women and a baby hiding in a locked bathroom as two suspects with knives tried to break down the door.
The video is hard for Bikram Jeet Singh to watch. He looks on as the two suspects make their way through his San Jose home with knives in their hands while his baby daughter is upstairs with two adult family members.
"It didn't look like a regular burglary," said Singh.
It was all caught on video on Friday morning just before 11 a.m. The camera in front of his house catches one suspect walking up to the front door.
"He rang the doorbell and when [there was] no response, he goes back and get the other guy. The one with the gloves," explained Singh.
The two men entered the home through the back door.
Singh's wife Bani Kaur told KTVU the door wasn't locked because family members had been spending time outside that morning. The video shows the two men going through drawers and arming themselves with knives before they went to the family's cordless phone.
"They disconnect the landline, so none of them was working," said Kaur.
The video shows both men systematically going through the house room by room. It was when they went upstairs that they discovered the two women and a 1-year-old girl.
Kaur told KTVU they initially hid in the back bedroom.
"They [the suspects] start kicking the door and they start to attack them with the knife and the knife came to the side of her. She got scared and immediately ran to the bathroom and the locked themselves in the bathroom all three of them," said Kaur.
They tried multiple times to get into the room, stabbing at the door with their knives and kicking a large hole in the door. They finally gave up and left. The women used a cell phone to call for help and no one was hurt.
The family had followed the advice of authorities and shared the video on YouTube in the hopes of catching the two suspects responsible.
At this point, additional details in the arrests have not been released.