9-year-old boy gets prosthetic hand thanks to South Bay 8th grade tech class
SAN JOSE, Calif. - It's not often that you can combine book smarts with a life-lesson, but a South Bay school has manged to do both. A 9-year-old boy now has a prosthetic hand all thanks to a high-tech class of Bay Area 8th graders with big hearts. 
Ripping a piece of paper never felt so good. Trent Desantis is a third-grader at the Almaden Country Day School in San Jose. He was born without a fully-formed right hand. When his mother discovered the school had a 3D modeling class, she challenged the 8th graders to make a prosthetic hand for her son. 
Joanne Papini teaches the makers' space class. 
"Oh yeah, that sounds great, we'll look into that for sure," Papini said referring to her initial reaction to the challenge. "And then I sort of panicked a little bit and sort of thought, 'Oh boy, I've got to find some kids that are up for this challenge.'"
"It was definitely a big undertaking. 'OK a hand. Yeah, yeah, yeah…cause that's easy,'" said Sara Vender, an Almaden Country Day 8th grader. 
The class wasted no time and kicked their 11 3D printers into overdrive. 
Vender and fellow student Lynx Chiang led the charge. Armed with online instructions, within a month, they had a trial hand. 
"This is our prototype hand. It is way too small," said Vender.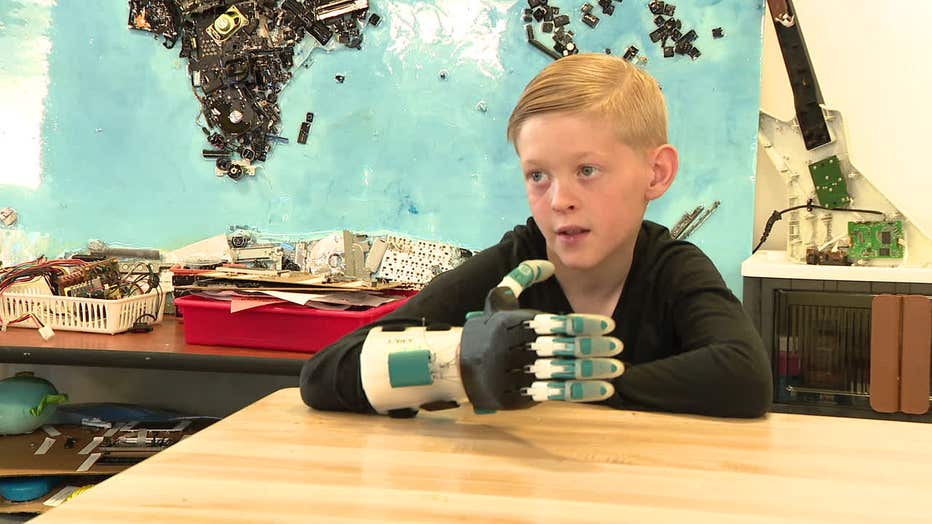 A few tweaks later, hand number two was complete. It was good enough for Trent to give this prototype a test drive. 
With this hand, he was able to grip a bottle to the cheers and encouragement of the makers' space class. 
"We were all screaming. We just went nuts," Papini said. "It was very, very exciting." 
"I feel thankful and I was so grateful for them," Trent said. "And I couldn't wait to try it on and do stuff I wouldn't have been able to do before." 
Trent is now able to do things most of us take for granted; like grip a tennis ball, make a few jump shots on the basketball court. He's even using the doorknob to open the front door to his home for the first time, all because of his new right hand. 
How about a handshake? Yep, Trent's got it down. 
And he can now even do some tasks that are more chore-oriented, like holding a leash to walk the dog and emptying the dishwasher. 
Trent's new hand has changed his world all thanks to some very smart and caring teenagers. 
"This project should be designed for high school and college-level students, but we were able to do it, so I'm really proud of us," said Chiang. 
"I was just proud that we were using our resources and our abilities and it was actually going to impact someone's life in such a positive way. And we weren't just making something for ourselves, but something that could help someone else so much," said Vender. 
Trent walked in to a hug-fest when he showed off his new hand to his fellow third-graders. 
You might have noticed the teal, black and white color-scheme of Trent's prosthetic hand. That's because he's an enormous San Jose Sharks fan. On a scale of 1 to 10, he said his infatuation for his team is off the charts. He likes them at a 10 or maybe even an 11. That's some high praise. 
He even got a visit from the San Jose Sharks mascot, 'SJ Sharkie'.
With all the kids involved in this story, we can certainly say the future is looking bright.