9-year-old vanishes after bike ride during family camping trip
A massive search is underway for a 9-year-old girl believed to have been abducted from Moreau Lake State Park in New York. 
Charlotte Sena was last seen on Loop A at approximately 6:15 p.m. Saturday wearing an orange tie-dye Pokémon shirt, dark blue pants, black Crocs and a gray bike helmet, New York State Police say. 
The child is described as being White with blonde hair, standing 5-foot-1 and weighing 90 pounds.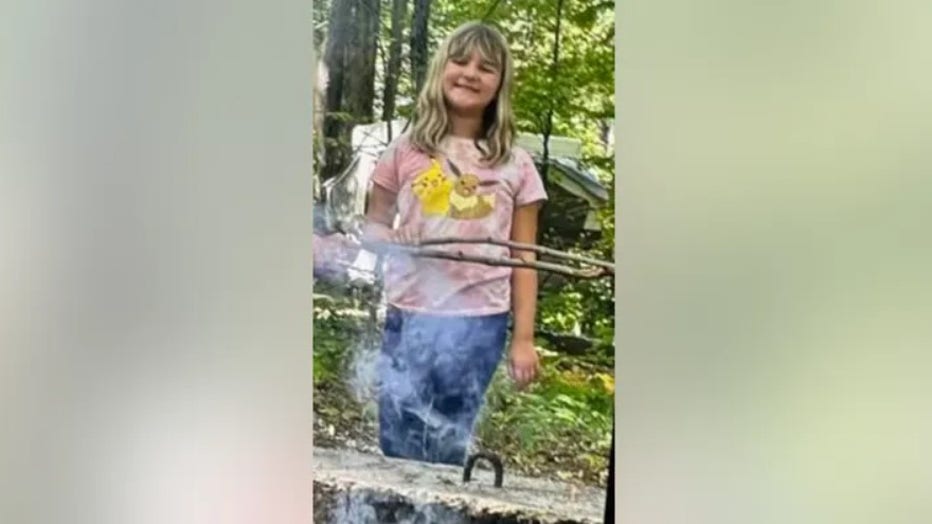 New York State Police shared this photo of Charlotte Sena, 9, who went missing from her family campground at Moreau Lake State Park. (New York State Police)
"The child was taken under circumstances that lead police to believe that they are in imminent danger of serious harm and/or death," the National Center for Missing and Exploited Children stated online. 
VIDEO: FACIAL RECONSTRUCTION SCULPTOR REBUILDS CHILD VICTIM IN BID TO IDENTIFY JANE DOE
Sena was on a camping trip with her family and disappeared after going for a bike ride in the park, the Times Union reports. 
Police received the call about her disappearance around 6:45 p.m. Her bike was apparently found, but it is not clear whether it was located by family or first responders.
"She is a highly intelligent, adventurous 9-year-old – but obviously this is out of character for her," State Police Troop G Public Information Officer Stephanie O'Neil told the Times Union. 
SINISTER CONNECTION TO MISSING WOMAN LAST SEEN LEAVING TEXAS BIKINI BAR
Sena is from Saratoga County. Multiple agencies are using helicopters, bloodhounds, K-9s, air boats and ATVs to try to find her. 
Anyone with any information is asked to call NYSP at 518-457-6811, dial 911 or email crimetip@troopers.ny.gov.
Read more of this story from FOX News.