Active shooter, Navy medic shot and killed at Ft. Detrick identified; 1 victim in critical condition
FREDERICK, Md. - A U.S. Navy medic, who authorities say shot and wounded two people at a Frederick, Maryland business park, was shot and killed at Ft. Detrick Tuesday morning during an incident that left the military installation and schools in the area on lockdown for several hours.
Frederick County authorities gave an update Tuesday afternoon, confirming the identity of the 38-year-old shooter as Fantahun Girma Woldesenbet, saying he used a rifle.
The gunman allegedly shot two men around 8:20 a.m. at the Riverside Tech Park in the 8400 block of Progress Drive. The two victims, both men, were flown to Shock Trauma in Baltimore. One remains in critical condition while the other was released from care, late in the afternoon.
One of the victims ran into a nearby business, Nicolock Paving Stones, searching for help.
"He was just ghost faced and he was just terrified and telling us that he had been shot, there's an active shooter, he was covered in blood, and that he was still being followed," said Nicolock Paving Stones operations manager Garett Wagner.
Wagner says he ran to warn other employees to take cover, while others applied pressure to the victim's wounds.
"It's tough seeing somebody like that, but we did what we could and I think we did everything right," Wagner said.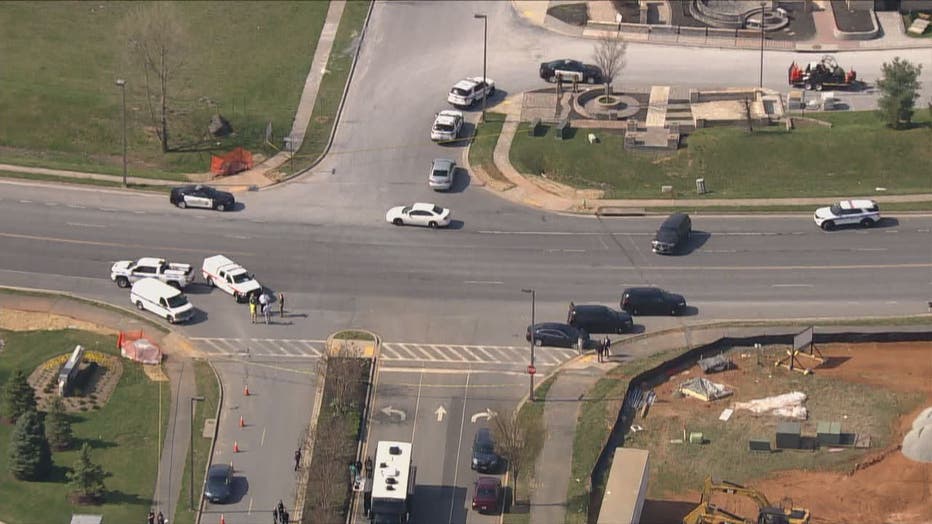 According to authorities, the shooter then drove to nearby Ft. Detrick where he breached the Nalin Pond gate off of Opossumtown Pike. Within minutes, the shooter was located and was shot and killed.
A motive is still being investigated.
Authorities confirmed there was a "Be On The Lookout" alert out for the shooter. He lived in Frederick but did not live on base.
Download the FOX 5 DC News App for Local Breaking News and Weather
In a Tweet, the U.S. Navy confirmed that the gunman was a Navy Hospital Corpsman. It is unclear if the victims are also members of the Navy.
At a press conference, Frederick Police Chief Jason Lando said that only one gunman was suspected and that the public was no longer at risk. "It's terrible. It's unfortunate. It's very tragic. It's happening too frequently. Every time we turn on the TV we're seeing something like this happen – and now it's happening in our backyards," he said. Frederick Mayor Michael O'Connor reassured the public and said his thoughts were with the victims.
Governor Larry Hogan tweeted, I want to thank the federal, state, and local law enforcement officials for responding swiftly to the incident this morning in Frederick. We are keeping the victims in our prayers and Maryland State Police will continue to assist in the investigation."
The incident caused traffic delays in the area and sent schools across Frederick into lockdown. Police said and update will be given at 2:30 p.m.