After 'chaos and closure' Oakland Zoo reopens again
OAKLAND, Calif. - The giraffes and otters were spotted craning necks on Friday, looking just about as excited as their human visitors, now that the Oakland Zoo is back open after a massive sinkhole forced its closure.
A boy named Everett Villa his sights on seeing a panda; he was there to celebrate his sister's birthday. 
The Urquiola family came after the storms canceled their last visit.
"We're so excited because we actually had reservations to visit before New Years when the sinkhole happened. And so we were kinda bummed to not be able to come here because we're members. But now that it's reopened we're excited to bring the kids back because they haven't seen the animals in so long," says visitor Chrissa Urquiola.
Oakland Zoo CEO Nik Dehejia was also thrilled the zoo doors were finally open after last month's atmospheric rivers wreaked havoc around the premises. 
"It's been 35 days of chaos and closure," Dehejia said. "But we are excited to be open to the public again." 
Dehejia said that it cost "hundreds of thousands" of dollars to repair the infrastructure and fill in the sinkhole, while meanwhile, the zoo was losing "half a million a week." 
The financial hit was "pretty significant for us," Dehejia said, which is why the zoo is extending the Glowfari exhibit until March 4 in the hopes of recouping the loss.
This is not the first time the zoo has had to close.
It took an even bigger hit during the pandemic, when it was closed for seven months.
Staff members say they're happy to be back.
"I love the zoo and I love working here, love the animals. It was a shame that it closed down but I'm just happy to be back. I missed it here. It's like home," says staffer Charlie Ramirez.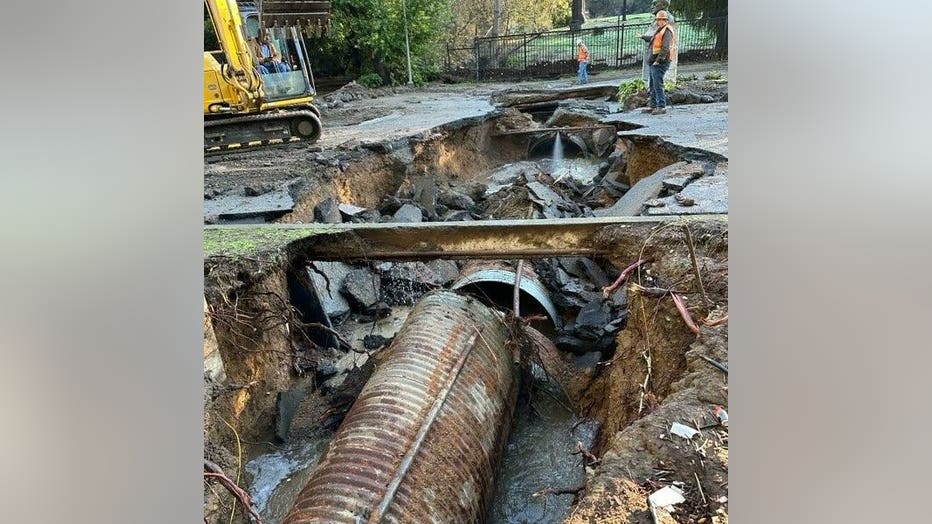 The Oakland Zoo will be closed for more than two weeks due to a sinkhole formed by a collapsed culvert at its entrance on Dec. 31, 2022. Photo: Oakland Zoo (KTVU FOX 2)