Albany Twin movie theater closes after 88 years
ALBANY, Calif. - For more than 80 years, people in Albany could catch a movie at the Albany Twin on Solano Avenue. But the beloved East Bay theater held its last screening Thursday night.
"As a film buff, it's hard to see the theater go," said Albany resident Kevin Goess.
Members of the community lined up to get tickets to the final showings, hoping to pack the theater in a show of support.
"I grew up in Albany. I first came here as a toddler in 1954," said resident Debee Blank. "I went to matinées here all through my childhood for 25 cents…I can't even believe this is happening. It's so so sad."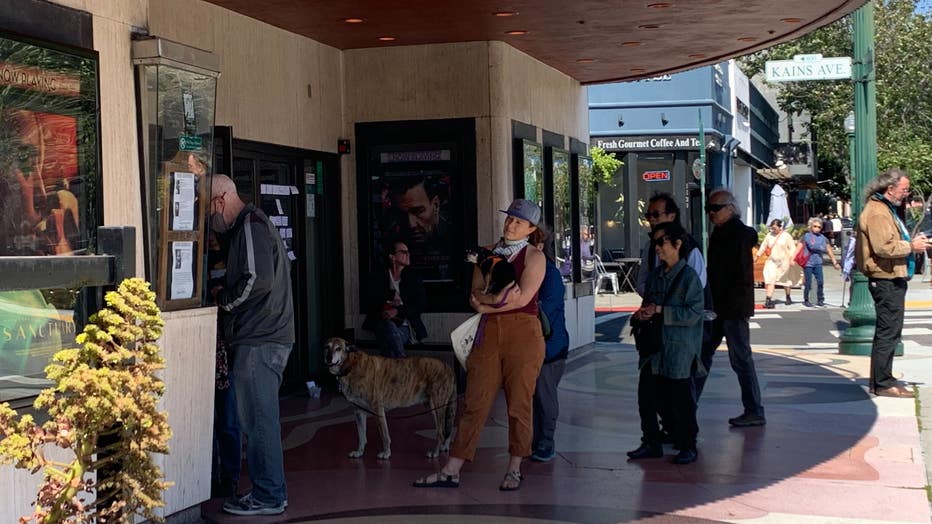 People leave notes on the door of Landmarks Albany Twin Theater on the day of its closure. 
Many left notes on the glass doors, offering well-wishes, and sharing memories.
"Everybody is telling us how much they are going to miss us today, and it's devastating," said General Manager Buck Cendejas. 
He said the theater had been through hard times during pandemic closures and restrictions, and the lease was not renewed.
Landmark has operated the theater since 1994. 
In a statement, company spokesman Mark Mulcahy said, "Landmark Theatres is constantly evaluating its business strategy and has decided to close the Albany Twin. We are proud to have served its community over its many years of operation."
"We had a feeling it was coming down," said Thor Klippert, who was selling tickets at the theater.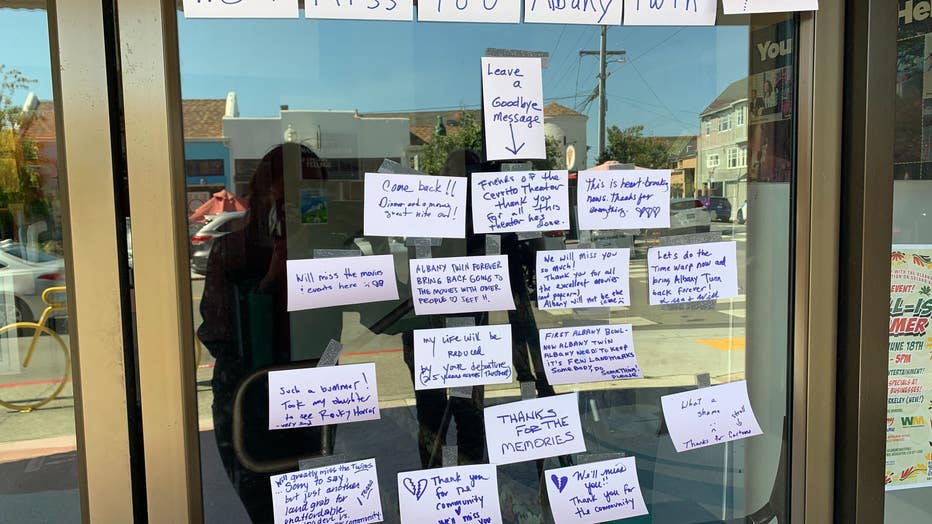 People leave notes on the door of Landmarks Albany Twin Theater on the day of its closure. 
Klippert said he worked at the Albany Twin for ten years. Klippert said the closure was abrupt, with employees just getting word of the decision last week.
"I'm just trying to put one foot in front of the other," he said.
"I think it's a chance for the community to think about what they really value, and hopefully they value art and something like they had here," said Cendejas.
This is the latest movie house to close in the Albany-Berkeley area in the past two years. The Regal UA Berkeley theater shut down in February. Before that, Shattuck Cinemas and California Theater in downtown Berkeley closed.
Cendejas said some employees will stay with Landmark, and work at a different location. The Albany theater has been at its location on Solano Avenue since 1935.