'All-natural' Simply Tropical juice has high levels of toxic 'forever chemicals,' lawsuit alleges
NEW YORK - A new class-action lawsuit claims that the Simply Tropical juice, labeled as an "all-natural" drink, is being falsely advertised since it allegedly contains concerning levels of harmful synthetic substances known as "forever chemicals."
The 45-page lawsuit, which was filed on Dec. 28 by a man named Joseph Lurenz in the Southern District of New York, states that third-party testing of Simply Tropical juice showed "concerning levels" of per- and polyfluoroalkyl substances (PFAS), which have been used in nonstick frying pans, water-repellent sports gear, cosmetics, and countless other consumer products.
These forever chemicals can accumulate and remain in the human body for long periods of time and have been linked to increased risks of several cancers, as well as a number of other health issues, according to the Environmental Protection Agency.
RELATED: NIH: Exposure to 'forever chemicals' found in food packaging can lead to premature births
Last year, the EPA moved to designate two of the most commonly used forever chemicals, perfluorooctanoic acid (PFOA) and perfluorooctanesulfonic acid (PFOS) as hazardous substances. Both of these compounds have been voluntarily phased out by U.S. manufacturers, but there are a limited number of ongoing uses and the chemicals remain in the environment because they don't degrade over time, according to the EPA.
In the lawsuit, the plaintiff's third-party testing showed the presence of multiple PFAS in the Simply Tropical juice, including "more than 100 times the [Environmental Protection Agency's] recommended levels" of PFOA and PFOS.
The Simply Tropical juice product is made by The Simply Orange Juice Company, a brand of the Coca-Cola Company — both of which are named as defendants in the lawsuit. It alleges that these companies have "engaged in tireless marketing efforts" to convince consumers that the Simply beverages are made with simple ingredients that are "naturally delicious."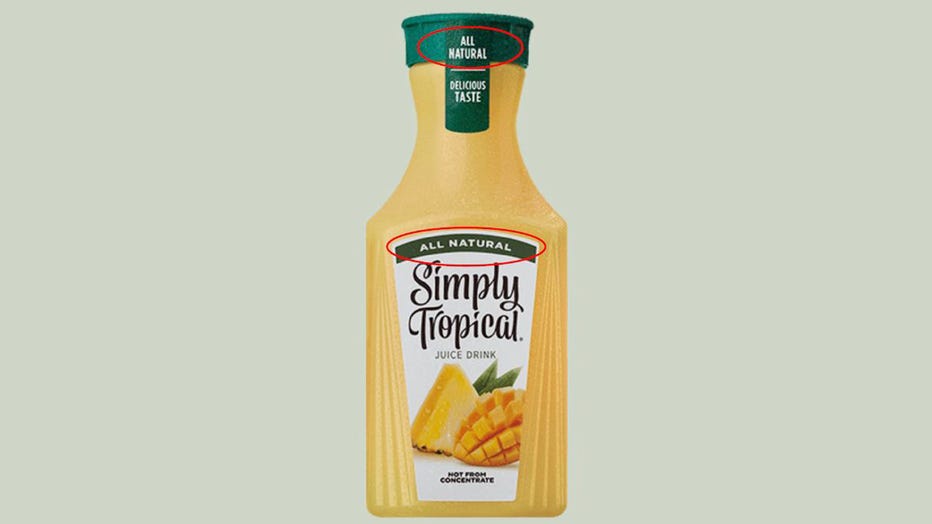 The Simply Tropical juice product is shown in an image provided in the complaint.
"Defendants' uniform marketing, which extends to the incorporation of the word "Simply" into the (Simply Tropical juice's) brand name, is intentionally designed to drive sales and increase profits by targeting health-conscious consumers who reasonably believe that the Product is all-natural and therefore free from synthetic or artificial ingredients which are known to be harmful to human health," the complaint states.
The Coca-Cola Company said in a statement to FOX Television Stations that it stands by the quality of its products. 
"We are aware of the lawsuit, which focuses on our Simply Tropical product, and will vigorously defend the allegations in the complaint," a spokesperson said.
The lawsuit alleges that the presence of these forever chemicals is "entirely inconsistent" with Coca-Cola and the Simply Orange Juice Company's "all-natural ingredients" with "nothing to hide" marketing of the product.
"The Product does not disclose the presence of PFAS—or any other synthetic chemical—in their ingredients," the complaint states. "Rather, Defendants claim the only ingredients are filtered water, fruit juice and puree, cane sugar, and natural flavors."
"Filtered Water" is listed as Simply Tropical juice's first ingredient on the bottle, leading reasonable consumers to believe that "additional care has been taken to remove any incidental chemicals or impurities" that might otherwise contradict the natural claims, the lawsuit claims.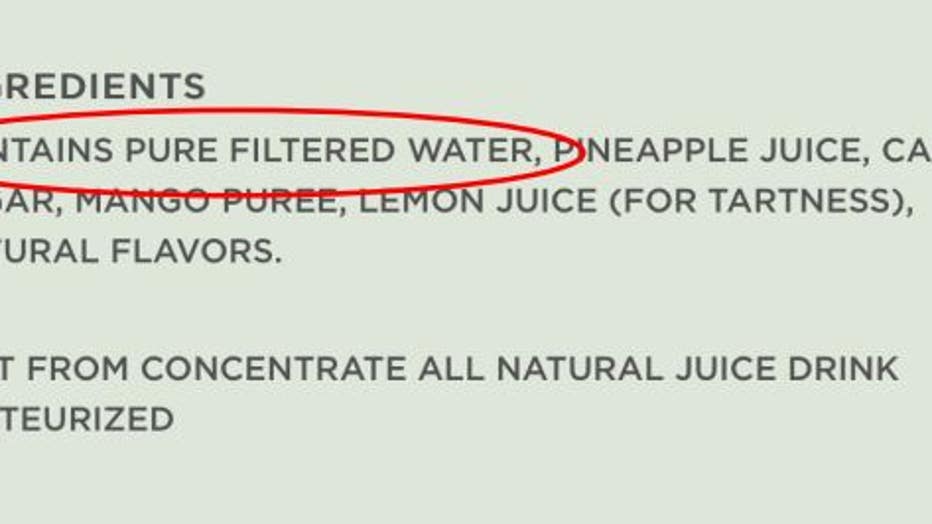 The ingredients of the Simply Tropical juice product are shown in an image provided in the complaint. 
The lawsuit looks to cover consumers who bought Simply Tropical juice in the U.S. for personal use "during the fullest period allowed by law."
Experts say avoiding all exposure to PFAS may not be possible because they are so widespread in food, drinking water, air, dust, and in PFAS-containing products. However, there may be ways to limit exposure, such as installing an in-home water treatment that works to lower levels of PFAS in drinking water and avoiding eating certain fish from waterways impacted by PFAS.
This story was reported from Cincinnati.