All-women's Dublin prison rife with goose poop and asbestos: lawsuit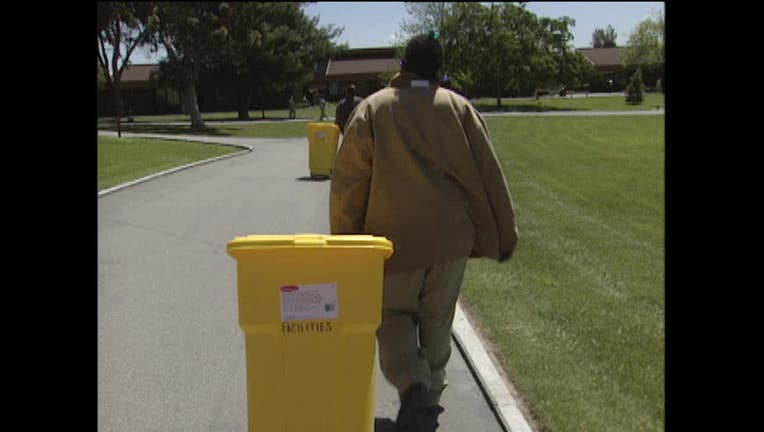 article
DUBLIN, Calif. - Nearly a dozen incarcerated women at the Federal Correctional Institute at Dublin have filed formal complaints that there is so much goose poop, mold and asbestos at the facility that they have trouble breathing, hearing and some are so grossed out, they can barely eat.
Loren Toelle, who is in custody at FCI Dublin, wrote to the Bureau of Prisons and the Environmental Protection Agency this month that she has lost hearing in one ear because of the amount of mold at the prison. 
She and others wrote in a letter filed in U.S. District Court that they are also suffering respiratory illnesses they believe are due to "toxins in the prison." 
Others said they were told to buff the floor with asbestos. And women said that the January floods only made things worse as they were told to clean up the prison without the proper protective gear. 
Maura Martinez wrote the EPA describing how gross the goose poop is at the facility. 
She said she has to push her walker through so much bird feces to get to the kitchen that she is "too disgusted to eat."
When she returns to her cell, her walker is covered in poop, she wrote, and because of her disability, she can barely reach down to clean it off. 
"Environmental issues may not get the headlines," Martinez wrote. "But it is a threat to our quality of living. Women are being physically and emotionally harmed, just they like when they were being sexually abused. We need help." 
FCI Dublin has been thrust into a negative light over the last two years as five correctional officers, including the warden, were charged with sexually assaulting incarcerated women. Of the five, four have so far been convicted. 
In a statement, spokesman Michael Brogan said the EPA is aware of the public health issues at FCI Dublin and "takes all environmental concerns seriously." The agency would not comment beyond that citing litigation.
The Bureau of Prisons also responded it "does not comment on pending litigation or matters that are subject to legal proceedings," BOP spokesman Benjamin O'Cone wrote.  
The BOP has been aware of these allegations for nearly a year. 
That's because in April 2022, the Associated Press reported that a government watchdog found a "substantial likelihood" the federal Bureau of Prisons committed wrongdoing when it ignored complaints and failed to address asbestos and mold contamination at FCI Dublin. 
The whistleblower complaints, filed by union officials, alleged that senior BOP management failed to act to resolve the allegations of workplace contamination. The union had repeatedly complained that correctional officers and other prison workers and inmates were being exposed to potentially hazardous mold and asbestos but says those concerns were ignored.
"Management's failure to address unsafe and dangerous working conditions at FCI Dublin has put the health and safety of both employees and inmates at considerable risk," Dublin union president Edward Canales told the Associated Press nearly a year ago. "We look forward to the outcome of this investigation, which we hope will result in the unsafe conditions being remedied and appropriate disciplinary actions being taken against the managers who failed to act."
At the time, the Justice Department said the BOP was "addressing concerns raised by staff at Dublin and working to ensure that all facilities are operating under safe, healthy conditions."
In a statement nearly a year ago, the BOP said its staff members perform weekly fire, safety and sanitation inspections and staff members are encouraged to report unsafe or unhealthy conditions to their supervisors. It said anyone who believes that such a condition exists could report it to the warden, other prison system officials or the Occupational Safety and Health Administration.
A check at OSHA's database shows there has been no enforcement action against FCI Dublin in the last five years. 
However, the nearly dozen women who filed their latest complaints in federal court all allege they have filed grievances, none of which have been addressed. 
For example, Theresa Tolliver and 11 others wrote, "for the duration of the pandemic, our unit has been denied regular access to the grievance process." She said grievance forms are either denied the forms, or they are not picked up in a timely manner. 
In addition, she said that she and others are "afraid of retaliation and are intimidated when she try to ask for forms." 
She said that while she has been at FCI Dublin, she suffers from coughing, a runny nose, headaches and stomach pains.
"The air and the water is bad," she wrote.
Lisa Fernandez is a reporter for KTVU. Email Lisa at lisa.fernandez@fox.com or call her at 510-874-0139. Or follow her on Twitter @ljfernandez