APEC summit is coming to San Francisco. Here's what you need to know
SAN FRANCISCO - Leaders from around the world, like President Joe Biden and Chinese President Xi Jinping, and thousands of government heads, CEOs and journalists will be gathering this coming week for the Asia Pacific Economic Cooperation (APEC) conference. 
It's the biggest international event to be held in the city since the creation of the United Nations in 1945, and it's bringing with it security concerns and major road closures.
Here's what to know ahead of the conference:
What is APEC?
APEC is a forum for leaders to discuss trade issues and economic growth. Founded in 1989 with 12 members, the group has grown to 21 members, accounting for 40 percent of the global population, or nearly 3 billion people, and nearly 50 percent of global trade. 
The event is being held Nov. 11-17, and the heaviest crowds expected Nov. 14-17. Meetings will be concentrated at the Moscone Center, but other areas of San Francisco will be impacted as well. 
Who is coming and why is it a big deal?
The White House announced last week that President Biden will meet with Chinese President Xi Jinping during the conference, marking the first time the two leaders will speak in person in a year.
Many of Biden's senior-most national security officials are expected, signaling that the administration's China strategy remains a priority as it grapples with an increasingly volatile Middle East.
Leaders from 21 economies are expected, as well as thousands of government officials, CEOs and foreign journalists.
The following economies are APEC members: Australia, Brunei Darussalam, Canada, Chile, People's Republic of China, Hong Kong, Indonesia, Japan, Republic of Korea, Malaysia, Mexico, New Zealand, Papua New Guinea, Peru, Philippines, Russian Federation, Singapore, Chinese Taipei, Thailand, United States, and Vietnam.
The event is not open to the public.
Security concerns and road closures
People traveling both in and out of San Francisco should expect some major traffic problems. 
Two lanes of the Bay Bridge will be closed for unfettered access for California Highway Patrol, according to Cal Trans. One lane in each direction so that CHP can get quickly over the bridge.
An online interactive map shows areas in the city most impacted, as well as security checkpoint locations.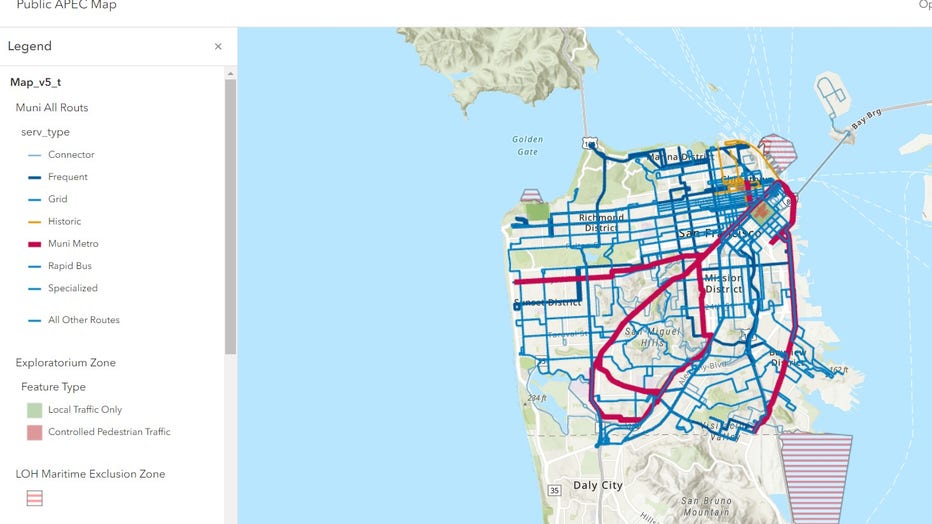 An interactive map that shows areas of San Francisco most impacted by APEC, as well as security checkpoints.
A so-called "secure zone" will be set up surrounding the Moscone Center, the northeastern waterfront and Nob Hill. Residents, tourists, business owners and employees who work within secure zones will be subject to a bag check. Cars will also have to be inspected.
The city has outlined a guide for businesses in the area, and what to expect.
BART will be running normal service, and adding more cars to make trains longer. However, expect significant disruptions and reroutes for Muni bus and train lines, including the Central Subway.
What will happen to homeless camps?
City officials are being aggressive about clearing homeless encampments ahead of the summit, and trying to connect more unhoused people to shelter and other services, according to the Chronicle.
Since San Francisco does not have room in the budget to open new shelters, it launched a Winter Shelter program this week, which adds 30 beds Friday night at Natoma and Eighth streets, not far from Moscone Center.
Are protests expected?
Like every large political event in San Francisco, protests are anticipated during the summit. 
A list of Bay Area community action organizations have organized protests to bring attention to issues such as workers' rights, the environment and developing countries. Some of those include climate change groups, international workers rights activists, and Palestinian liberation groups.
Mayor London Breed said the city stands ready to keep people safe and allow for the freedom of expression. 
"We plan to do everything we can to allow people to protest peacefully, to make sure that the delegates have a great experience, and that people are safe," the mayor said.
SEE ALSO: San Francisco prepares for APEC, security expected to be tight