Police arrest suspects for alleged back-to-back armed robberies in Palo Alto neighborhood
PALO ALTO, Calif, - Palo Alto police have arrested three men and a teen who allegedly committed two armed robberies Monday night, within 25 minutes of each other and a third in Milpitas.
According to police, the first incident happened around 6:35 p.m. on the 1100 block of Trinity Lane. Authorities said a neighbor may have interrupted an auto burglary and one suspect pointed a handgun before fleeing. The thieves took cell phones, and a female victim's purse.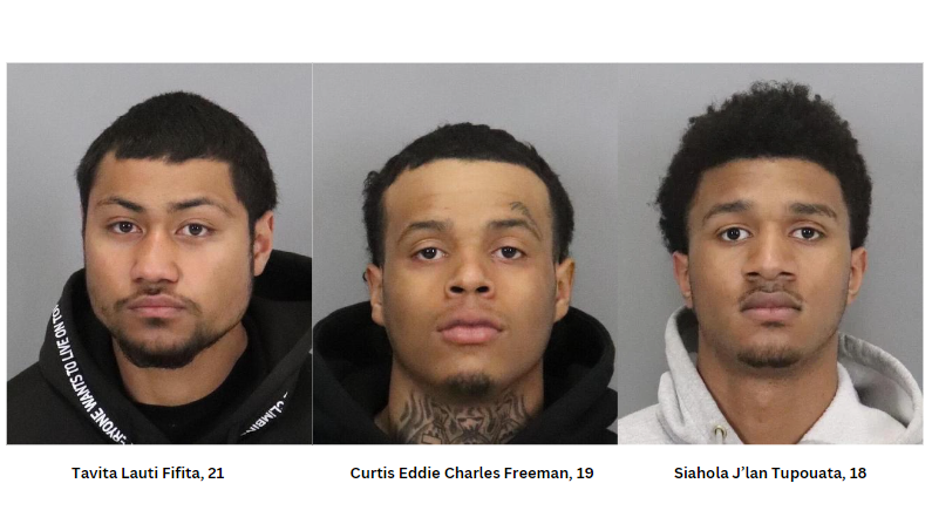 Police in Palo Alto arrested three men for their alleged involvement in multiple armed robberies.
"My family still lives here and I never seen any crime. It's always been a good area," said long-time resident Max Topete. "Yeah very surprised. I had no idea."
Palo Alto police detectives said less than 25 minutes later, the same suspects pointed a gun at woman as she arrived home in the 800 block of Marshall Drive. The four, wearing ski masks, took her cell phone, then drove off toward Moreno Avenue.
Shortly after the second Palo Alto robbery, Milpitas investigators reported an armed robbery in that city, which they believed was linked to the Palo Alto case.
"We did have some partial, possible plate information that was very helpful, that was given to us by one of the victims. We were able to share that information very broadly with all of our partners in the Bay Area," said Palo Alto Police Lieutenant Brian Philip.
Palo Alto police dispatched officers as far south as Morgan Hill, in an attempt to locate the suspects. They received help from San Jose police, which used its helicopter in the search for the suspect's vehicle: a stolen, white 2020 Kia Sportage. 
No one was injured during the suspects' alleged crime spree, police said. 
The suspects, all Oakland residents, were arrested and the stolen property was recovered. Eighteen-year-old Siahola J'lan Tupouata, 19-year-old Curtis Eddie Charles Freeman, and 21-year-old Tavita Lauti Fifita are now in the main Santa Clara County jail. The 16-year-old is in the county's juvenile detention center. All four face charges related to the rash of crimes.
Police believe Freeman was the driver of the Kia and that the 16-year-old had an outstanding probation violation in Alameda County.
Philip said he hadn't worked a case similar to this in years.
"This was unique last night," Philip said, "[it] initially came out as an auto burglary."
Palo Alto detectives said they found other items, possibly related to other crimes, inside the stolen Kia. Police officials want residents, and police departments, to come forward if they think there's a connection to this case. 
Jesse Gary is a reporter based in the station's South Bay bureau. Follow him on Twitter, @JesseKTVU and Instagram, @jessegontv