Watch: Bald eagle parents protect their egg during California snowstorm
REDDING, Ca. - Recently released footage shows two bald eagles shielding their only egg from the elements during a California snowstorm.
The Golden State has suffered through weeks of heavy rain and snow, brought on by a series of atmospheric river storms. 
One of those storms swept through last week, dropping 5 to 6 inches of snow around the northern California town of Redding – the home of eagle parents Liberty and Guardian.  
The non-profit Friends of the Redding Eagles filmed mother Liberty and father Guardian at their snow-covered nest on Thursday as they took shifts to incubate their egg.
The video opens up with Guardian lying in the nest, covered in so much snow that he nearly disappears underneath it.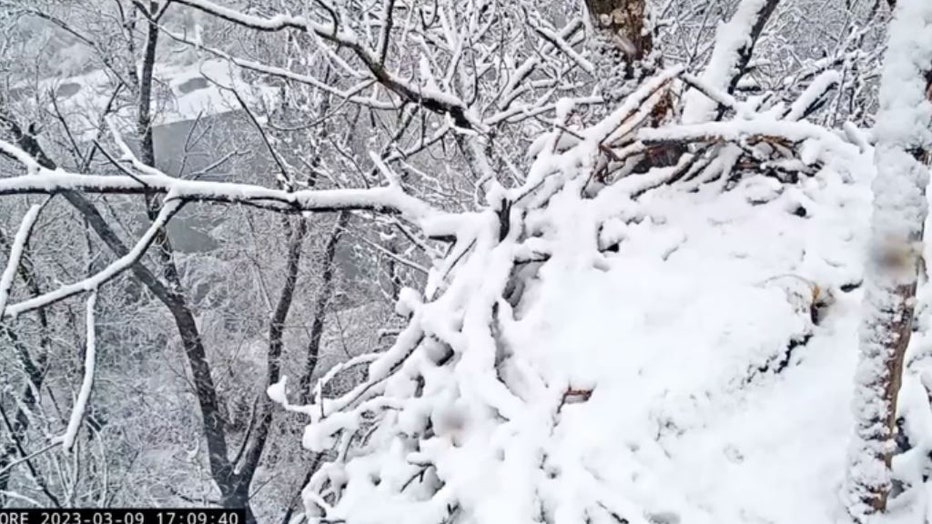 Guardian covered in snow. March 9, 2023. (The Friends of Redding Eagles / FOX Weather)
Liberty then flies up to the nest and lands on the edge. Guardian rises up, shaking a layer of snow off his wings as he stands.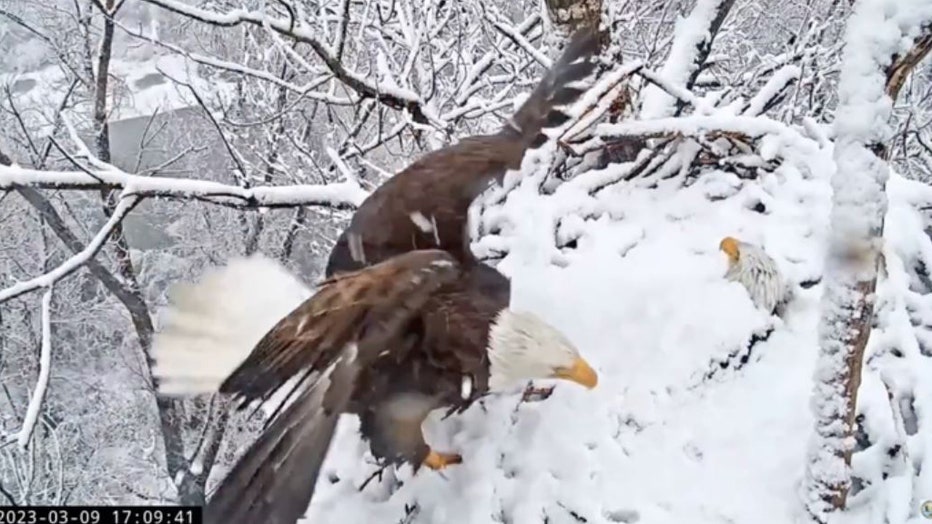 Liberty arrives at the nest. March 9, 2023.(The Friends of Redding Eagles / FOX Weather)
Liberty begins to settle in to sit on their only egg.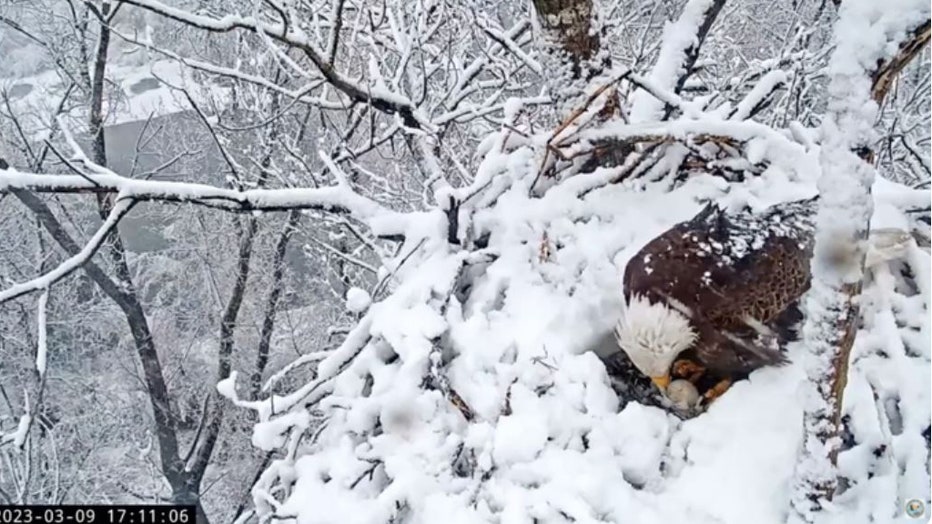 Liberty checks on the egg before she sits down. March 9, 2023. (The Friends of Redding Eagles / FOX Weather)
Later that night, Guardian returns. However, he cannot see Liberty underneath all the snow that he ends up stepping on her, and Liberty vocalizes to let him know.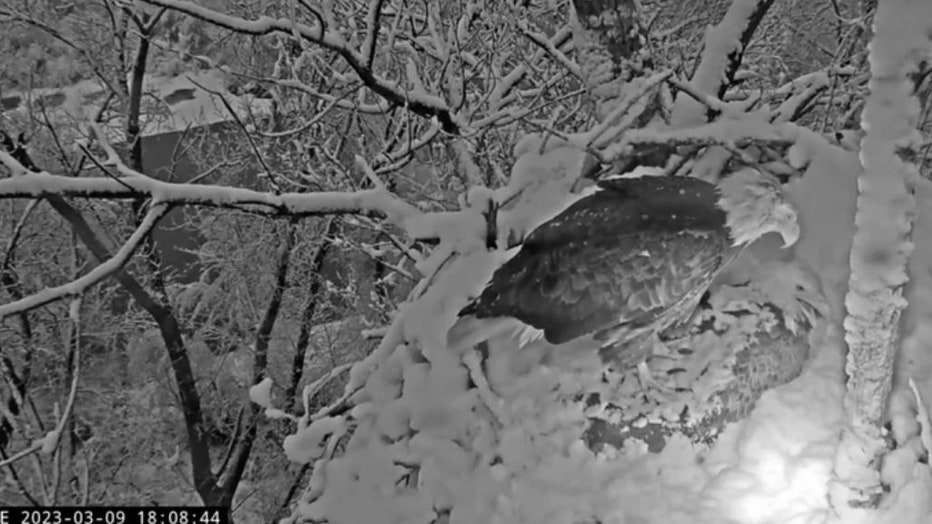 Guardian accidentally steps on snow-covered Liberty. March 9, 2023. (The Friends of Redding Eagles / FOX Weather)
Liberty has been observed for 18 years by Friends of the Redding Eagles. During that time, she has raised 26 eaglets and outlived two mates, according to Terri Lhuillier, Friends of the Redding Eagles founder and director.
WATCH: EAGLE ON MINNESOTA DNR'S EAGLECAM COVERED IN SNOW
She and her third mate, Guardian, have been together since 2019 and raised eaglets together every year. This year, however, comes with a significant first due to the weather.
"This is the very first time in 18 nesting seasons they've had to incubate their egg with snow in their nest," Lhuillier said. "It has snowed here before, but it's always been before Liberty has laid her eggs."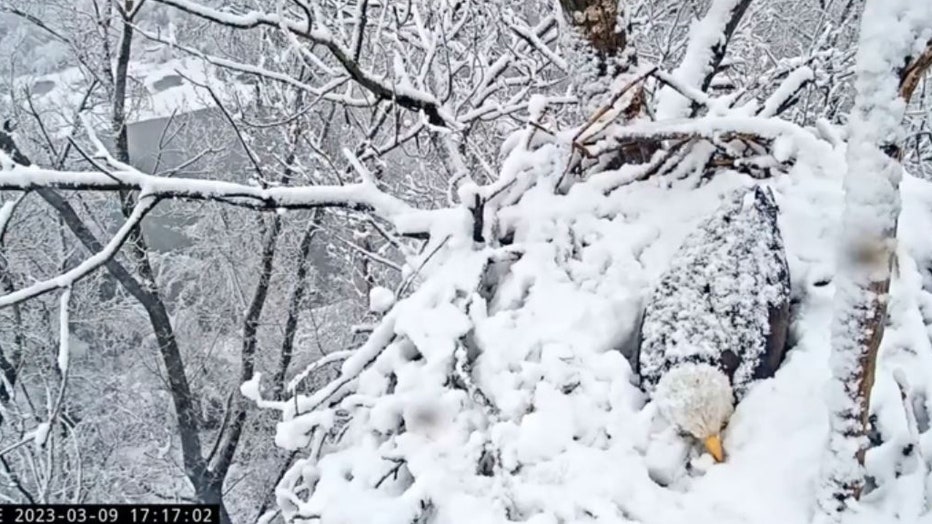 Snow-covered Liberty sitting on her egg. March 9, 2023. (The Friends of Redding Eagles / FOX Weather)
She noted, however, the challenges that come with incubating an egg during a snowstorm but remains hopeful.
"This is the worst incubation period I have ever experienced in all these years I've been watching these guys," she said. "It's been horrible, but they're still incubating, and that little egg still looks like it's going to make it so far!"
BALD EAGLES BUILD NEW HOME AT NASA'S KENNEDY SPACE CENTER
Despite the snow, Lhuillier said the eagles are faring well. She noted they are physically adapted to handle the cold, wet weather and live in an area with abundant fish and other food.
In the meantime, Liberty and Guardian await the arrival of their eaglet. Lhuillier said the eaglet is expected to hatch between March 24 and March 29, with the Hatch Watch broadcast on the Friends of the Redding Eagles live nest cam.
Get the latest updates on this story at FOXWeather.com.