Bank stocks up amid Trump plan to ease financial regulatory laws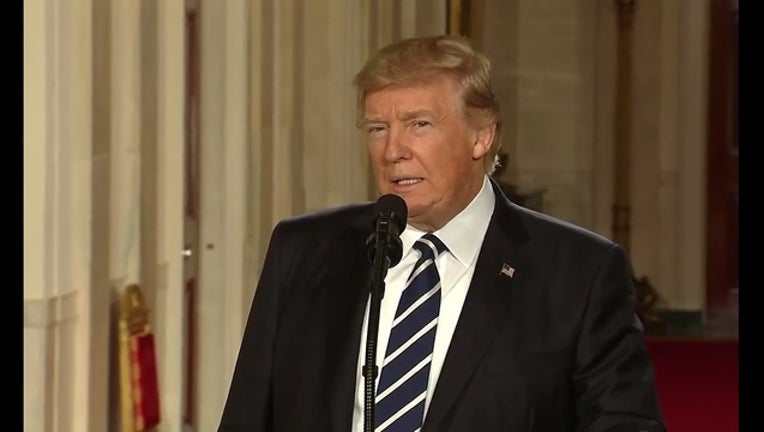 article
NEW YORK (AP) -- Banks and other financial companies made big gains Friday after President Donald Trump moved to scale back regulations on the financial industry. Other stocks also rose as investors were also pleased that employers hired workers at a faster pace in January.
Financial stocks made their biggest gains since shortly after the presidential election as Trump took his first steps to reduce regulations, which could boost profits for investment firms. 
The Labor Department said hiring sped up last month, a positive sign for the economy. Small-company stocks, which stand to benefit more than others from stronger economic growth, make sharp gains.
Financial companies have made huge gains since Trump's election, and his pledge to cut laws and rules that govern the industry is a major reason.
"They're going to benefit from not having all of this onerous red tape," said Karyn Cavanaugh of Voya Investment Strategies. "That's why we see the rallies every time they talk about regulation."
Cavanaugh said a reduction in regulations could also help banks lend more and speed up economic growth, which could benefit many other industries.
The Dow Jones industrial average jumped 186.55 points, or 0.9 percent, to 20,071.46. The Standard & Poor's 500 index advanced 16.57 points, or 0.7 percent, to 2,297.42. The Nasdaq composite picked up 30.57 points, or 0.5 percent, to close at a record high of 5,666.77.
The Russell 2000 index of smaller-company stocks climbed 20.41 points, or 1.5 percent, to 1,377.84. Smaller, domestically-focused companies may have more to gain than their larger peers from faster growth in the U.S. The Russell made big gains at the end of 2016 based on those hopes.
On Friday Trump directed the Treasury Secretary to look for potential changes to the Dodd-Frank law, which reshaped financial regulations after the 2008-09 financial crisis. The order does not have any immediate impact, but investors applauded its intent.
Trump also signed a memorandum that delayed an Obama-era rule that requires financial professionals who charge commissions to put their clients' interests first when giving advice on retirement investments. 
JPMorgan Chase added $2.59, or 3.1 percent, to $87.18 and Goldman Sachs rose $10.54, or 4.6 percent, to $240.95. Morgan Stanley gained $2.30, or 5.5 percent, to $44.43. Smaller banks, which could find it easier to lend money if regulations are cut, also traded higher. Texas Capital Bancshares picked up $2.85, or 3.4 percent, to $86.10 and East West Bancorp rose $2.26, or 4.5 percent, to $52.72.
U.S. employers added 227,000 jobs in January, according to the Labor Department. That's more than last year's average monthly gain of 187,000. The unemployment rate ticked up to a low 4.8 percent from 4.7 percent in December as more people started looking for work. That helped smaller companies and industrial stocks, both of which would benefit from faster economic growth.
Visa said shoppers stepped up their use of debit and credit cards in the latest quarter, and the payment processing company also benefited from its acquisition of Visa Europe. Its profit and revenue were stronger than analysts expected, and Visa's stock jumped $3.78, or 4.6 percent, to $86.08.
Online retail giant Amazon traded lower as investors grew concerned about its sales. The company's fourth-quarter sales fell short of analyst estimates, and so did its forecast for revenue in the current quarter. The stock gave up $29.75, or 3.5 percent, to $810.20.
Macy's stock soared after the Wall Street Journal reported that Hudson's Bay Co., the owner of Saks Fifth Avenue, could buy the department store chain. The companies declined to comment.
Macy's jumped $1.97, or 6.4 percent, to $32.69. The stock has been trading around five-year lows. Hudson's Bay stock rose almost 4 percent in Toronto.
Biotech drugmaker Amgen disclosed a bigger profit and better sales than analysts had expected. It also reported results from a study that showed its new cholesterol drug Repatha reduced the risk of death, heart attack and stroke in patients with advanced atherosclerotic cardiovascular disease. That could help boost prescriptions for the drug. Amgen jumped $7.95, or 5 percent, to $167.53.
Underwear, t-shirt and sock maker Hanesbrands announced surprisingly weak holiday sales and gave disappointing projections for the year. Its stock slumped $3.73, or 16.4 percent, to $18.98, its lowest price in almost three years.
Bond prices wobbled, then turned higher. The yield on the 10-year Treasury note fell to 2.47 percent from 2.48 percent.
Benchmark U.S. crude added 29 cents to $53.83 a barrel in New York. Brent crude, used to price international oils, added 25 cents to $56.81 a barrel in London.
Gold inched up $1.40 to $1,220.80 an ounce. Silver added 5 cents to $17.48 an ounce. Copper lost 7 cents, or 2.6 percent, to $2.62 a pound.
In other energy trading, wholesale gasoline rose 2 cents to $1.55 a gallon. Heating oil picked up 1 cent to $1.67 a gallon. Natural gas dropped 12 cents, or 3.9 percent, to $3.06 per 1,000 cubic feet.
The dollar rose to 112.96 yen from 112.70 yen. The euro inched up to $1.0765 from $1.0764.
France's CAC 40 jumped 0.6 percent. The British FTSE 100 rose 0.7 percent while Germany's DAX added 0.2 percent. The Nikkei 225 in Tokyo finish almost unchanged and Seoul's Kospi added 0.1 percent. The Hang Seng in Hong Kong shed 0.2 percent.