Check out BART's new ugly holiday sweater complete with blinking lights, honking horn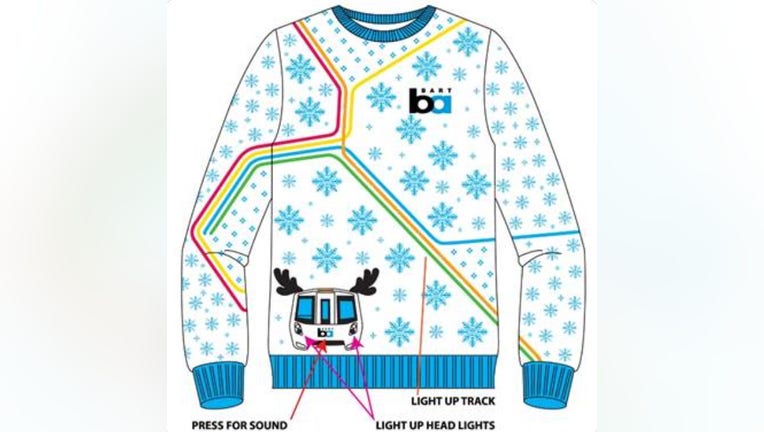 article
OAKLAND, Calif. - The director of BART dropped a Tweet this week that has ugly holiday sweater lovers swooning.
Rebecca Saltzman shared a photo Thursday of the transit system's 2023 sweater.
And it's more than just something to keep you warm during the winter. For Bay Area diehards, it's definitely a statement piece. 
"If you thought the last two BART holiday sweaters were amazing, check out a preview of the 2023 sweater," tweeted Saltzman. 
Ribbed at the collar and waist, the sweater features blue snowflakes throughout, the BART logo on the chest, and a train with reindeer antlers. Blinking lights move sequentially along a BART system map and a train horn that honks at the push of a button.
BART ridership surveys may show displeasure as riders routinely complain about the perceived filth and crime aboard the trains.
But in terms of apparel? Bay Area residents seem to give high marks. 
Based on the response and comments to Salzman's post, the demand for the sweater might be high.
"Can you please order enough that there's not a mad dash to get one," asked @derivativeburke.
"I'm a Bart enthusiast and protector of the peace I must have this please!" tweeted @MBsMeltDowns.
Another pointed out that the sweater should likely never be washed –  to which Saltzman replied that yes, a spot cleaning is recommended. 
"I'd rather buy 10 of these than get my bridge toll increased to fund Bart," tweeted @thee_Rodfather.
Last year, the holiday sweater sold for $50 and was available to purchase at select BART stations. There was also a contest to win a sweater.
And who knows, maybe the sweater will come in handy even before the holiday rolls around. Skiers were still hitting the Sierra slopes during the Independence Day holiday as the record-breaking snow season kept resorts open longer than usual. 
Saltzman said the sweater will be ready for preorder next week, and the link will be posted on Twitter.
ALSO: California mom gives birth to quadruplets on 4th of July