BART citizen review board urges 'gag order' on police chief over shooting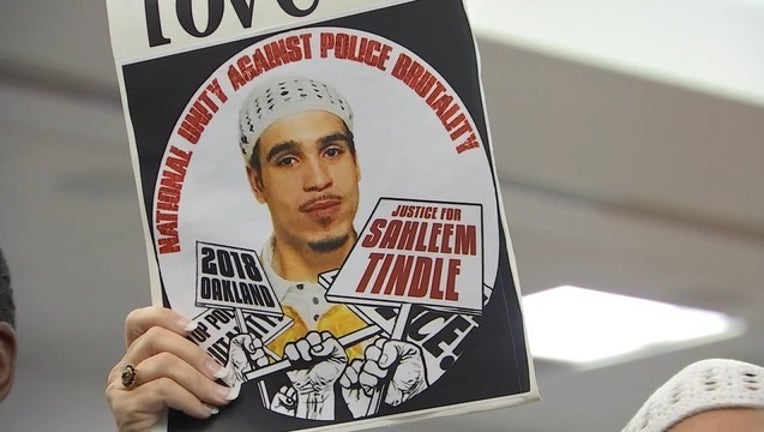 article
OAKLAND (BCN) Words like "shameful" and "murder" were shouted toward BART's Police Citizen Review Board on Monday afternoon during an unorthodox public meeting that often strayed from protocol due to frequent interruptions from an audience that was clearly outraged over a recent fatal police shooting.
Several members of the review board were visibly distraught while listening to public comment on the fatal shooting of 28-year-old Sahleem Tindle by BART police Officer Joseph Mateu just outside of the West Oakland station on Jan. 3.
After the end of a contentious and occasionally hostile public comment period, many of the board members repeatedly offered their condolences to the Tindle family -- things which have largely gone unsaid by BART's Board of Directors during recent meetings.
"I just want to ask that whatever is being done, we move expeditiously as possible to give this family peace," public-at-large board member Cydia Garrett said as she choked back tears.
"Thank you for everything you guys said today," Garrett said. "I heard you, and I know that everyone in this room heard you."
At least some of the outrage expressed by the crowd appeared to be over confusion about the official process for filing a complaint against Mateu, which can only be done through the BART Police Department or through Independent Police Auditor Russell Bloom, and had not yet been attempted as 
of Monday afternoon.
Board members attempted to manage the expectations of the crowd, informing them about the limits of the oversight board's power, which does not include terminating Mateu's employment as some have demanded.
"I'm not confident that this process is going to deliver the kind of justice that you want to see," said board member Aman Sebahtu, who represents District 7.
BART police Chief Carlos Rojas was repeatedly chastised and called a "coward" by the crowd over past statements he's made about Mateu, calling the shooter's actions "courageous."
The review board asked the police chief to provide some details on the investigative process. Rojas explained that since the shooting took place in the jurisdiction of the Oakland Police Department, that agency is in charge of investigating any criminal culpability that may result from the shooting along with the Alameda County District Attorney's Office, which investigates all officer-involved shootings in the county.
"I think what meetings like this demonstrate is that BPD still has a lot of work to do to win back the trust of this community," said board member David Rizk, who represents District 8.
The meeting ended with a 9-2 vote in favor of drafting a letter to the Board of Directors urging Rojas to consult with the citizen review board before making further public comments on the case.
After the meeting, Cat Brooks, an organizer with the Anti Police-Terror Project, referred to that action as a "gag order" and a victory.
"Every time that man opens his mouth about this case, he says something silly that's inflammatory and hurtful," Brooks said.
She also called on BART's Board of Directors and the citizen review board to do a better job of informing the public about the role of the two boards in dealing with police shootings as well as the scope and limits of each entity's powers.