BART preps for Thursday's Warriors victory parade in Oakland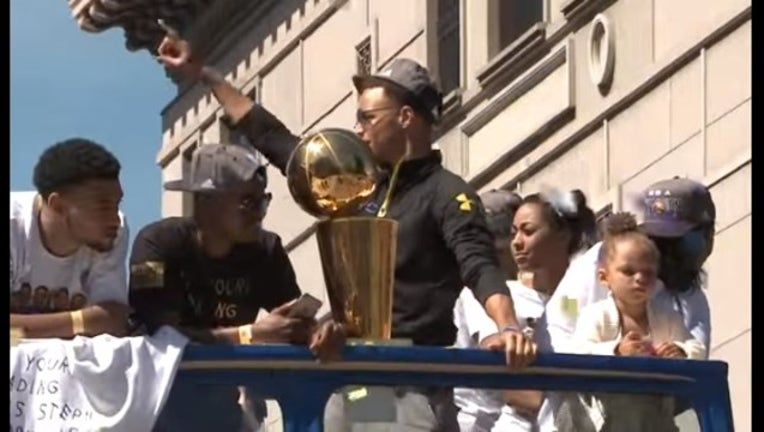 article
OAKLAND, Calif. (BCN) -  By Bay City News Service
BART officials are expecting record-high ridership numbers for the victory parade scheduled for Thursday in Oakland to celebrate the Golden State Warriors' championship win.
BART trains carried 586,061 passengers for the San Francisco Giants' World Series parade in 2012, and 548,076 passengers for the Warriors parade after their title in 2015. Ridership could meet or exceed those
numbers on Thursday, according to BART officials.
Paul Oversier, assistant general manager of operations, at a news conference this morning at the 19th Street Oakland station asked passengers to avoid using the Lake Merritt station on the day of the parade.
"Lake Merritt station gets crowded very easily," Oversier said.
Instead, passengers are advised to use the 19th Street station or the 12th Street station, both of which are on the parade route.
Oversier also asked passengers to be patient, observe a high level of civility while riding BART and buy a Clipper card in advance to avoid the long lines expected at ticket machines.
"You do not want to be buying a ticket at a BART station Thursday," Oversier said.
Tables will be set up at 10 of the system's busiest stations so that passengers can buy Clipper cards on a cash-only basis for $15, which should be enough to cover fares for a round trip.
That list of stations includes: Fremont, Warm Springs, Dublin/Pleasanton, El Cerrito del Norte, Coliseum, Bay Fair, Millbrae, 12th Street, 19th Street and Lake Merritt.
Parking is also expected to be adversely affected by high ridership Thursday, and Oversier called parking at BART stations "another bad idea."
A number of trains will be re-routed to accommodate expected fluctuations in travel patterns. After 8 a.m., every other train headed from Warm Springs to Daly City will re-route to the MacArthur station.
Some trains will bypass the Lake Merritt station altogether. The Pittsburg/Bay Point morning service will also be impacted, as some trains will be re-routed to busier parts of the system.
Finally, BART maintenance staff are at work to get train cars and escalators in service in anticipation of Thursday's high ridership. Extra BART police will be patrolling systemwide and additional paramedics will be
on standby.
Thursday's parade will follow the same route as the 2015 NBA title, going north on Broadway, east on Grand Avenue, south on Harrison Street then east on 19th Street to Lakeside Drive, ending on Oak Street with
a procession to the Henry J. Kaiser Convention Center.
The event starts at 10 a.m., but fans are encouraged to line up as early as 5 a.m.
Additional details about BART's preparation for Thursday's parade can be found at https://www.bart.gov/news/articles/2017/news20170609.