Bay Area cities say yes to taxing cannabis, Oakland votes to lower rates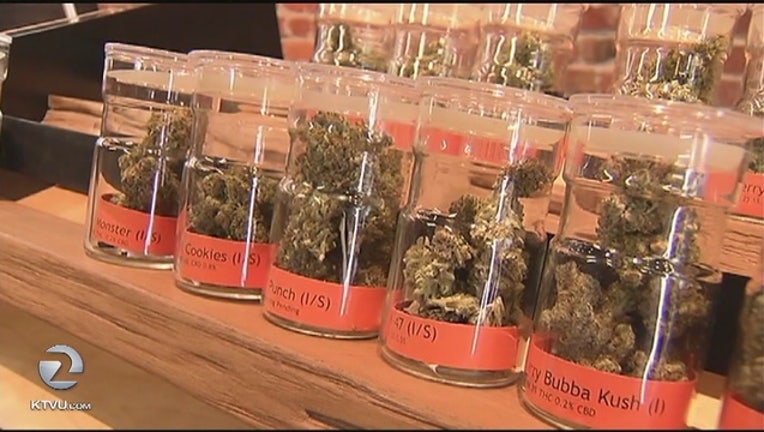 article
OAKLAND, Calif. (KTVU/BCN) - Cities and counties around the Bay Area love cannabis, and the tax money that comes with the newly legalized weed.  
Throughout the region, voters approved taxing cannabis. And in Oakland, where the product was already being taxed, voters approved lowering some of the rates. 
Here's a roundup of the Election Day marijuana-related taxes:
EAST BAY
Measure V, a marijuana business tax charge, in Oakland passed with 78 percent of the vote. The city already has been taking medical cannabis companies 5 percent tax on gross receipts, and recreational cannabis is taxed at 10 percent. Payments have been due in one lump sum at the beginning of each year.
With the passage of Measure V, the city council will have the power to adjust the current tax rates downward as much as it wants, while keeping the ceilings at 5 and 10 percent for medical and recreational sales, the East Bay Express reported.  The measure will also allow cannabis companies to deduct the cost of materials from their gross receipts, making up for their inability to take deductions on their federal taxes. And it will allow companies to pay their city taxes on a quarterly basis, making it less burdensome.
A Contra Costa County measure to tax and regulate marijuana businesses in a similar fashion to those dealing in alcohol and tobacco won by a wide margin in Tuesday's election.
Measure R needed support from a majority of Contra Costa County voters to pass, and more than 72 percent voters said yes, according to the unofficial results.
The 4 percent tax is on gross receipts at cannabis businesses in unincorporated parts of the county, plus $7 per square foot of garden canopy for growing operations, is expected to generate between $1.7 and $4.4 million for the county's general fund depending on market factors.
Contra Costa County Supervisors John Gioia and Karen Mitchoff, both proponents of Measure R, argued that Measure R will reduce violent crime associated with illegal marijuana operations.
They also argued that funds it raises could fund strict enforcement of regulations on the local cannabis industry and be used to offset environmental and public safety costs associated with illegal cannabis 
operations, although general fund revenues can be used for other purposes as 
well.   
The Contra Costa Taxpayers Association filed an argument in opposition to Measure R, saying it would likely come with unintended consequences that might include tipping marijuana market conditions in favor of foreign drug cartels.
They also pointed out that allowing marijuana operations would put the county at odds with federal law, which still prohibits marijuana.    
SAN FRANCISCO
San Francisco's Measure D to impose new taxes on recreational cannabis businesses was also sailing to victory on Wednesday. The measure will levy a gross receipts tax on pot shops ranging from 1 to 5 percent. The amount of the tax would depend on whether the business is a retail operatorand how much gross revenue it takes in.
SOUTH BAY
Voters in Santa Clara, Morgan Hill and Mountain View overwhelmingly approved cannabis businesses taxes in each of their cities during Tuesday's election.
All three taxes passed with more than 75 percent approval, according to preliminary vote counts, preparing the cities to take their next steps toward the sale and cultivation of marijuana.
 Santa Clara and Morgan Hill will be able to implement a maximum 10 percent tax on gross receipts and Mountain View will cap its tax at 9 percent. Mountain View will not collect revenue from cultivation, while Morgan Hill will begin taxing at $10 per square foot and Santa Clara at $25 per square foot.
The measures required simple majorities to pass, and received resounding support from voters. Santa Clara expects its tax to bring in about $2.2 million, Mountain View about $1 million and Morgan Hill between $340,000 to $750,000.
Santa Clara Vice Mayor Kathy Watanabe said in mid-October that the measure is not designed for marijuana to "take over the city," but to prepare for its future role in the area's economy.
Revenue from the cannabis business taxes will be directed toward improving infrastructure and public services like police and emergency response.