Another Bay Area storm expected Monday amid soggy, tattered conditions
OAKLAND, Calif. - As the Bay Area enjoys a chilly, dry weekend, another storm is preparing to hit early next week, forecasters said.
This comes as many are still dealing with the aftermath of Tuesday's atmospheric river that brought severe wind and rain. The already soggy Bay Area will endure more winter weather starting late Monday.
"Given how saturated our soil is, it could really have an impact," National Weather Service Roger Gass told KTVU Saturday morning.
Gass said this storm will be decently potent, though the NWS is not classifying it as an atmospheric river.
The action is expected to start late Monday, with light rain. The brunt of the storm will arrive Tuesday morning, bringing strong winds and rain. By Wednesday morning the area should start to dry out.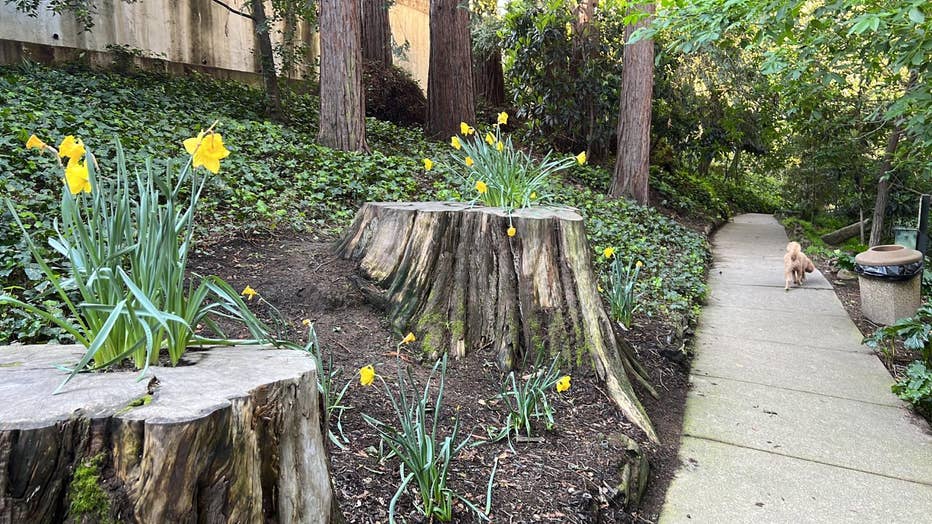 Daffodils bloom in saturated tree trunks at Piedmont Park as signs of spring are slowing coming to the Bay Area. Photo taken March 25, 2023 by Jesse Sedillo.
Gass said NWS thinks it is last major system of the season, as far as they can tell.
California has been hit by storm after storm since late December.
States of emergency have been declared in 43 counties, and as of Thursday, more than 700 people were being housed in 16 shelters in eight counties, according to the Governor's Office of Emergency Services.
ALSO: Landslide and mudslide dangers increasing throughout Bay Area