Beloved K9 gets police escort to be euthanized at clinic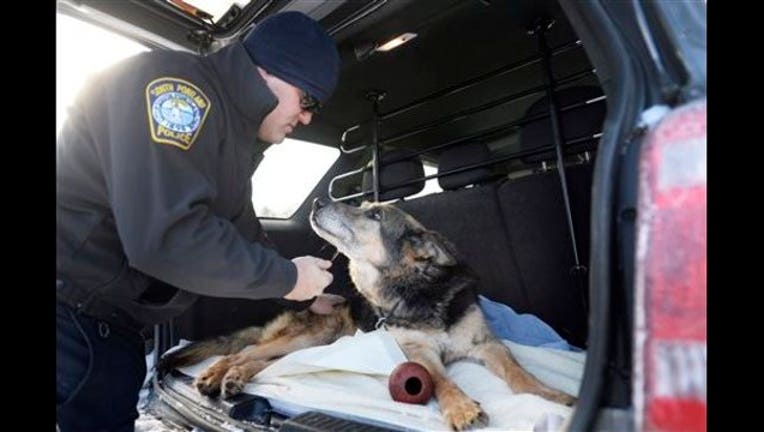 article
Dozens of officers and firefighters turned out this month to pay their respects to Sultan, a 13-year-old German shepherd who sniffed out drugs and bad guys with the Yarmouth Police Department.
Officers gave a last pat or scratch to the dog. Then they provided an escort for Sultan's final trip to a veterinary clinic.
South Portland canine officer Shane Stephenson said in a telephone interview Monday that he took Sultan into his home as a pet when the dog retired from police work at age 10. He said the dog was friendly and lovable to the point of letting Stephenson's baby boy tug on his tail and ears.
"But when it came down to business, he was one of the best, too," the officer said.
The touching police tribute for the geriatric K9 went viral after The Portland Press Herald reported on the Feb. 13 ceremony online and on its front page the next day.
Sultan was the first police dog with the Yarmouth Police Department; he was in great demand across southern Maine during his years with the department. He and former Yarmouth Officer Mike Vogel, who now works in Florida, answered more than 1,000 calls, capturing dozens of suspects and seizing untold amounts of cash and more than 100 pounds of narcotics, the newspaper said. Vogel said Sultan was also popular with schoolchildren.
"He was a gentle giant," he said in a telephone interview.
Vogel, who was unable to return to Maine for the tribute, said he and Stephenson are going to have a private ceremony for their families at a later date.
"There's a lot of attachment with these police dogs. They're with us 24-7," he said.
Justin Cooley, a K-9 handler with the Maine State Police, said handlers and their K9s have an indescribable bond.
"These are dogs that we take home with us; they get to know our family. They're with us 24 hours a day, seven days a week. You go through a lot of things with them, and you just dread this day," Cooley said.