Biden commemorating 60th anniversary of the March on Washington: 'We continue the march forward'
President Joe Biden commemorated the 60th anniversary of the March on Washington in D.C. on Monday.
The commander-in-chief took to social media to address the significance of the historical civil rights protest.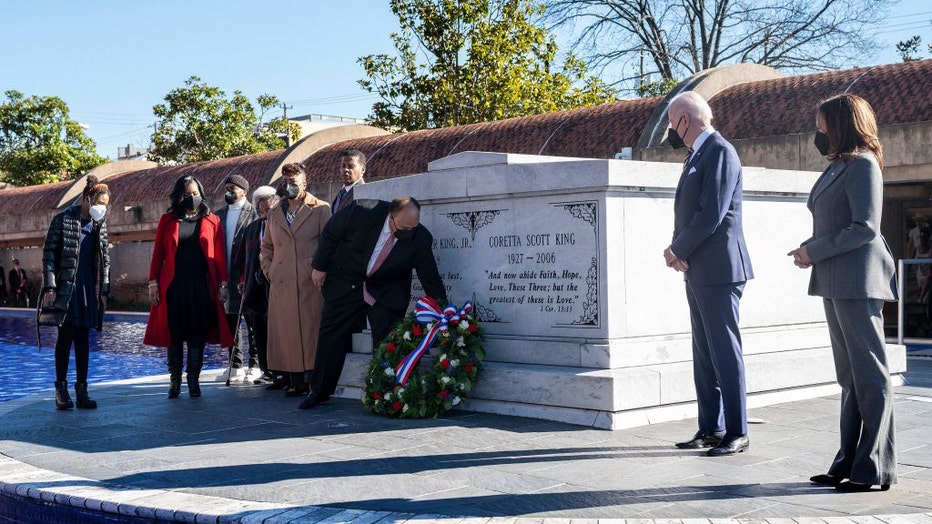 FILE-President Joe Biden (2nd R) and Vice President Kamala Harris (R) watch Martin Luther King III lays a wreath at the crypt of the Reverend Martin Luther King Jr., and his wife Coretta Scott King, at the Martin Luther King, Jr. Center for Nonviolen
"Sixty years ago, the Rev. Martin Luther King Jr. and hundreds of thousands of fellow Americans marched on Washington for jobs and freedom. In describing his dream for us all, Dr. King spoke of redeeming the "promissory note to which every American was to fall heir" derived from the very idea of America — we are all created equal and deserve to be treated equally throughout our lives." 
"While we've never fully lived up to that promise as a nation, we have never fully walked away from it, either. Each day of the Biden-Harris Administration, we continue the march forward," Biden wrote. 
RELATED: March on Washington: Masses gather on National Mall to commemorate 60th anniversary
Biden added "Today, on the 60th Anniversary of the March on Washington, we commit to continue walking towards our nation's founding promise. Reminded of how far we've come. And where we need to go."
To celebrate the anniversary, Biden and Vice President Kamala Harris met with the Rev. Martin Luther King Jr.'s family.  All of King's children have been invited, White House officials said. The White House did not include the meeting on Biden's public schedule for Monday.
The president is taking a page out of history by opening the Oval Office to King's family. On Aug. 28, 1963, the day of the March on Washington for Jobs and Freedom, President John F. Kennedy welcomed King and other key march organizers to the Oval Office for a meeting. 
Biden is also spoke at a White House reception Monday evening to commemorate the 60th anniversary of the Lawyers' Committee for Civil Rights Under Law, a nonpartisan, nonprofit legal organization that was established at Kennedy's request to help advocate for racial justice, the Associated Press reported. 
RELATED: Biden, Harris to meet with King family on 60th anniversary of the March on Washington
The March on Washington attracted as many as 250,000 people to the Lincoln Memorial and provided momentum for Congress to pass landmark civil rights and voting rights legislation in the years that followed. King was assassinated in April 1968 in Memphis, Tennessee.
RELATED: MLK's dream for America among stars of 60th anniversary of 1963 March on Washington
On Saturday, thousands gathered on the National Mall for a 60th-anniversary commemoration, with speakers and others saying a country still riven by racial inequality has yet to fulfill King's dream of a colorblind society in which his four children "will not be judged by the color of their skin but by the content of their character."
The Associated Press contributed to this report. This story was reported from Washington, D.C.