Biologists: Collision with ship may have killed young whale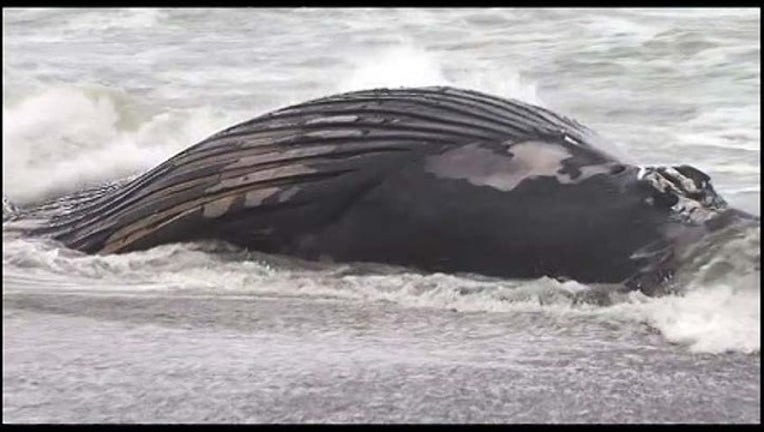 article
PACIFICA, Calif. (KTVU and wires) - A dead humpback whale that washed ashore at a Pacifica beach possibly died from being struck by a ship, but results of a necropsy were inconclusive, officials with the Marine Mammal Center said Wednesday.
Scientists with the Marine Mammal Center and the California Academy of Sciences conducted a necropsy on the 42-foot adult female humpback. Center officials had initially estimated that the whale was a 32-foot juvenile.
They found four broken vertebrae with surrounding hemorrhaging and a broken rib, indicating the whale suffered some kind of blunt force trauma.
However, if the whale had been struck by a ship, the scientists would have expected to see more broken ribs, so the exact cause of death remains unknown, center officials said.
The whale was discovered beached on Pacifica's Sharp Park Beach on Monday evening. The U.S. Coast Guard alerted the Marine Mammal Center to the findings.
Scientists had to wait until today to conduct the necropsy because of the location of the whale and the tides on Tuesday, center officials said.
"Every whale stranding is an incredible opportunity to learn from these amazing animals and contribute to baseline data," Marine Mammal Center research biologist Lauren Rust said in a statement. "The injuries are consistent with trauma, but it's likely we'll never know what truly caused this specific animal's death."
The humpback was discovered not far from Mori Point, where a beached 48-foot sperm whale was found on April 14. While researchers determined that whale did not die from a ship strike, they were unable to establish a specific cause of death.
Ship strikes are a leading cause of whale deaths caused by humans, along with entanglement with fishing gear, center officials said. Crews on large container ships may be unaware they have struck a whale, so collisions are likely underreported.
"These types of examinations have enabled the scientific community to make recommendations for slower shipping speeds and route changes that ship captains are adhering to voluntarily," California Academy of Sciences curatorial assistant Sue Pemberton said.
The Marine Mammal Center has found 21 beached humpback whales in the last 40 years.