Sea otter seen taking over surfboards off Santa Cruz being closely monitored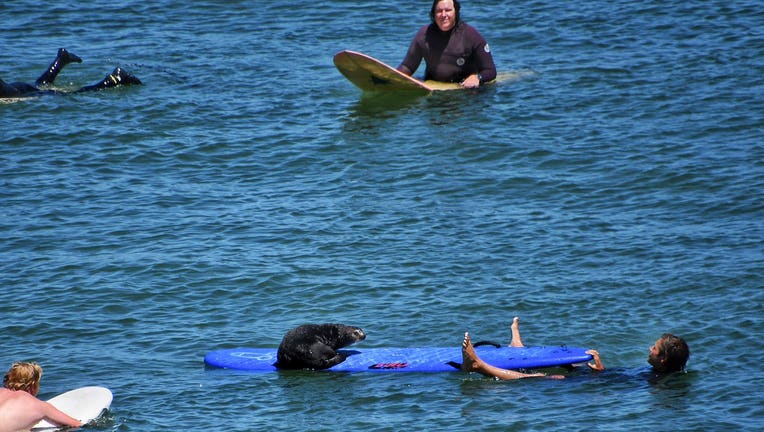 article
SANTA CRUZ, Calif. - A "surfing" sea otter, that gained much attention on social media last month for taking over people's surfboards off Santa Cruz, was being closely monitored by state wildlife officials.
Santa Cruz photographer Mark Woodward (@NativeSantaCruz) captured images of the friendly otter jumping onto surfboards off Cowell Beach on June 18. 
The animal appeared to have no fear of humans and made herself quite comfortable getting onto surfers' boards.
SEE ALSO: Video: playful orcas spotted off California coast
SEE ALSO: Tips to get anxious pets through Fourth of July fireworks
The behavior triggered concern, as marine wildlife interactions could put both people and animals at risk.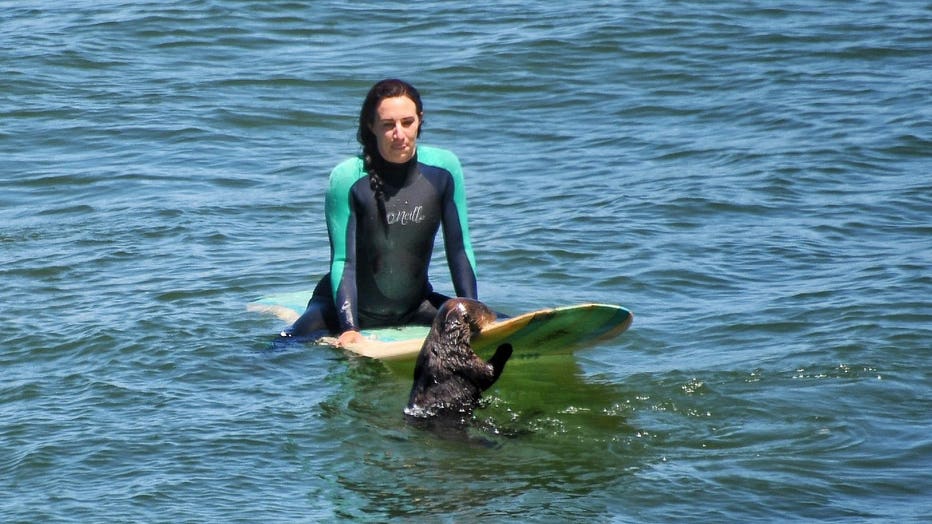 Biologists say the sea otter is known to them and has been monitored after she was released into the wild. The otter was seen getting onto surfers' boards off Santa Cruz on Sunday, June 18, 2023.  (Mark Woodward / @NativeSantaCruz)
KTVU reached out to the California Department of Fish and Wildlife which acknowledged that the sea otter was one known to biologists, and we learned she had an interesting history.
"She was born in captivity under very unusual circumstances," said sea otter biologist Colleen Young. The expert told KTVU the otter's mother was actually removed from the wild after she had exhibited aggressive behavior toward people, "as a result of having been fed by the public and started associating people with food." 
After being captured, that otter underwent evaluation, and U.S. Fish and Wildlife Service (USFWS) ultimately determined she was not releasable. Biologists also learned she was pregnant. 
"She gave birth to the pup in captivity and cared for it until weaning, at which time the pup was released to the wild and the mom was transferred to a facility for long-term care," Young said.
The pup was tagged at release and has been monitored. She didn't offer any reason for concern until recently. 
"The released sea otter behaved normally in the wild for quite some time before showing interest in surfboards," Young said, adding, "So we're not sure what sparked her curiosity."
The biologist said state wildlife officials worked closely with USFWS and the Monterey Bay Aquarium to respond to sea otters that are sick, injured, or orphaned. They also worked to evaluate otters that demonstrated assertive or aggressive behavior around people. 
Young said at this point, it seemed the young otter didn't seem to be taking any direct actions toward people themselves, just their boards.
It also appeared that the surfers were not the ones initiating any contact with the animal, a problem that's been called to attention in a recent study.
That study released by Sausalito-based Marine Mammal Center, showed a spike in the number of marine mammal harassment incidents along the Northern and Central California coasts, with experts identifying the Bay Area a "hotspot" for such events. 
Experts called on the public not to crowd or get too close to marine mammals and urged people take steps to keep the animals safe. They warned the impact of harassment can result in detrimental outcomes for marine wildlife, including separating young pups from their mothers, and can potentially lead to disease transmission between people and animals.
"In this case, the animal seems to be interacting with the boards, not the people, so we are trying hazing to discourage the behavior," Young said. Those hazing actions involved paddling away and splashing water, the biologist explained.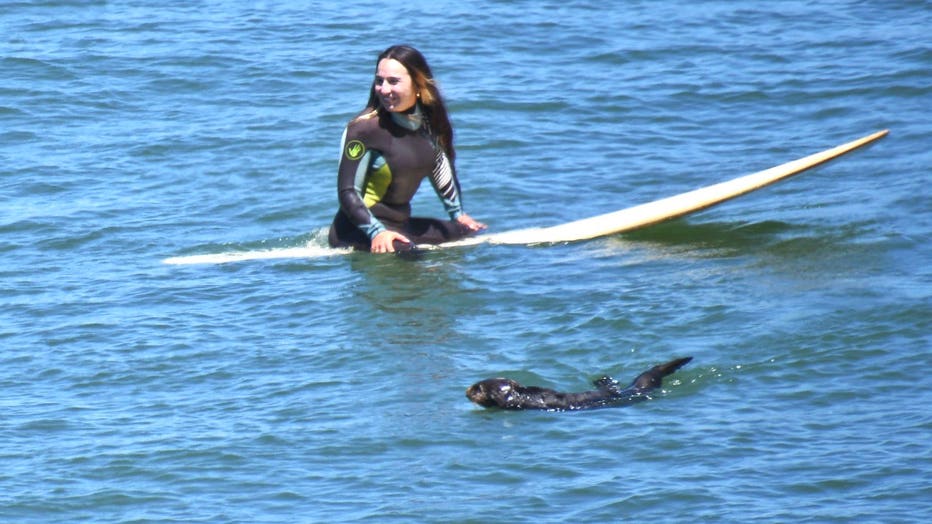 Sea offer near surfer off Cowell Beach on Sunday, June 18, 2023.  (Mark Woodward / @NativeSantaCruz)
The "surfing" otter will continue to be monitored. Young noted, "Sea otters are managed by the U.S. Fish and Wildlife Service and decisions to remove animals in the wild are considered carefully on a case-by-case basis."
Experts urged any further Incidents with this particular animal or close, hazardous interaction with any marine mammals should be reported as soon as possible to the Monterey Bay Aquarium at (831) 648-4840.