Bourbon, Tennessee whiskey sales up in US; exports top $1 billion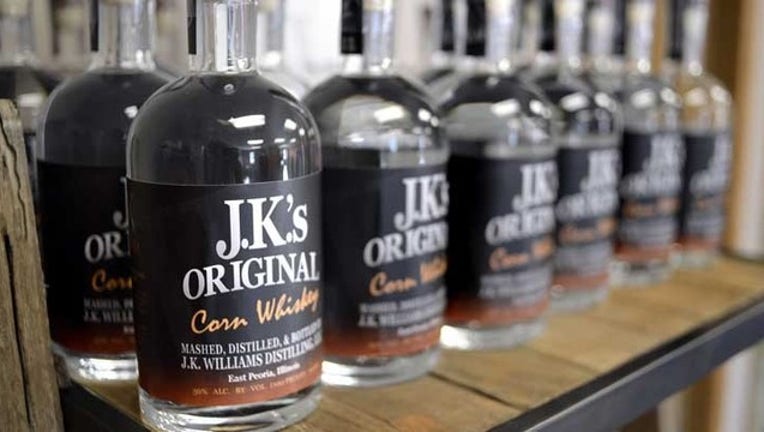 article
LOUISVILLE, Ky. (AP) — Producers of Kentucky bourbon and Tennessee whiskey scored another round of U.S. sales growth in 2014, while exports topped $1 billion for the second straight year, a distilled spirits trade group said Tuesday.
Mixed together, U.S. revenues for bourbon and Tennessee whiskey rose by 9.6 percent to $2.7 billion last year, the Distilled Spirits Council said. Domestic volume shot up 7.4 percent to 19.4 million cases, it said.
The revenue and volume gains last year were similar to increases the category registered in 2013.
"Consumers in the U.S. and around the globe are increasingly enjoying bourbon and Tennessee whiskey because of their distinctive flavor profiles and authentic American heritage," said the council's chief economist, David Ozgo.
The domestic numbers reflect sales from producers or suppliers to wholesalers.
In another good sign for producers' bottom lines, the category's super premium products notched 19.2 percent gains in both revenues and volumes — by far the biggest increases across price spectrums. Super premium products age longer and fetch higher prices.
Industrywide, supplier sales for the U.S. distilled spirits industry were up 4 percent to $23.1 billion last year, the council said. Total U.S. volume growth increased 2.2 percent to 210 million cases, it said.
Irish Whiskey and Single Malt Scotch continued their rapid growth with volume growth of 9.1 percent and 6.4 percent, respectively, the council said. Cognac volumes shot up 11.4 percent, while tequila volumes rose 5 percent. Overall vodka volumes went up 1.6 percent.
The comeback of the cocktail culture along with the popularity of flavored whiskeys and premium products drove the growth, officials said.
"Consumer interest in industry innovations and premium products from distilled spirits producers of all sizes contributed to another year of steady growth in 2014," said council President and CEO Peter H. Cressy.
The industry lumps bourbon and Tennessee whiskey into one category. Both are produced in the same way and with similar ingredients. The main difference is that Jack Daniel's and other Tennessee whiskeys are charcoal mellowed before going into the barrel to age, while bourbon isn't.
Kentucky produces 95 percent of the world's bourbon supply, according to the Kentucky Distillers' Association. More than 5.3 million barrels of bourbon are maturing in Kentucky, outnumbering the state's population.
Meanwhile, demand for bourbon and Tennessee whiskey remained strong with overseas drinkers, with exports projected to top $1.02 billion for 2014, the council said.
Those exports surpassed $1 billion for the first time in 2013, it said.
The latest sales figures underscore Kentucky bourbon's emergence as a "global force" and one of the state's "most prized economic engines," said Eric Gregory, president of the Kentucky Distillers' Association.
"This is just further proof that we are on the cusp of a golden age of Kentucky bourbon," he said. "This is a renaissance we haven't seen in generations, and possibly in the entire history of our signature spirit."
Overall, American spirits exports in 2014 grew by a projected 3.7 percent to $1.56 billion, the council said. It would mark the fifth straight year of record exports.
"Despite the strong dollar headwinds in the second half of the year, premium American spirits are finding new audiences globally, in both traditional and emerging markets," said Christine LoCascio, the council's senior vice president for international trade.
The council said the export figures are based partly on data from the U.S. International Trade Commission.
Canada was projected as the biggest market for American distilled spirits, based on dollar value, the council said. It was followed by the United Kingdom, Germany, Australia and France. The biggest percentage growth occurred in Brazil, followed by the Dominican Republic, Bahamas, Israel and United Arab Emirates.