Calif. governor seeks $750M to pay rent for homeless
OAKLAND, Calif. - California is about to decide if it really is it's brother's and sister's keeper.
Two days before he sends his annual budget to the state legislature, GoV. Gavin Newsom wants the legislature to OK $750 million to, among other things, assist in paying rent for those facing homelessness.
Oakland Mayor Libby Schaaf says this could be very meaningful in addressing the crisis for a state already short three to four million housing units.
"We must do more than just shelter people. We must prevent people from becoming homeless in the first place and we must get them permanently housed. And, that's what that fund is designed to do," said Schaaf.
But, what would she say to critics that this is merely using tax money to pay rental assistance when others have to foot rent and mortgages on their own.
"Housing has become too expensive for everyone. And, that as we go through this moment of readjustment, that we have to help the most vulnerable. Everyone agrees that homelessness is unacceptable," said Schaaf.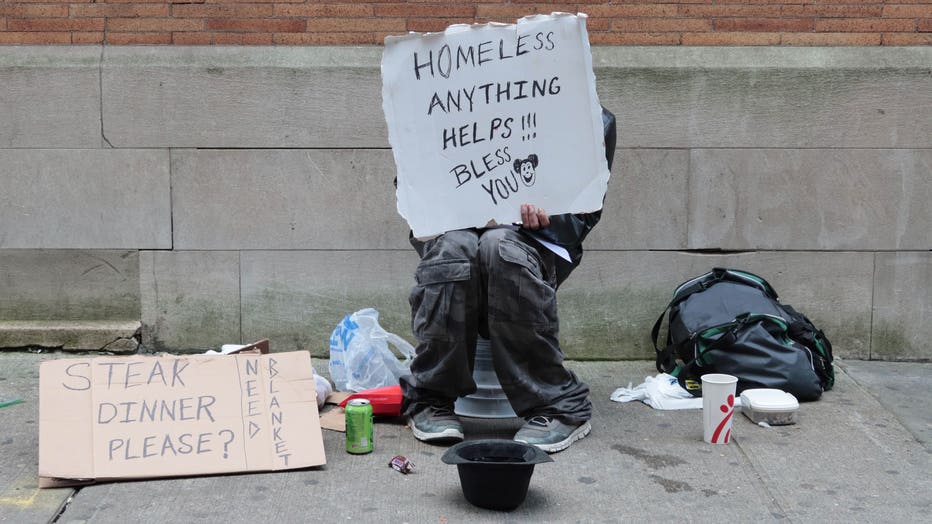 A file image dated Oct. 18, 2019 shows a homeless person holding up a sign on a sidewalk. (Photo by Gary Hershorn/Corbis via Getty Images)
Cities dragging their feet or allowing major cities to deal with homelessness will have to answer for that.
"We all must carry our own load and help out the broader issues, this broader crisis that we face," said Oakland Councilperson Loren Taylor who heads up much of Oakland's homeless program.
There are already more than 151,000 homeless Californians, equivalent to the entire populations of Berkeley, Albany and Emeryville combined.
The Governor's office says Newsom will sign an Executive Order creating the fund and direct various state departments to identify land upon which emergency shelter can be placed.  
It would also make 100 travel trailers and tents available to cities to provide temporary housing as well as other services.
In a statement, the Governor said "Homelessness is a national crisis, one that's spreading across the West Coast and cities across the country. The state of California is treating it as a real emergency."
With $19 billion already in the state's various reserve accounts and another $7 billion surplus expected this year, the spending would account for between 3% to 4% of those reserves, potentially for years into the future, leaving only one real alternative: a massive building.
"Housing supply is a huge cause of our homeless problem," said Mayor Schaaf.
More major announcements are coming Monday.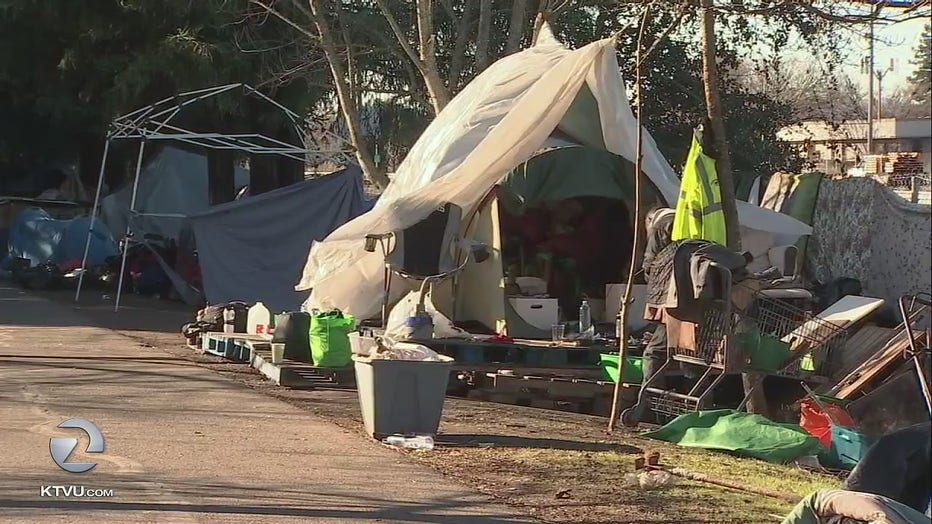 A growing homeless encampment in Santa Rosa has been plagued by a series of recent fires, which has been of concern to neighbors who reside in the area.