California insurance commissioner to asks to expedite claims; Camp Fire 66% contained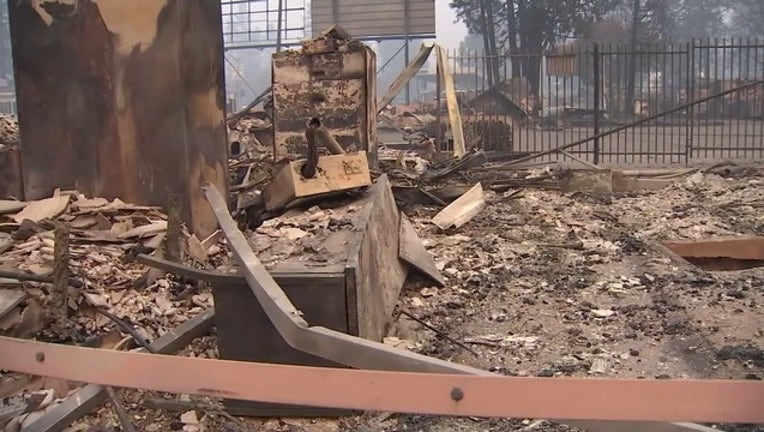 article
PARADISE, Calif. (KTVU) - California's insurance commissioner will be visiting the sight of the state's worst wildfire disaster on Monday, to meet with Camp Fire survivors to make sure they are getting the assistance they need from their insurers.
David Jones also requested that insurers expedite claims for handling the claims of Camp and Woolsey wildfire survivors in order to help them begin the recovery and rebuilding process more quickly. The Camp Fire in Butte County and the Woolsey Fire in Ventury County, have both been burning since Nov. 8.
"Victims of these devastating wildfires need all the help we can provide," Jones said in a statement. "I am asking California insurers to adopt these expedited claims handling procedures to get help to policyholders more quickly, so they may begin working on rebuilding their homes and their lives."
On Monday, Cal Fire said that the Camp Fire had burned 151,000 acres and was 66 percent contained. At least 77 people have been killed, the Butte County Sheriff reported, and nearly 1,000 more are missing. Cal Fire reported that 11,713 single residences were destroyed to date. Jones noted that paperwork and documents needed to prove insurance were also destroyed in the fires. 
Camp Fire survivors lost everything, as most of Paradise was completely destroyed by the fast-moving fire, as a result, many policyholders do not have much of what insurers require to begin the claim process, including copies of insurance policies, home inventories, receipts, and vehicle ownership papers. Jones' spokeswoman Nancy Kincaid said that there are about 120 licensed insurers in California, and that they don't have to comply with the commissioner's orders, but "most do." There are no penalties if they don't, she added.
Specifically, Jones asked insurers to adhere to expedited claims handling procedures, allowing policyholders to receive advance payment for up to four months of additional living expenses, 25 percent of policy limits for personal property, and an expedited process for debris removal.
These procedures speed payments for damaged or destroyed vehicles and provide at least 30 days billing leniency for lost renewal notices or those who do not have the ability to have mail forwarded, Jones said.
Jones also declared an emergency in California last week, allowing insurance companies to use out-of-state adjusters to respond more quickly to the large number of losses. Consumers are able to get help from the department's Consumer Service team at the Disaster Recovery Center in Chico.
This story was reported in Oakland, Calf.