California's outgoing, incoming governors meet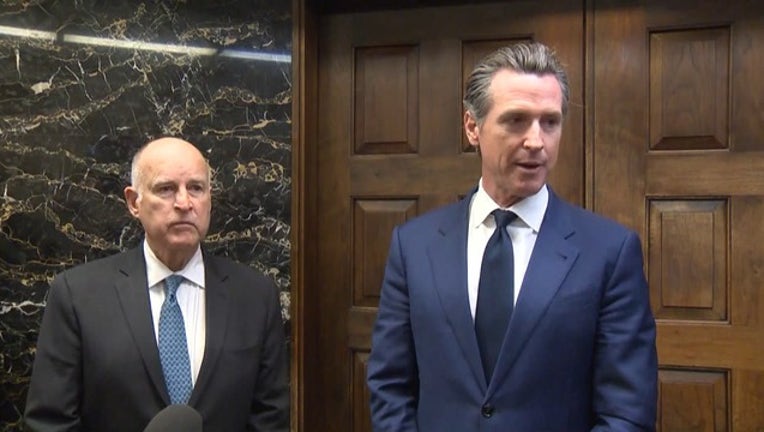 article
SACRAMENTO, Calif. (AP) - California's incoming governor said Tuesday his transition started with a "reality check" as the state contended with a mass shooting and two deadly wildfires.
 
Lt. Gov. Gavin Newsom appeared alongside fellow Democrat and outgoing Gov. Jerry Brown for the first time since he was elected California's 40th governor last week. 
 
"That puts everything in perspective," Newsom said of the tragedies, standing behind a large brass bear that former Gov. Arnold Schwarzenegger installed in front of the governor's office during his tenure. 
Newsom said he's focused for now on staffing his administration. The governor appoints hundreds of people who serve at top levels of state agencies and departments. He announced last week that he'd picked former Hillary Clinton aide Ann O'Leary to be his chief of staff and Ana Matosantos, a former chief of finance for the state, to be his cabinet secretary. 
 
He and Brown did not offer details of their discussions.
 
"Pick an issue. We've had a chance to dialogue at least broadly about it," Newsom said. 
 
With fires raging on both ends of California, one of them the deadliest and most destructive in the state's history, Newsom sidestepped questions about what action should be taken against utilities if their equipment is found to be responsible. The fires started near the time and place where Southern California Edison and Pacific Gas & Electric reported equipment irregularities, but no cause has been determined.  
 
"I'm going to assess the facts first before I opine," he said. 
 
Newsom called legislation enacted last year to improve forest management and protect utilities from financial ruin "a good first step, obviously a work in progress." The measure included money to clear dead trees from fire-prone areas and made it easier for utilities to pass along the costs of wildfire lawsuits to their customers. California is one of two states with a legal standard that holds utilities entirely liable if their equipment causes a wildfire. 
Brown said California is "pretty well maxed out" from fighting several deadly wildfires and he's grateful for the help from surrounding states and the federal government.
 
He said the state is doing everything possible to prevent fires, but "some things only God can do." 
 
"This is unprecedented, or what I call the new abnormal," Brown said. "The winds are faster, the temperatures are hotter. The soil and vegetation is dryer. This is unprecedented. And it's a tragedy, and we as human beings have to be humble in the face of it, but also resolute and determined."