Candlelight vigil to honor homeless who died in San Francisco this year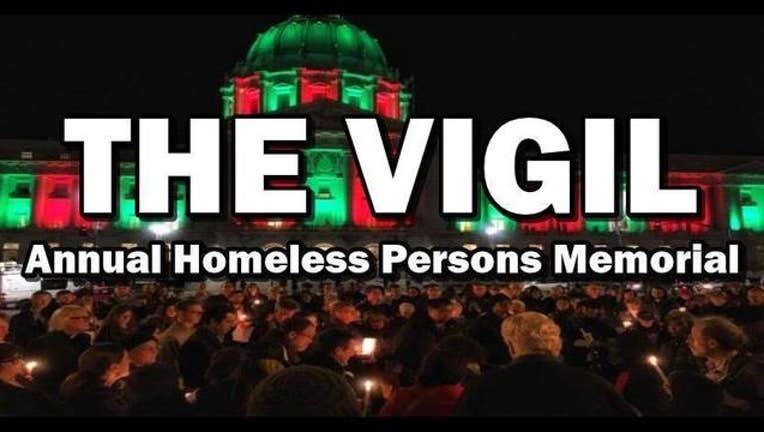 article
SAN FRANCISCO (BCN) - A candlelight vigil in San Francisco's Civic Center Plaza today will honor the lives of those who died while homeless this year, but advocates say there are likely many whose names will not make it on the list.
Jennifer Friedenbach, executive director for the Coalition on Homelessness, one of the event's co-sponsors, said she understood that around 126 names are currently on the list of names pulled together by organizers from sources including the medical examiner's office and service providers.
However, usually many more names are added during the event by participants who call out the names of friends and loved ones lost during the year. The city does not currently have a single agency tracking such deaths.
Last year, Friedenbach said around 170 names were read aloud at the vigil. 
"A lot of times, they're passing away without a bed and without that dignity that every human being should have at the end of their life, so we just like to take a moment at the end of the year, at the Winter Equinox, and honor people who have passed away destitute," Friedenbach said.
She said homeless people are three times as likely to die prematurely, and have a greatly reduced life expectancy, often dying of preventable causes.
The vigil, which is co-sponsored by the San Francisco Interfaith Council, Glide Memorial Church and the San Francisco Night Ministry, has been taking place annually in San Francisco since around 1990, and was for many years led by the Rev. Glenda Hope of the now-disbanded San Francisco Network Ministries.
It is part of a national event, National Homeless Persons' Memorial Day, organized by the National Coalition for the Homeless.
Today's event will start at 5:30 p.m. at Civic Center Plaza. Those attending are asked to bring their own candles.