Change of plea hearing for Yee, others set for Wednesday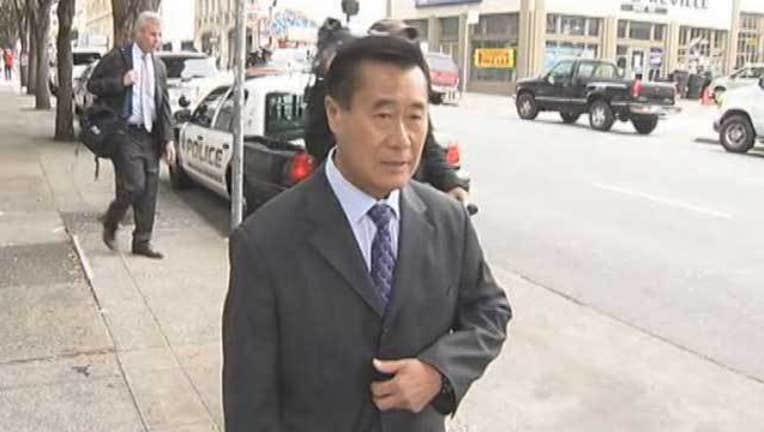 article
SAN FRANCISCO (KTVU and wires) -- Former state Sen. Leland Yee, who faces corruption and money-laundering charges, and three other men are scheduled for change of plea hearings in federal court in San Francisco Wednesday.
The change of plea hearings for Yee; political consultant and former San Francisco school board president Keith Jackson; Jackson's son, Brandon Jackson; and sports agent Marlon Sullivan were posted Tuesday on the Wednesday schedule of U.S. District Judge Charles Breyer.
The four men previously pleaded not guilty to charges against them and were scheduled for a joint trial in Breyer's court on Aug. 10.
The schedule and the court docket for the case gave no indication as to which, if any, of the charges against the four men the plea hearing might concern.
U.S. Attorney's Office spokesman Abraham Simmons confirmed that a change of plea hearing is scheduled for 11 a.m. Wednesday but said he could not say what charges the potential plea change will concern.
"I know there have been negotiations," Simmons said.
Yee's lawyer, James Lassart, was not available for comment, according to his office. Jackson's lawyer, James Brosnahan, will have no comment Tuesday, an office spokeswoman said.
Yee, a Democrat, formerly represented the western half of San Francisco and most of San Mateo County in the state Senate.
Yee is charged with 13 counts, including conspiring to racketeer by soliciting campaign contributions in exchange for political favors, conspiring to launder money and conspiring in a never-completed alleged international arms deal.
Keith Jackson, a consultant who worked on Yee's unsuccessful campaigns for mayor and secretary of state, faces those same counts. He, Brandon Jackson and Sullivan are additionally accused of selling guns without a license to an undercover FBI agent posing as a Mafia member.
The four men are among 28 people charged in a complaint and three successive indictments, beginning in the spring of 2014, with a wide range of organized-crime and corruption offenses. The most recent indictment, issued by a federal grand jury on Jan. 29, contains 230 counts.
Other defendants include Chinatown association leader Raymond "Shrimp Boy" Chow and colleagues, who are accused of racketeering conspiracy in an alleged scheme to operate an organized-crime enterprise. Keith Jackson is charged in that conspiracy but Yee is not.
The other defendants were due to have one or more separate trials after the first trial of Yee, the two Jacksons and Sullivan was completed.