City council approves extending lease agreement for Raiders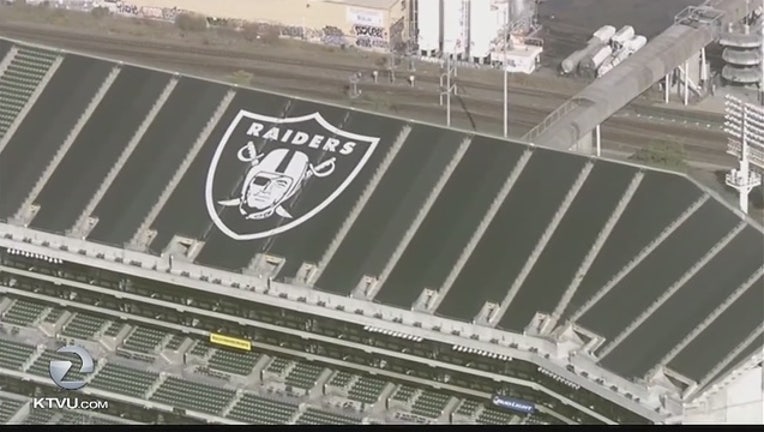 article
OAKLAND, Calif. - A lease agreement that will keep the Oakland Raiders football team at the Coliseum for at least one more year is pretty much a done deal after receiving approval from the Oakland City Council on Tuesday.
The agreement also includes two additional one-year extensions that could keep the Raiders in Oakland for the 2017 and 2018 football seasons as well.
A tentative agreement was announced by the Raiders and city of Oakland and Alameda County officials on Feb. 11.
The Oakland-Alameda County Joint Powers Authority, which consists of city and county officials who oversee the Coliseum complex's operations, voted to approve it on March 25. The Alameda County Board of Supervisors then approved it at its meeting during the day on Tuesday and the City Council approved it Tuesday night.
Oakland City Councilman Larry Reid, who chairs the JPA, said today that the agreement technically must still be approved by the National Football League but that shouldn't be a problem.
"The NFL will be fine with it if the Raiders are fine with it," Reid said.
The lease agreement calls for more than tripling the amount of rent the Raiders will pay to the city and county for using the Coliseum and the publicly owned training facility in Alameda, from $925,000 to $3.5 million.
The rent for the Alameda training facility will remain the same at $525,000 a year but the rent for the stadium will increase from $400,000 to $2,975,000 annually.
The increase is intended to cover the costs the city and county incur on the days of football games.
The Joint Powers Authority said the Raiders and the city and county are still discussing longer lease extensions, as well as the possibility of building a new football stadium at the site.
Raiders owner Mark Davis has explored the possibility of moving the team to other cities such as Los Angeles, San Antonio, Texas, and Las Vegas, but when the tentative lease extension was announced in February, he said it would give the team the chance to work out a deal with the city and county to build a new stadium that would keep his team in Oakland for the long term.
Reid said the talks about extending the lease and building a new stadium were temporarily put on hold because the Raiders didn't want to negotiate until the short-term lease agreement was approved.
"Now that the agreement has been approved, hopefully we will start negotiating again," he said.