City of Benicia declares local emergency after damage to main water pipeline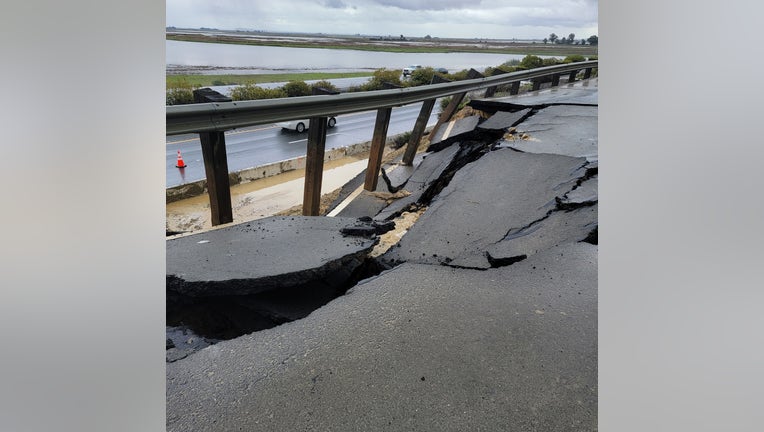 article
BENICIA, Calif. - The city of Benicia on Wednesday declared a local emergency after a water transmission line was damaged during the recent storms. 
The pipe was damaged when a hillside collapsed on March 29 in Fairfield, the city said. The slope failure occurred just outside the city's limits, near Interstate Highway 680 and Gold Hill Road. 
The declaration of an emergency will allow Benicia to access all the resources necessary to repair the pipeline, a spokesperson for the city said.  
Interim City Manager Mario Giuliani said the declaration will enable Benicia to access funding through the California Disaster Assistance Act, as well as other state and federal funding.  
Currently, the Benicia Department of Public Works is creating a temporary bypass so the city can access its primary water source. 
Construction on the bypass began on Tuesday and is expected to continue through Friday. If testing is successful, then water transmission from Cordelia to Benicia will be partially restored. However, the testing could take several days, the city said. 
City officials held a press conference last Thursday to address the damaged pipeline and to call for a mandatory 40 percent reduction in water use by residents in what they called a "stage 4 critical water shortage." 
SEE ALSO: Benicia under mandatory water conservation orders after hillside collapses on pipeline
Benicia Public Works Director Kyle Ochenduszko said that city water usually comes through the impacted 14-mile pipeline from Lake Berryessa and the Delta, and when they first noticed soil erosion in the area about two weeks ago, they began to monitor the pipe and its pressure.   
Crews eventually found a leak in that area that's approximately near Lopes Road. Crews also noticed that erosion had grown significantly since the last rainstorm. At that point, the city turned off the pipeline and switched to an alternate water source, Lake Herman.   
The new bypass line will deliver water at a lower capacity and the water will still come from Lake Herman until the line tests are successful, the city said.  
A website has been created to provide a one-stop source for information about the pipeline situation, the city said. Residents can find it at www.ci.benicia.ca.us/WaterTransmissionLine.