City of San Jose proclaims state of emergency ahead of storm's arrival, evacuation orders for the unhoused
SAN JOSE, Calif. - The City of San Jose declared a state of emergency on Tuesday in preparation for Wednesday's atmospheric river weather event. 
San Jose Mayor Matt Mahan urged residents to prepare appropriately for the heavy rains. In addition, the city has issued a mandatory evacuation order for unhoused people living along creek beds, San Jose Police Department announced Tuesday evening. The mayor's proclamation was signed by City Manager Jennifer Maguire. 
Heavy rains and flooding are likely, SJPD said, and for the safety of anyone dwelling around these creek areas they are being evacuated. 
"San Jose is taking this extra precautionary step during this storm surge to protect our residents, particularly our most vulnerable unhoused neighbors," said San Jose Mayor Matt Mahan. "We want to make sure all residents are informed and prepared to stay safe, and that city staff has the ability to move quickly to relocate encampments that are in harm's way." 
The city is coordinating with Valley Water, the National Weather Service and the County to prepare for the coming storms. 
"If you are in the banks of the waterway, your life is in danger," said the SJPD. Persons needing shelter are asked to call (408) 385-2400. 
In addition, outreach teams have been deployed to alert unhoused residents who live near waterways and are susceptible to flooding. City officials recommend they move and are helping them find shelter placements, and delivering supplies to people who choose to remain outside.
SJPD will be conducting loudspeaker announcements along Coyote, Guadalupe and Penetencia Creeks to help get the word out.
Santa Clara County identified eight hot spots for potential flooding but says any waterway could rise quickly during the storm. San Jose's CHAM Deliverance Ministry distributed tarps and other survival items to people living near Coyote Creek on Tuesday.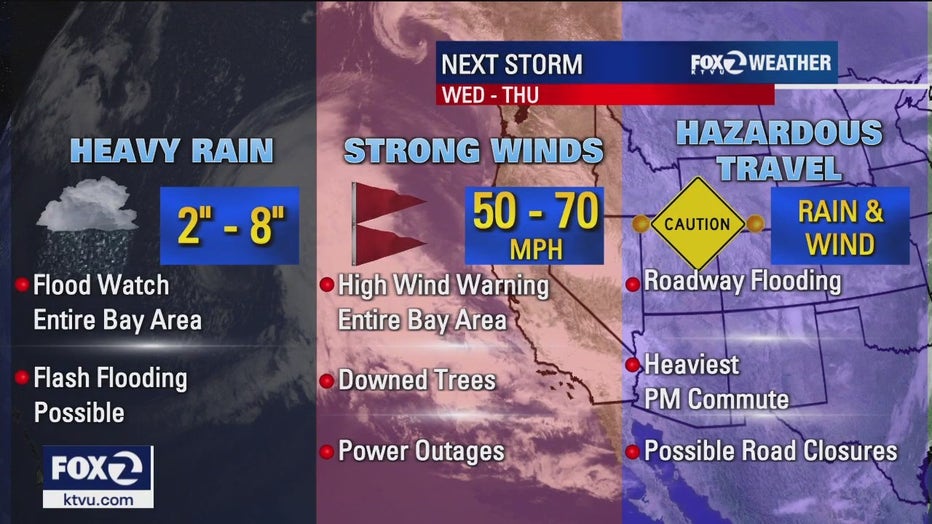 "These are tarps, these are sleeping bags, these are necessities, and they're called necessities for a reason. People need them to survive," said Pastor Scott Wagers, Founder of CHAM Deliverance Ministry. 
San Jose recently received $3 million to spend on homeless services at two temporary housing sites, but Wagers says during emergencies like the impending storm, city resources need to be targeted towards helping the most vulnerable.  
"There needs to be a major and significant deployment of people to let people know because these people are scattered everywhere along these creek beds," Wagers said.   
Santa Clara County says they've had a team giving out warming supplies since last month, and they're currently providing transportation to centers and shelters for those who request it. 
San Jose is increasing its shelter capacity with overnight warming locations located at the Roosevelt Community Center and the West Valley branch library. The sites are open from 8 p.m. to 7 a.m., but users must have a referral. Referrals can be had by calling (408) 539-2105 or emailing owlreferrals@homefirstscc.org. 
SEE ALSO: Don't get caught off guard in the Bay Area's next 'brutal' storm
Bay City News contributed to this report.