College of Marin hosts basketball tournament to honor legendary alumnus Don Barksdale
KENTFIELD, Calif. - The College of Marin is hosting the second annual "Don Barksdale Basketball Invitational" to honor an alumnus who broke racial barriers and became an African-American pioneer in sports, media and business. 
Both men's and women's teams are scheduled to play in the two-day, double-header event. 
Games for the men's tip-off are on Friday at 3 p.m., followed by the women's at 5 p.m. The showcase aims to promote Barksdale's story and how his journey embodies the school's mission of equity, diversity, inclusion, and anti-racism.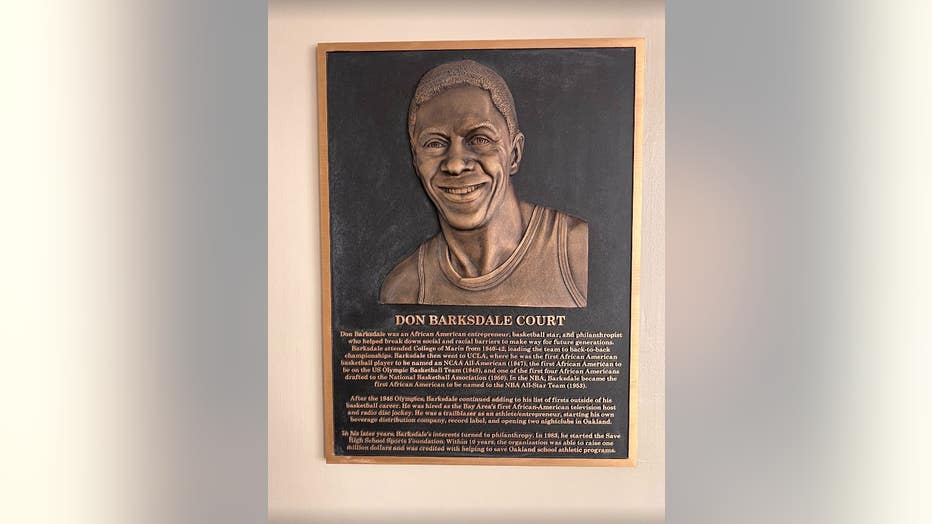 Plaque of Don Barksdale hanging at College of Marin. Photo: JT Cunningham 
All week long, the College of Marin has held festivities on its campus in Kentfield where student-athletes learned his story and the contributions he made both on and off the court. 
Among his many accomplishments, Barksdale became the first Black NCAA All-American basketball player and NBA All-Star. He was also the first Black disc jockey and television host in the Bay Area.
Barksdale attended and played for the College of Marin in the 1940s. He died in 1993 of throat cancer at his home in Oakland. 
"His success in so many different areas made him a legend here at the College of Marin, but his contributions extend far beyond the Bay Area," said Yashica Crawford, psychology instructor at the College of Marin. "We might miss opportunities to really benefit from a lot of what he did if we don't know about his story and determination."
Barksdale attended Berkeley High School, but was not allowed to play basketball because only one Black player was allowed on the team during that time. 
Although racist practices prevented him from playing basketball in high school, Barksdale excelled as a student-athlete at the College of Marin during a time when lynchings were legal and Jim Crow laws were still prevalent throughout the United States.
In the early 1940s, the Oakland native led the Mariners to back-to-back junior college basketball state titles. After leaving the Bay Area and returning from military service during World War II, he became the first Black NCAA All-American basketball player at UCLA in 1947.
The following year, Barksdale won an Olympic gold medal as the first Black player to play on the U.S. men's basketball team, even though some of the coaches were against having him on the squad. 
Racial segregation laws prevented Barksdale from staying in the same hotels or dining in the same restaurants as his teammates while the team prepared for the London Games at the University of Kentucky. 
He also received death threats and was warned that he would be shot if he played with the team. 
When the NBA allowed Black players in the league in 1950 he was one of the first players to integrate, and became the first black NBA All-Star in 1953.
"We need to highlight what he accomplished here and his success after he left the College of Marin to inspire our scholar-athletes," said Emily Schaefer, women's basketball head coach at the College of Marin. "Don Barksdale had too much of an impact on society for his story not to be remembered."
This year marks only the second invitational honoring Barksdale. 
In recent years, the community college has gone about correcting the mistake of not having anything at the institution in his memory, officials said.
A few years ago, Ryan Byrne, College of Marin director of student services for kinesiology, athletics and student health, went to the school president and proposed the idea of having the school recognize Barksdale. 
His idea was quickly accepted.
In 2020, the school board unanimously decided to name their gymnasium court after the former Mariner. Last year, the school held a ceremony and officially renamed its newly renovated basketball court Don Barksdale Court.
Today, when you walk into the College of Marin gymnasium, you'll see a three-dimensional bronze plaque of Barksdale with a short bio of his career and accolades.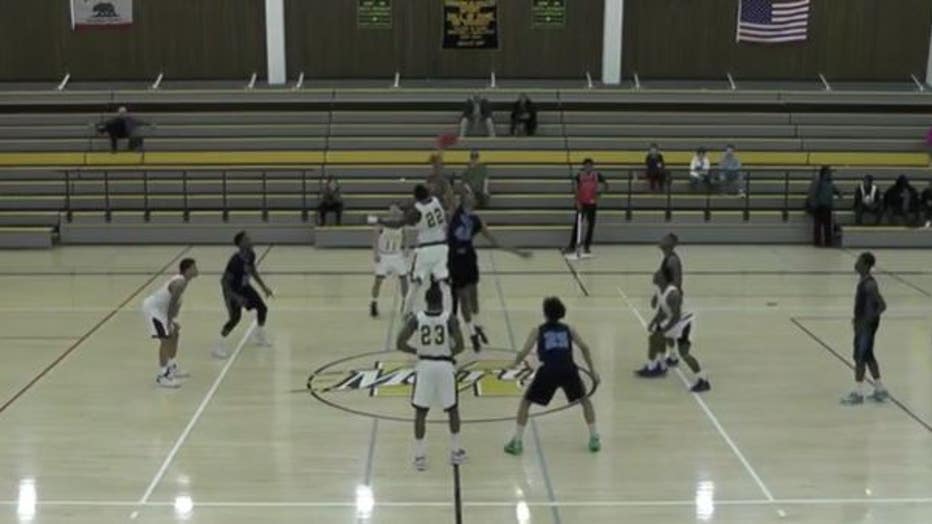 College of Marin basketball players from Contra Costa in 2017. Photo: College of Marin 
Step a little further in the building and you'll find his Mariner jersey painted on the wall above the home side bleachers alongside his UCLA and NBA uniforms he donned later in his career. You also won't miss his name in big, bold print on the floor either.
"Don Barksdale is arguably the most significant historical individual to attend our school," said Ryan Byrne, director of student services for kinesiology, athletics and student health at the College of Marin. "The fact that we did not have anything to remember him was an oversight."
What's equally, if not more, impressive about Barksdale's story is that he wasn't just an incredible athlete. Like many professional and college athletes we see today, Barksdale exhibited a range of skills in business, media, and philanthropy.
He wrote for the school paper as a student-athlete at the College of Marin and owned one of two Black record stores during his time at UCLA. 
When he returned to the Bay Area, Barksdale started a career in radio while he played AAU basketball in Oakland. He appeared in the Oakland Tribune in 1948 as the first Black disc jockey in the Bay Area where he interacted with many prominent African-American musicians and entertainers of that era. 
He also became the first Black television host in the Bay Area with a show on KRON-TV around the same time the NBA lifted its ban on black players.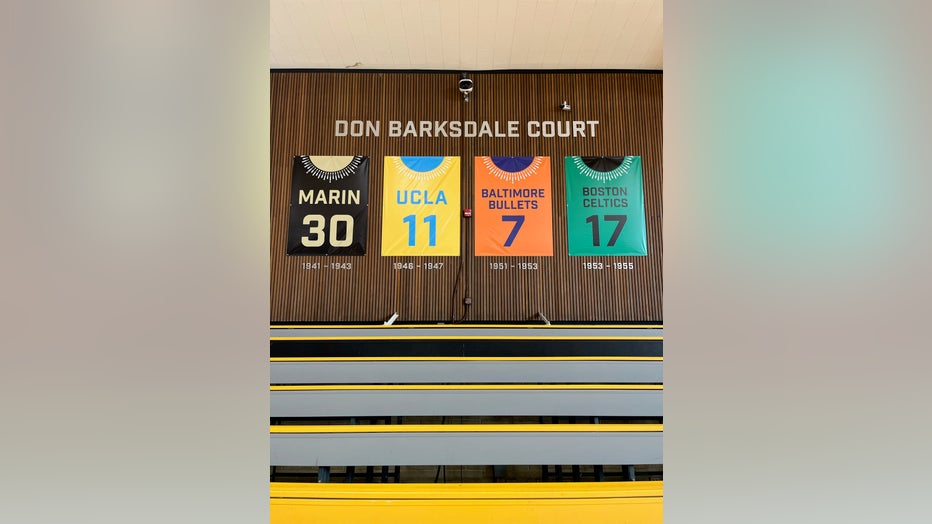 Don Barksdale's college and NBA jerseys.
As a business entrepreneur, Barksdale was doing so well financially running an ad agency and the first Black-owned beer distributorship of its kind in the Bay Area that he delayed signing his NBA contract. In 1951, he entered the league as a 28-year-old rookie, negotiated a higher salary than the one initially offered, and hosted the team's postgame show as part of his contract.
While his pro basketball career was cut short due to injuries, he used his resources and connections from the sports and entertainment world to open two nightclubs and purchase a record label in the Bay Area. 
Barksdale was known for his affinity to connect with people and build community.
"People would always say you get 10 years younger around my father," said Derek Barksdale, Don Barksdale's youngest son. "He was always kind, always wanting to make people feel good about themselves no matter if they were a regular, everyday person or the most famous person in the room. My dad was able to make people feel like he knew them for years even if he only knew you for a short time."
He was a local hero who helped save Oakland high school athletics from shutting down due to budget cuts. 
In 1983, he once again used his connections to start the Save High School Sports Foundation. 
His philanthropic efforts raised more than a million dollars and was equally distributed to girls' and boys' sports in Oakland over the course of a decade, and up until his death in 1993.
"Certain history is just not celebrated the way it should be," said LyRyan Russell, head men's basketball coach at the College of Marin. "His story is a great example that shows our guys that you can think outside the box and do more than just be an athlete. I appreciate what he did because it teaches all of us that life is more than just basketball."