Rep. Swalwell says former 49er Bruce Miller threatened him
SAN FRANCISCO - Rep. Eric Swalwell said former San Francisco 49er Bruce Miller threatened to execute him.
The Democratic representative from Castro Valley shared a screenshot of a direct message from Twitter account @BruceMillerIII, that boasts over 54,000 followers.
"Almost time!!! Would you rather Guantanamo or just execution. f— traitor," the message read, according to the photo posted by Swalwell.
It is not yet clear whether the Twitter account belongs to Miller, but there are photos of the former fullback during his time with the San Francisco 49ers.
Swalwell told KTVU that he does not make light of the threat and is concerned about the safety of his family and staff.
"I'm disturbed for my family and staff that a former 49er would make such an imminent and specific threat to me. Political violence has no place in our country," he said. "But if the goal is to, you know, make me afraid to keep quiet, it's not going to work."
Swalwell said he notified Capitol Police about the threat and publicized the private message in hopes of gaining more information on the owner of the Twitter account. 
"I publicized it just because of the public nature of the person making the threat and to try and learn more information to protect my family and my staff."
Swalwell found out that the account apparently belonged to Miller.
"What concerns me about the threat Mr. Miller made is that he has a prior history of violence, multiple acts that he's been arrested for," Swalwell said.
Miller was released from the 49ers in 2016 after he was charged in an assault on an elderly man in 2016, but the charges were later dropped, according to the San Francisco Chronicle. He was also accused of spousal abuse, but the charge was reduced to disturbing the peace, the news outlet reported.
Swalwell said Miller continued to take aim at him on Twitter.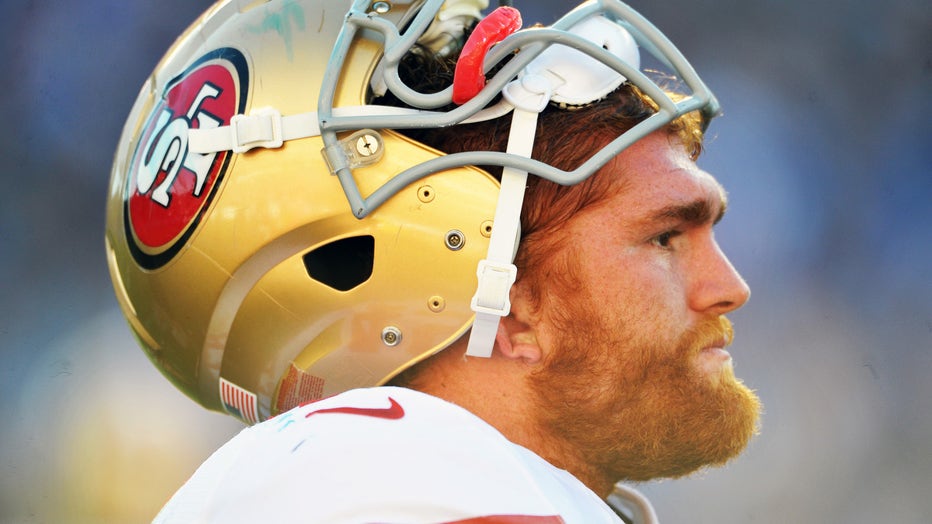 NASHVILLE, TN - OCTOBER 20: Bruce Miller #49 of the San Francisco 49ers looks on during a NFL game against the Tennessee Titans at LP Field on October 20, 2013 in Nashville, Tennessee. (Photo by Ronald C. Modra/Getty Images)
"He posted that execution is the punishment for somebody who commits treason. And so it just is concerning that this was not an accident. This was not capricious on his part. This he did with malice aforethought," Swalwell said.
The Twitter account, supposedly belonging to Miller, said on social media that he was only "trolling corrupt politicians" and was "in no way a threat to you or your family."
The Miller account has not yet responded to a request for comment.
Swalwell said the incident underscores the rising threats of violence toward political leaders. 
In October, House Speaker Nancy Pelosi's husband Paul Pelosi was violently attacked at their home in San Francisco. Two staff members of Rep. Gerry Connelly were attacked by a man with a baseball bat in Connelly's Virginia office on Monday.
Swalwell said the only to quell threats and acts of violence is through bipartisanship. 
"The best antidote to this is unity in the condemnation, that Republicans and Democrats will continue to condemn political violence, And I just don't hear it enough from Republicans. They just are quite silent when threats like this come the way of me and my colleagues."