Court battles continue over flooring allegedly exceeding formaldehyde safety standards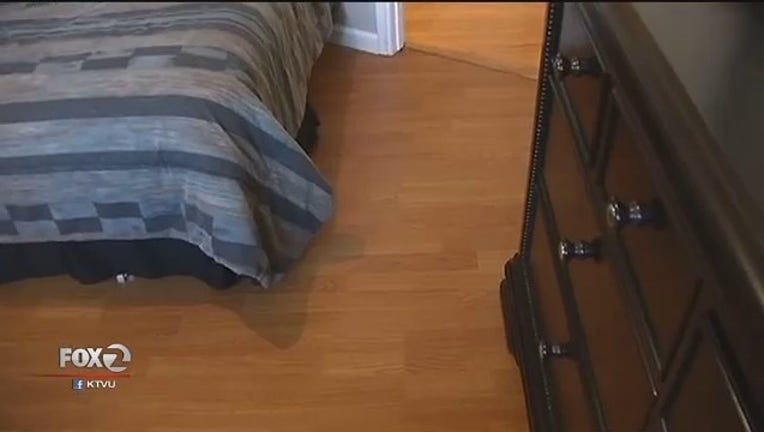 article
BAY AREA (KTVU) - Last summer KTVU reported about an environmental lawsuit filed against a major retailer of discount flooring.
The lawsuit alleged that fumes from the flooring were far in excess of state standards.
That single lawsuit has become a swarm of court battles as this year's home building and remodeling seasons kick into high gear,
All Mike Balero wanted in his son's bedroom was a nice, economical wood floor, to match the rest of the house.
He chose big box giant Lumber Liquidators which sold him a board shaped product made of glued, pressed and shaped sawdust.
A few months later he saw a legal ad in the paper claiming that what he bought did not meet state clean air health safety laws.
"It said formaldehyde levels were high and that was something that could cause problems." says Mike Balero.
Formaldehyde can cause respiratory problems, mucus membrane irritation and is listed as a probable human cancer causer.
Balero asked Lumber Liquidators about that. "I got an email saying that no, the product is fine; that it's a false claim," says Balero.
That was no surprise to environmental activist Denny Larson who had previously announced that his organization's lab tests showed many of the products violated California law.
"The levels of formaldehyde exceeded the threshold that is considered safe; in some case by quite a few times," says Larson. The company immediately denied the allegations and sued Larson's group for defamation.
Then a group of class action attorneys hired labs to test dozens of random samples of the flooring.
A couple of months ago, they sued the company on behalf of the many thousands of Californians who bought the glued sawdust flooring.
California is the only state that sets formaldehyde safety standards. "And we've gotten dozens and dozens of results that are all above the state imposed limit for formaldehyde emissions," says Linda Dardarian, a long time class action attorney
Not only does the company deny all the allegations, it has a huge section talking about safety and compliance with regulations on its website.
In fact one of the videos says, "We put our people in the mill. Our folks can walk into the mill any time and go on to the line and then take samples off the line. We do random testing of every product we sell. We maintain compliance to the highest industry standards."
The class action lawyers are not buying that. "All of those products that we've tested, every batch, has been labels by Lumber Liquidators saying that it complies with the formaldehyde emission limit for the state of California when it doesn't."
In all of the cases, judges and/or juries will decide.