Court: New Orleans can remove 3 Confederate monuments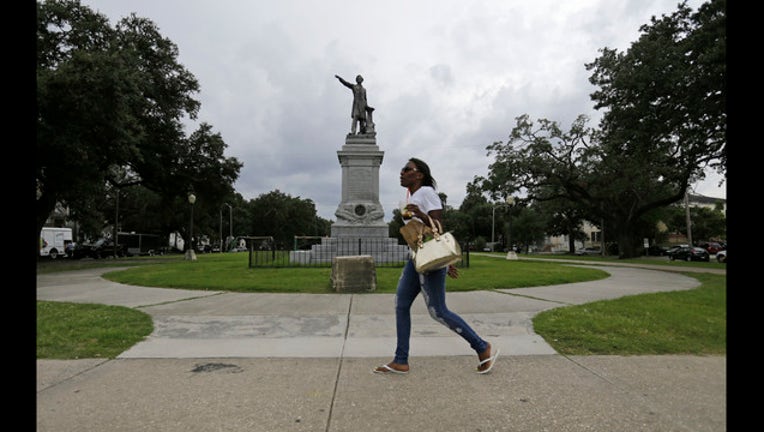 article
NEW ORLEANS (AP) -- A federal appeals court cleared the way Monday for the city of New Orleans to take down three Confederate-era monuments that have been a source of tension in the Southern city.
A three-judge panel of the 5th Circuit Court of Appeals in New Orleans upheld a lower court's refusal to block the removal.
The City Council voted in December 2015 to remove four monuments after a series of heated public meetings. One of those structures remains tied up in other litigation.

"We do not pass on the wisdom of this local legislature's policy determination, nor do we suggest how states and their respective political subdivisions should or should not memorialize, preserve, and acknowledge their distinct histories," the ruling said. "Wise or unwise, the ultimate determination made here, by all accounts, followed a robust democratic process."

In a statement released after Monday's 5th Circuit ruling, Mayor Mitch Landrieu said the city would remove the monuments, store them and preserve them until an "appropriate" place to display them is determined.

The most prominent of the statues is a likeness of Confederate Gen. Robert E. Lee standing high atop a pillar at Lee Circle on historic St. Charles Avenue. Others honor Gen. P.G.T. Beauregard and Confederate States of America President Jefferson Davis. The fourth monument, honoring whites who rebelled against a Reconstruction government, will remain in place pending unrelated litigation.

Landrieu had urged the monuments' removal after police said a white supremacist who posed for photos with the Confederate battle flag killed nine parishioners inside an African-American church in South Carolina in June 2015.
But their removal has been sharply controversial in a city where passions over the Civil War still run strong. Opponents call the monuments part of the city's history and say they should be protected historic structures. Others say they're offensive artifacts honoring the region's slave-owning past.

A contractor hired to remove the monuments later pulled out of the job, citing death threats and possible loss of business. The city has put the bid process on hold until the court process concludes.

Groups arguing for the monuments to remain mounted a legal challenge to keep the statues in place, and the 5th Circuit year blocked the city from removing the monuments -- until Monday's ruling.