Cousins drive 2,000-plus miles from Chicago to California to help animals after Camp Fire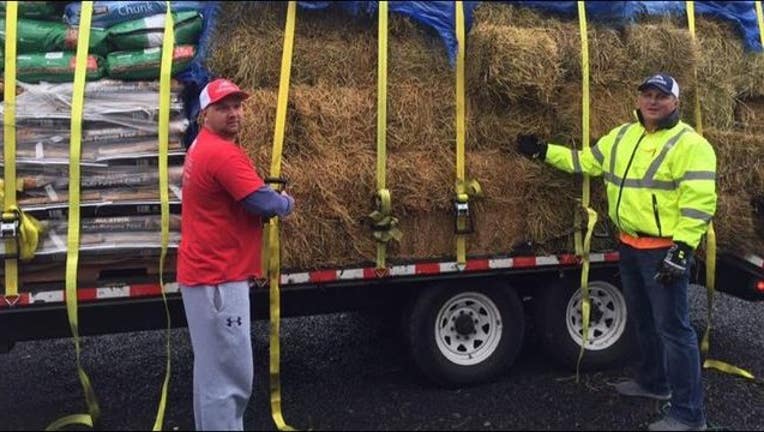 article
BIGGS, Calif. (KTVU) - When cousins Arek and Danny Zachara heard about the Camp Fire, they hopped in a trailer and drove 2,139 miles from Chicago to California to help animals and farmers in need. 
Specifically, they drove to Wheeler Ranch and Feed in Biggs, Calif.,  a de facto volunteer command post for North Valley Animal Disaster Group, which has been acting like a Red Cross for animals.
The cousins, ages 34 and 38 respectively, who were born in Poland and who own a roofing business, MDD Exterior Inc., can't put into words why they were willing to leave their jobs, their families on Thanksgiving and make the arduous cross-country trip.
"I can't answer why," Danny Zachara told KTVU on Tuesday morning, a day after he returned home to Chicago. "All I can say is, 'today you need help, tomorrow I need help.' " 
The Camp Fire was fully contained on Sunday, but not after it killed at least 88 people, destroyed about 14,000 homes and burned 153,000 acres of land.
The Zachara cousins are no strangers to helping out. Both had donated their time and goods with Hurricane Harvey relief efforts in Texas last year and with Hurricane Florence in North Carolina this fall. Coincidentally, Danny Zachara was in Malibu, California, a few days before the Camp Fire broke out on Nov. 8, and he knew he had to go back to the Golden State to help. His cousin, not his brother, as most people think, was happy to come along for the nearly weeklong journey there and back.
So, the cousins gathered up hay, grain, dog food and batteries for the Camp Fire victims and headed out west, driving in the rain, ice and snow. They finally reached California on Friday.
"Their tarp was completely shredded," said the farm's owner Kari Wheeler.
Wheeler said the cousins spent a few hours unloading their trailer and then found out about a woman in nearby Magalia, Calif., and drove over to donate the rest of their gear to her and her animals, Wheeler said.
"They are larger than life," she said. "They are the most wonderful boys." 
The cousins might have driven the farthest, but they are not the only ones who have left their homes to drive hundreds of miles to Northern California.
Wheeler said people from Idaho also drove to her ranch, dropping off gear for farm animals, people from Salt Lake City donated saddles, blankets, dog beds and feed, and some folks from Oregon gave her ranch 22 pallets of seed.
"All these people stopped their lives to gather up items and bring them here," she said. "People have been truly spectacular. This just renews your faith in humanity. Ultimately people are good."
Danny Zachara said he is not done doing good. He and his cousin hope to come out to California at least once, maybe twice, more.
"We don't do this to be famous or popular," he said. "We know that people need it." 
EDITOR'S NOTE: This story was updated after speaking with Danny Zachara. This story also reflects that he and Arek Zachara are cousins. This story was reported from Oakland, Calif.