Cyclist suffers life-threatening injuries in collision with vehicle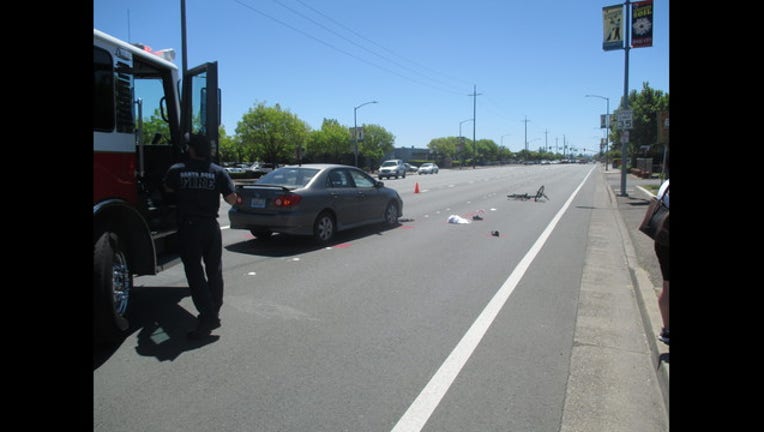 article
SANTA ROSA, Calif. (KTVU) - A bicyclist suffered life-threatening injuries in a Monday afternoon collision with a vehicle in Santa Rosa. 
Police officers arriving on the scene found the cyclist unconscious at the scene of Santa Rosa Avenue south of Colgan Avenue. The cyclist, identified as 52-year-old Santa Rosa resident, Darrell Lee Spurlock. He was already being treated by fire and medical personnel when police arrived, but was immediately transported to Memorial Hospital. 
The driver of the vehicle, a gold Toyota Corolla, was identified as Cody Austin Gibbs, a 25-year-old resident of Santa Rosa. 
Investigators said Spurlock was riding his bicycle, westbound out of the Santa Rosa Marketplace Driveway at 1850 Santa Rosa Avenue. Police said Spurlock rode his bike into the northbound lanes of traffic, then crossed into the southbound lanes of Santa Rosa Avenue. Gibbs was driving his vehicle and traveling southbound on Santa Rosa Avenue. Police said Spurlock crossed into the number one lane and was struck by Gibbs' vehicle. 
Spurlock was said to not have been in the crosswalk and Gibbs didn't have enough time to stop to avoid the collision, according to police. 
Spurlock struck the front windshield of the Toyota, landing on the pavement. 
Police have not determined the speed of Gibbs' vehicle. 
Spurlock's injuries, include major head trauma. Gibbs had a valid driver's license, and is cooperating with the investigation.
Anyone that witnessed this collision is encouraged to contact Officer Jeff Woods of the Santa Rosa Police Department Traffic Bureau at (707) 543-3636.
Media inquiries should be directed to Sergeant Summer Black (707)543-4108.