DA Gascon declines to file charges in separate 2015, 2017 in-custody deaths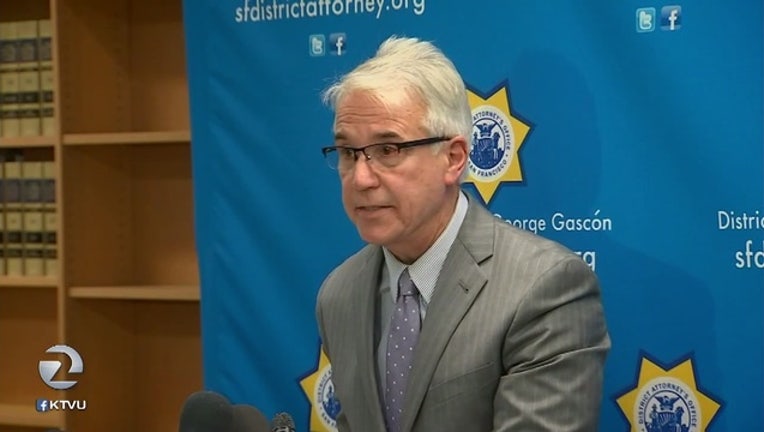 SAN FRANCISCO (BCN) No charges will be filed against officers involved in two separate in-custody deaths, both ruled accidental, San Francisco District Attorney George Gascon's office announced today.
The first case occurred on April 3, 2015 when officers responded to a 911 call around 10:51 a.m. and went to a home in the 100 block of Kiska Road in the city's Bayview neighborhood regarding a trespasser on a resident's balcony.
After identifying the alleged trespasser as Darnell Benson, officers learned that he had a warrant for his arrest and took him into custody.
At the city's County Jail 1, Benson allegedly became agitated and expressed that he wanted to kill himself. Because of this, officers decided to take him instead to Zuckerberg San Francisco General Hospital for an involuntary psychiatric hold.
As several sheriff's deputies and a police officer tried to escort a restrained Benson, he continued to be agitated, screaming, flailing and grabbing at the hands and fingers of authorities.
Benson momentarily calmed down, but once outside of the jail, he spat at the authorities and tried to bite a deputy.
Authorities took Benson to the ground, held him down until paramedics arrived and injected him with a sedative.
Once inside the ambulance, however, Benson's vital signs deteriorated, his heart rate slowed and his heart eventually stopped.
Paramedics tried to revive him and, once at the hospital, Benson regained a pulse, but doctors determined that he suffered a cardiac arrest and a severe anoxic brain injury, caused by a lack of oxygen to the brain.
Benson was placed on life-support, but died three days later on April 6, 2015.
An autopsy conducted by the city's medical examiner's office determined that Benson died from complications of acute methamphetamine and cocaine intoxication. Although Benson had bruises all over his body indicating blunt force trauma, the marks were consistent with the use of 
force by the officers and deputies.
The medical examiner's office ruled Benson's death as an accident.       
The district attorney's office concluded that the officers and deputies involved did not violate the law and therefore, no criminal charges will be filed against them.
The second in-custody death reviewed by Gascon's office occurred on March 11, 2017.
Around 8:30 p.m., officers responded to a report of an aggressive person at the now-closed restaurant Hecho Cantina at 2200 Market St. in the city's Castro neighborhood.
A caller said an individual, later identified as Carlos Margo, also known as Abel Florentino, was causing property damage and harming himself.
Margo allegedly used a cue ball to break the restaurant's pinball machine and poured water on himself before smashing the water jug on the ground. He then used a piece of broken glass to stab his own hand.
Officers arriving on scene detained Margo, handcuffing his hand and shackling his legs as he resisted and kicked.
Medical personnel with the San Francisco Fire Department responded to tend to Margo's self-inflicted injuries.
Although Margo had calmed down, medical personnel gave him a sedative.
Margo again became combative and officers and medical personnel put him in soft restraints, removing his shackles and handcuffs, and placed him on a backboard.
Soon after, an officer checked Margo's pulse and did not find one.
Officers began CPR and medical personnel transported him to Zuckerberg San Francisco General Hospital where he was placed on life-support until he died on March 24, 2017.
After conducting an autopsy, the medical examiner's office determined that Margo's death was caused by complications of anoxic encephalopathy, or brain damage caused by a lack of oxygen.
Margo's death was ruled accidental by the medical examiner's office.
In Margo's case, the district attorney's office reasoned that because Margo was resisting and acting erratically, the officer's conduct in restraining Margo was within reason and did not constitute criminal 
negligence.