DA reopens Santa Rita Jail suicide case after lax cell checks revealed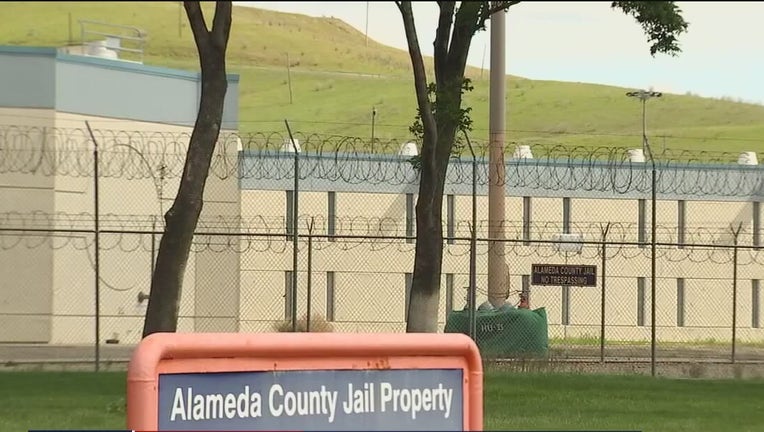 article
DUBLIN, Calif. - The Alameda County District Attorney on Tuesday announced prosecutors are reopening a case stemming from a suicide at Santa Rita Jail two years ago, which reveal that the woman hadn't been adequately checked on by deputies and that the accounting of her cell visits were improperly catalogued. 
Newly elected DA Pamela Price – who campaigned on a platform of holding police accountable – said she wanted to review the in-custody death of Vinetta Martin, a mentally unstable woman kept in isolation, who killed herself by hanging herself in a cell with a bedsheet on April 2, 2021. 
At the end of her tenure, previous DA Nancy O'Malley on Dec. 16, 2022, had cleared Alameda County sheriff's deputies involved in Martin's suicide of any criminal wrongdoing. 
O'Malley stated that even though the deputies may have been "negligent in their duties," it's clear their negligence did not rise to the level of involuntary manslaughter. 
But in a statement, Price said she wanted to more closely investigate what happened before Martin's death – as she felt many of the cases handed to her by her predecessor were cleared in the "11th hour."
Reopening a case, however, does not mean that Price's team will decide to file charges either. 
A spokeswoman for Sheriff Yesenia Sanchez, who also ran on a campaign of accountability, did not immediately respond for comment. 
"I am glad Pamela Price is looking into these cases and safety issues at the jail," said Kara Janssen, an attorney who helps supervise the consent decree oversight of the jail. "It's too easy to keep inaccurate logs."  
According to the DA's Critical Incident Team report obtained by KTVU, and written under O'Malley's administration, there were some issues regarding deputy checks and falsifying records that Price's team wants to reexamine. 
According to the incident team report, the deputies working on the night Martin killed herself were supposed to have checked on her in Housing Unit 24 pod F-2 every 30 minutes. But they did not. 
A logbook kept by one deputy showed that the officer had made the required visits, the prosecutor's report states, but body camera video surveillance showed "that the deputy did not check on Ms. Martin at the time indicated in the log." 
Martin was last seen at 6 p.m. that evening, the DA's report states, and wasn't checked on again until 11:10 p.m. She was discovered the following day at 12:37 a.m. 
Deputies who spotted Martin cut her down immediately and called Wellpath nurses to help.
But Martin died on April 3, 2021, at the hospital. 
Martin had been arrested by Oakland police on July 5, 2020, on suspicion of assault with a deadly weapon. A month later, a judge suspended her criminal proceedings to determine her mental competency. 
During her stay at Santa Rita Jail, Martin had been kept in "Administrative Segregation," a form of solitary confinement, and was awaiting transfer to Napa State Hospital. 
Still, O'Malley's report noted that Martin was not on suicide watch or under intensive observation. 
And O'Malley also said that Martin could have died within seconds or minutes. So, even if the deputies had conducted their check at 11:46 p.m. and 12:16 a.m. as required, she still would have had time to hang herself in the 30 minutes in between rounds, the report noted. 
Janssen added that under the oversight decree, the jail is supposed to soon be installing electronic tracking technology, which will allow supervisors to see whether deputies actually visit each cell because it will be scanned on an app. Now, deputy check logs are kept on paper and filled out by hand. 
KTVU tried to find Martin's family and friends for comment but was unsuccessful. 
In addition, KTVU has been keeping a log of everyone who has died at Santa Rita since 2014 but was unaware of Martin by name or the circumstances of her death. While the previous sheriff's administration did report her death to the state Department of Justice, the office did not issue a public news releases on her in-custody death. 
With Martin's death now accounted for, 63 people have died at Santa Rita Jail since 2014. 
In reopening the Santa Rita Jail case, Price also announced that she is opening a Public Accountability Unit, holding law enforcement and public officials accountable for misconduct. 
Price's office is reviewing eight police-involved cases, including reopening investigations into the death of Mario Gonzalez at the hands of Alameda police in April 2021 and Oakland Police Sgt. Michael Chung after he fired a gun in the elevator of police headquarters last spring. 
The other cases Price is re-opening involve officer involved shootings of Cody Chavez by Pleasanton police in 2022; Caleb Smith by Hayward police in 2021; Joshua Gloria who was shot by Fremont police in 2021; Agustin Gonsalez who was shot by Hayward police in 2019; Mack Jody Woodfox killed by Oakland police in 2008 and Andrew Moppin-Buckskin killed by Oakland police in 2007. 
"We have seen many thoughts and prayers being bandied about the police murder of Tyre Nichols in Memphis, Tennessee. The people of Tennessee want accountability – and so do the people of Alameda County," Price said in a statement. "I promised accountability. This unit and its work are the start of the reckoning Alameda County has asked for holding people accountable for their misconduct."  
Lisa Fernandez is a reporter for KTVU. Email Lisa at lisa.fernandez@fox.com or call her at 510-874-0139. Or follow her on Twitter @ljfernandez