DA charges Danville officer in deadly 2018 shooting of unarmed man
DANVILLE, Calif. - The Contra Costa District Attorney on Wednesday announced that a Danville police officer will face criminal charges for a deadly 2018 shooting.
District Attorney Diana Becton charged Officer Andrew Hall with voluntary manslaughter and assault in the death of an unarmed, mentally ill man during a slow-speed chase in Danville. 
"Officer Hall used unreasonable and unnecessary force when he responded to the in-progress traffic pursuit," Becton said.
There is a $220,000 warrant for Hall's arrest, but he was not in custody as of Wednesday afternoon but is to be arraigned in court at a later date.
The decision ends a 2 1/2 year-long investigation into the death of Laudemer Arboleda. 
"The unnecessary death of Mr. Arboleda underscores the need for law enforcement personnel to better understand those who are suffering from mental illness," Becton said.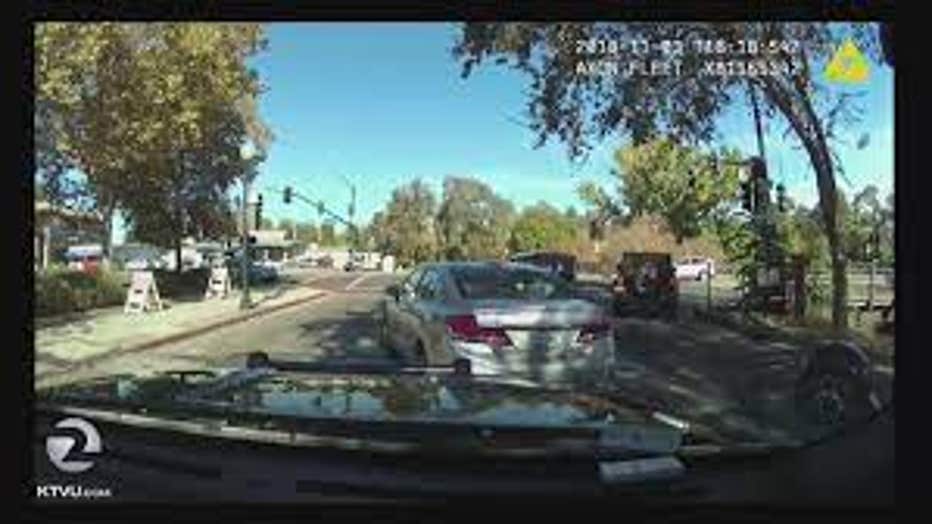 Dashcam video the day of Laudemer Arboleda was shot by a deputy. November 2018
The timing to charge Hall was noteworthy, given that former Minneapolis police officer Derek Chauvin had been convicted yesterday of murdering George Floyd. 
Becton said her decision to charge Hall had nothing to do with the George Floyd case. She said the reason it took over two years to file charges against Hall is because of a "backlog of prior law enforcement involved fatal incidents my office is investigating." 
Arboleda, 33, was shot and killed by Hall on Nov. 3, 2018.  Authorities say that at the end of a chase, Arboleda tried to run over Hall, who fired nine shots through the man's windshield.
If Hall is convicted, he faces 22 years behind bars. 
Arboleda's neighbors described him as quiet and antisocial. They said he was known to the police and may have suffered from a mental illness.
Hall is also on administrative leave after shooting and killing 32-year-old Tyrell Wilson last month, who had a knife in his hand.
The sheriff released video of that shooting on Wednesday. 
Civil rights attorney John Burris, who has filed lawsuits over the deaths of both Arboleda and Wilson said Wednesday of Hall, "The man's a murderer, and he had no respect for either one of these lives."
Burris added, "Each one, he initiated the contact. He's the one that created the confrontation if there is one. That's not good policing. It's poor policing."
Danville Mayor Renee Morgan said, "Our hope is that moving forward from these incidents, we will be able to build a better methodology in handling these issues within our community."