Deputies roughed up nurse during car stop, jury says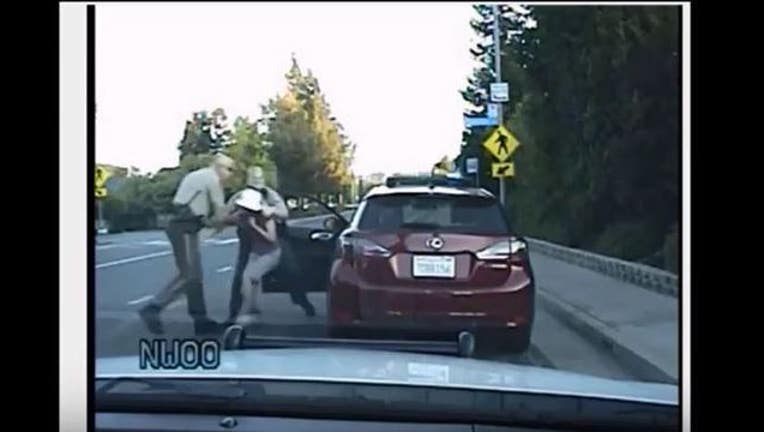 article
(KTVU) Los Altos, Calif. - Here's KTVU crime reporter Henry Lee's Rap Sheet blog for July 27, 2016:
JURY SAYS DEPUTIES USED EXCESSIVE FORCE: Two Santa Clara County sheriff's deputies used excessive force when they forcibly removed a woman from her car after she refused to sign a ticket, a jury ruled today, awarding her $40,000 in damages.
Deputies Daniel Forest and Rachel Strickland violated the constitutional rights of registered nurse Shiow-Huey Chang during a traffic stop in Los Altos on June 11, 2014, the panel concluded.
The jury also determined that Sheriff Laurie Smith "ratified" the conduct of both deputies.
"It's a wonderful win," said Chang's attorney, James McManis, noting that the jury specifically found that Smith "basically approved this conduct" because she had cleared the deputies of any wrongdoing.
In a civil rights lawsuit filed in federal court, Chang said she was driving on the Foothill Expressway in Los Altos when she noticed Forest in a marked patrol cruiser approaching her from behind at high speed. Chang said she tried to pull over to get out of the deputy's way but couldn't do so at the time because some bicyclists were in the bike lane.
Forest drove up alongside Chang and yelled, "Why are you f— stopping?" according to footage taken from the deputy's patrol car. He then mumbled to himself, "Why is she f— stopping in the middle of the road?" 
Forest pulled her over for a traffic violation and was soon joined at the scene by Strickland, Chang's suit said.
Forest wrote Chang a traffic citation, but she refused to sign it until she could speak to the deputy's supervisor, the suit said. Forest tried to convince Chang that the second deputy was his supervisor, according to the complaint.
After Chang repeatedly refused to sign the citation, Forest, who is about twice her size, "pulled her out of her seat, manhandled her, hit her head against the car, broke her glasses and cut her face," the suit says. Strickland assisted Forest in "physically subduing" Chang, according to McManis.
Chang was arrested and charged with resisting arrest. McManis filed a motion for Forest's personnel records, and rather than produce those records, prosecutors dismissed the case, McManis said.
SUIT: SANTA CLARA COPS BROKE WOMAN'S LEG: A woman filed a federal civil rights suit today against Santa Clara police, accusing officers of breaking her leg as they tried to arrest her teenage daughter.
Danielle Harmon, 32, says officers kicked in her door, grabbed her and broke her leg when they threw her into a stone pillar in April.
The officers were there to arrest her 15-year-old daughter in connection with a fire at the daughter's school, said Harmon's attorney Michael Haddad. But police did not have a warrant or any legal justification to enter the home, the attorney said.
"Ms. Harmon was never charged with any crime," Haddad said. "Ms. Harmon sustained major injuries, including multiple fractures to her leg requiring multiple surgeries that will likely leave her permanently disabled."
The suit accuses police of illegally raiding the home in retaliation for Harmon's refusal to allow officers to interrogate her daughter without an attorney.
The suit names the city of Santa Clara, Chief Michael Sellers and five officers. The defendants have not responded to the suit in court.
You can see Henry Lee daily on KTVU. If you have a tip for Henry, send an email to Henry.Lee@foxtv.com or contact him on Twitter