Collective relief, but more work to be done: Bay Area reacts to Derek Chauvin verdict
OAKLAND, Calif. - Elected officials, activists and others from the Bay Area and California largely praised the verdict in the Derek Chauvin trial. For many, it was a sigh of collective relief. At the same time, others took the opportunity to point out how much work has to be done when it comes to police reform and racial injustice. 
San Francisco Mayor London Breed said the conviction of ex-police officer Derek Chauvin in the death of George Floyd is a turning point for the country. 
"This verdict does not bring back the life of George Floyd. It can't replace the years of his life that were robbed from him, nor the life experiences and memories that would have been made with his friends and family," Breed said in a statement. "What this verdict does reflect is that the tide is turning in this country, although still too slowly, toward accountability and justice.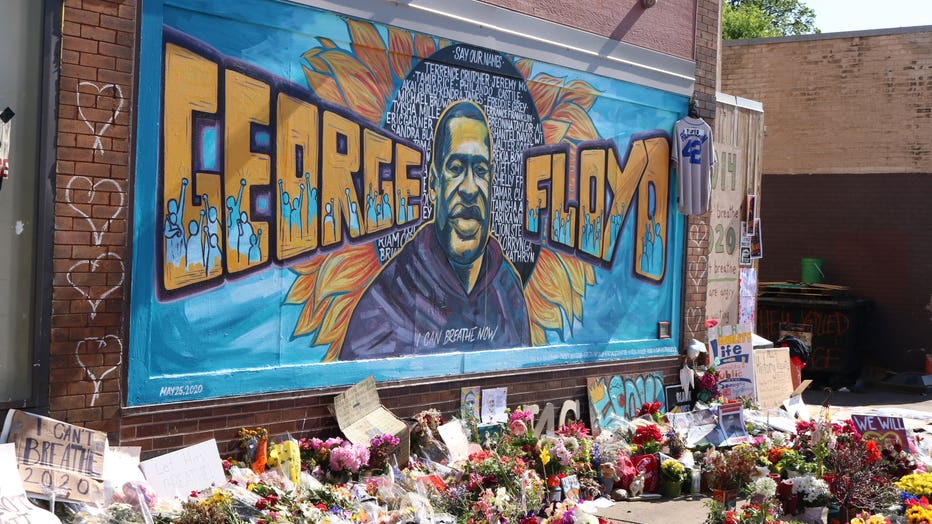 A memorial near 38th Street E and Chicago Avenue in Minneapolis where George Floyd died
SEE ALSO: Derek Chauvin found guilty on all counts in George Floyd's death
Chauvin was charged and convicted on all counts with second-degree unintentional murder, third-degree murder and second-degree manslaughter for kneeling on Floyd's neck for more than 9 minutes on May 25, 2020 in Minneapolis.
Oakland Mayor Libby Schaaf said the verdict in the case speaks to the nation's long history of systemic racism that resulted in Floyd's death and many others.
"Today's verdict is a just one, and it's also an indictment. The deep structural racism that pervades our country – and leads to the state-sponsored murder of Black men like George Floyd and too many others – must end. Juries shouldn't have to tell us this," she tweeted.
Leaders with Oakland-based Anti Police-Terror Project, who have organized to defund Oakland Police Department and who have criticized the mayor, said they were both "thrilled and stunned" by the verdict. But like many, they touched on how much work needs to be done towards abolishing racial injustice. 
"We want people to be clear we haven't solved white supremacy and anti Blackness. The people must know that it was the people who got this conviction. We know that when we organize, we win, and today is proof of that," the organization wrote. 
OPD included a line in a statement they released on the verdict that said, "Together we will work towards rethinking policing in America." They also said they seek to strengthen police and community relations. 
San Francisco Police Chief Bill Scott said, "Today's verdict concludes a criminal trial, but the work of doing justic for George Floyd doesn't end today. My hope for all of us in criminal justice roles is that we rise to this moment, and learn the lessons that history has frankly been trying to teach us for decades."
Brendon Woods, the Alameda County public defender, and the only Black public defender in California, said, "One verdict does not erase the harm and violence this system has inflicted on communities of color. This cannot be reformed." 
San Francisco District Attorney Chesa Boudin said, "Today's verdict brings relief to Americans but it doesn't bring justice. It doesn't heal the pain George Floyd's family has suffered. Boudin, who is now facing two recall efforts, noted convictions against police officers are rare and that the push for police accountability must continue. 
House Speaker Nancy Pelosi was roundly criticized for her poor choice of words, thanking George Floyd for "sacrificing" his life.
Appearing to clarify comments she made on the verdict earlier to CBC during a press conference, Pelosi said, "George Floyd should be alive today. His family's calls for justice for his murder were heard around the world. He did not die in vain. We must make sure other families don't suffer the same racism, violence and pain, and we must enact the George Floyd Justice in Policing Act."
Pelosi's earlier comment, "Thank you George Floyd for sacrificing your life for justice..." was met with wide criticism on social media and was said to be tone deaf.
Congresswoman representing the East Bay, Rep. Barbara Lee said the verdict, "cracked open the door to accountability, but true justice is a world in which this never happened to Mr. Floyd, or to countless others."  
U.S. Sen. Dianne Feinstein, who represents California, wrote, "The entire nation saw the trafic murder of George Floyd on television. This verdict is an opportunity to show all Americans that police must be held accountable for their actions." In addition, she invoked the familiar names of Black people who had also been killed at the hands of police.
"We are once again reminded of people like Freddie Gray in Baltimore, Walter Scott in South Carolina, Stephon Clark in California, Breonna Taylor in Kentucky and too many others who lost their lives to police brutality." 
San Francisco Giants posted on social media that the jury's decision was a "meaningful step" and that they are "committed to continuing to work to advance equity and justice and ending all forms of hate in our communities." 
The Golden State Warriors organization said they were encouraged by the Minneapolis jury's decision, "to impose accountability where it is so often missing." They called today a step in the right direction in the effort to achieve racial justice in America.