Dia de Los Muertos celebration a symbolic way to honor the dead in SF's Mission District
SAN FRANCISCO - Dia de Los Muertos, or Day of the Dead, celebrations took place all over the Bay Area Thursday night.
The popular Mexican holiday is a time to celebrate family and friends who are no longer with us.
Dancers, dressed in traditional Aztec garments, brought the celebration to life at the Mission Cultural Center for Latino Arts in San Francisco.
"It is a celebration of life that honors the memory of all of our loved ones who have passed," the center's executive director Martina Ayala said.
The Mexican tradition includes sugar skulls to represent the dead and music as a reminder that life should be celebrated.
At Potrero del Sol Park, there were no shortage of marigolds.
The bright orange flowers are meant to attract the dead and serve as a reminder that their presence lives on.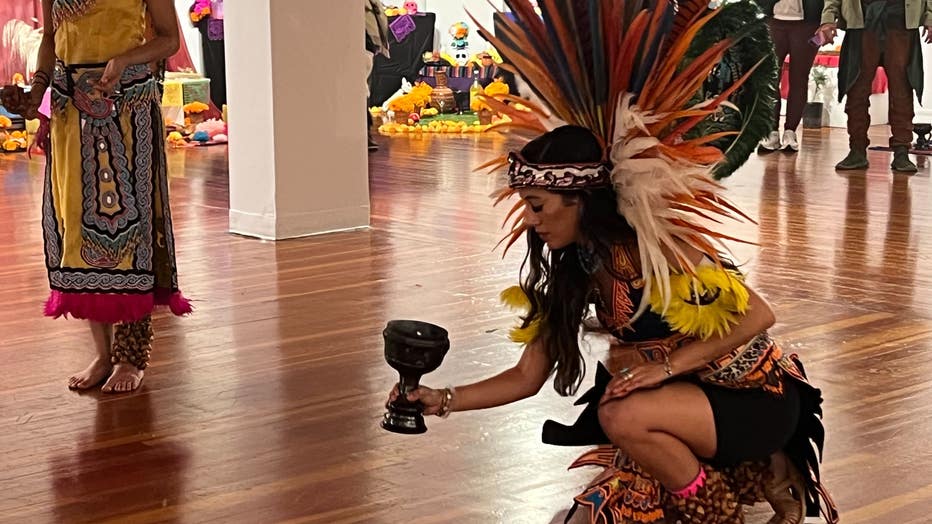 San Francisco Dia de los Muertos celebration in the Mission. Nov. 2, 2023.
"The first time we die is when we take our last breath," Ayala said. "The second time is when we are buried, but the final death is when we are forgotten."
Artistic altars displayed photos of loved ones who have come and gone.
Offerings of food and drinks meant for the dead were a focal point.
Steve Bown created an altar, customarily known as an ofrenda, for his friend Jonathan Conte.
"He was very charismatic," Bown said. "He was a great leader."
Others left greeting cards for their loved ones who have crossed over.
Some came from far away for the cultural experience.
San Francisco Dia de los Muertos celebration in the Mission. Nov. 2, 2023.
"Actually, I came from Houston, Texas," Allen Dave said.
The funeral home director said he wanted to learn more about the cultural celebration to provide his Hispanic clientele with a better experience.
Others from right here in the Bay Area got into the spirit with face painting.
"This only comes once a year," Cristen Berggren from Fremont said. "It's very fun. It's very festive." 
At the heart of it all, Dia de Los Muertos is a time to celebrate ancestors.
"We embrace death because we believe people continue to live on in a different form," Ayala said.
Even the candles were symbolic.
Each flicker lit up the shadows of death and represented a departed soul.
"We always live in the hearts and minds of our loved ones," Ayala said.
Organizers estimated more than 10,000 people would take part in the parade through the Mission.
Part of the proceeds will go towards updating the Mission Cultural Center for Latino Arts.
Ayala said the non-profit is hoping to raise $2 million with events like Thursday's.
The center needs the money to relocate for up to three years while the city-owned building is updated.
The 37,000-square-foot building will be getting earthquake upgrades and air conditioning repairs.
For now, staff members don't know where the center will be temporarily relocating to.