Will Donald Trump take a mugshot if he's indicted?
NEW YORK - Donald Trump announced over the weekend that he expects to be "arrested" this week as a New York grand jury gets close to wrapping up its look into hush money the former president paid during his 2016 campaign. 
Most experts agree any arrest won't look like a traditional Hollywood-style takedown. Trump will likely be given a chance to turn himself in and then be quickly released.
But that doesn't mean the event wouldn't be drama-free. The sheer number of reporters and photographers on hand to document the first-ever arrest of a former president will be enough to cause chaos in Lower Manhattan.
"Look, they're not gonna knock down his door and put handcuffs on him, but if he has to surrender and go before a court at 100 Center Street, the media – it will be insane on a level we've never even seen before," offered Arthur Aidala, a criminal defense attorney and former prosecutor who has been involved with some of the city's highest-profile cases.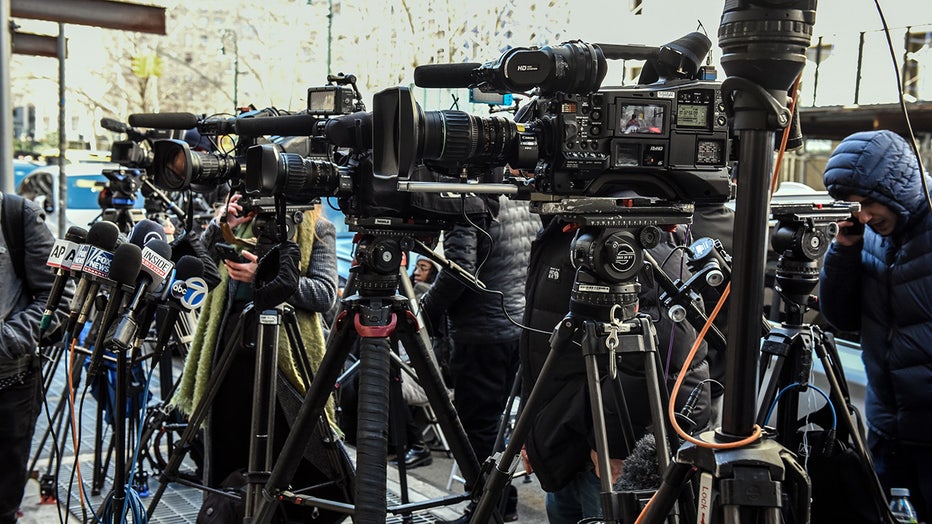 Members of the media outside the New York District Attorney's office in New York, US, on Monday, March 20, 2023. (Stephanie Keith/Bloomberg via Getty Images)
RELATED: Indictment vs arrest: What's the difference?
Trump's now-estranged lawyer, Michael Cohen, is at the center of the case against Trump. He told MSNBC on Sunday that he expects Trump will "absolutely" be fingerprinted and photographed if he's arrested.
On Good Day New York, Aidala agreed.
"He won't do a 'perp walk' where he's going to be in handcuffs, but he's got to go into the building, he's got to go somewhere in the D.A.'s office, he's got to be fingerprinted, there'll be a mug shot of him, he's got to stand in front of a Supreme Court judge, plead 'not guilty' to an indictment, and then walk out," Aidala predicted.
"The handcuffing part, I think the police and Secret Service are negotiating whether or not that would happen or the specific details," former chief assistant district attorney Karen Agnifilo told FOX 5 NY. "But yes, he will be processed. He'll be read his Miranda warning, he'll be photographed, fingerprinted. Whether or not there's a quote-unquote perp walk, I assume Mr. Trump will use the arrest of him as an opportunity to have more media done, so I think it may be his own perp walk is my guess."
Why would Donald Trump be arrested?
The New York grand jury has been looking into Trump's involvement in a $130,000 payment made in 2016 to porn star Stormy Daniels to keep her from going public about a sexual encounter she said she had with the Republican years earlier.
The money was paid out of the personal funds of Cohen, who then said he was reimbursed by the Trump Organization and also paid extra bonuses for a total that eventually rose to $420,000.
Cohen was one of several from Trump's former inner circle to provide testimony to the grand jury.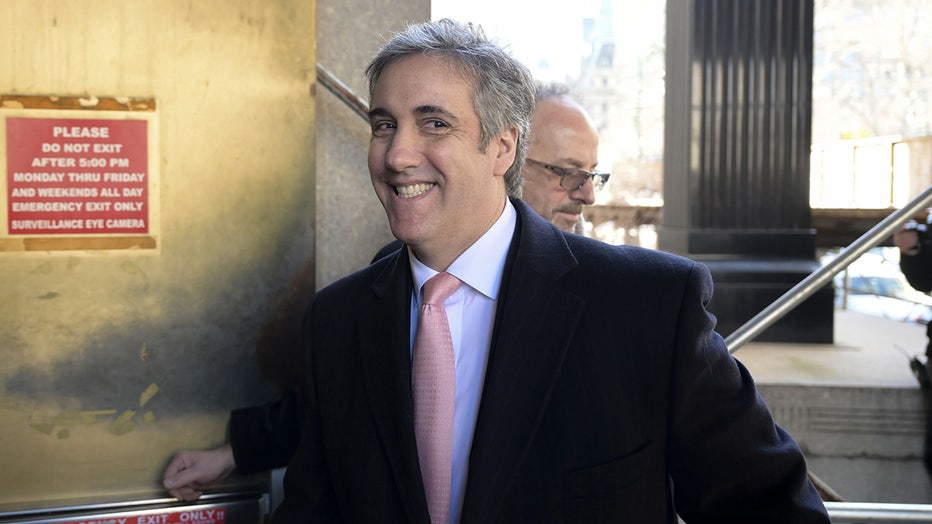 Michael Cohen, Donald Trump's former lawyer and fixer, walks out of a Manhattan courthouse after testifying before a grand jury, in New York, United States on March 15, 2023. (Photo by Fatih Aktas/Anadolu Agency via Getty Images)
Trump's former spokesperson Hope Hicks, his onetime political adviser Kellyanne Conway and Daniels herself were also known to be among the witnesses. Trump was also invited to testify, a move that many legal experts said was indicative of an incoming indictment. 
District Attorney Alvin Bragg's office had been examining whether any state laws were broken in connection with the payment or the way Trump's company compensated Cohen for his work to keep the allegations quiet.
Trump, 76, has said he did nothing wrong and cast the investigation as a "witch hunt" by a Democratic prosecutor bent on sabotaging the Republican's 2024 campaign.
Information from the Associated Press was used in this report.