Driver partied at Livermore Wine Festival before fatal crash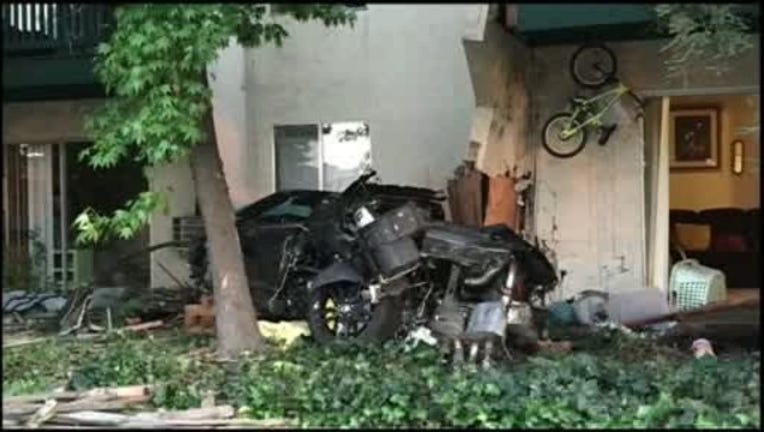 article
LIVERMORE (KTVU & BCN) – Police investigators say the man accused of killing of mother and her 14-month-old daughter in a drunk driving crash was at the Livermore Wine Country Festival on Saturday just hours before the crash.
Livermore Police say 35-year-old Brian Jones' blood alcohol content was nearly twice the legal limit when he jumped the curb on Murrieta Boulevard hitting Esperanza Morales and her daughter Juli.
Police say Jones' Corvette then hit a tree and plowed into the back porch of an apartment building, pinning Morales and her daughter underneath the car.
"I feel sorry for the family they lost a wife and daughter and now the husband has to be strong for that," said Santiago Hernandez.
He was inside the apartment building with his sons and heard the crash, ""Nobody want to see that… really bad. The lady under the car. little girl under the car."
Two other young children in the area were also injured by flying debris from the crash.
Witnesses described seeing smoke and debris after the car lost control.
Cynthia Chen also remembers seeing Jones right after the crash: "When they took him out of the car he couldn't really walk straight. Somebody said he was drunk."
Morales and her family were reportedly gathering that evening for a confirmation party.
Jones was released from jail on Sunday after posting $350,000 bail.
He faces charges of suspicion of driving under the influence and gross vehicular manslaughter.
He is expected to appear in court on Tuesday.
Meanwhile, the Morales family has set up a Go Fund Me page to help raise money to cover their funeral expenses.
Click here if you would like to donate: http://bit.ly/1dHNikF