Elon Musk takes witness stand to defend Tesla buyout tweets
SAN FRANCISCO - Elon Musk took the witness stand Friday to defend 2018 tweets claiming he had lined up the financing to take Tesla private in a deal that never came close to happening.
Some investors said the tweet cost them millions.
Musk made an unorthodox entry into the Phillip Burton Federal Building in San Francisco on the third day of trial, showing up in a blue Tesla that was allowed to drive through the basement of the federal building.
It's unusual because in other high profile cases such as the Mohammed Nuru corruption trial or Barry Bonds case, the defendants had to walk through the door like everyone else. But in this case, Musk was brought in through the basement. 
Once Musk, wearing a dark-colored suit, took the stand he testified for about half hour. At one point he testified, "I care a great deal about retail investors. They are our most loyal and steadfast investors."
He also stood by his habit of tweeting information about the companies he owns saying, "I think it's the best way to communicate with people… The most democratic way of communicating with people."
Attorneys for the plaintiffs questioned Musk if he saw the impact his tweets could have on the stock price. He said it's not hat simple. 
Musk said once he tweeted that Tesla stock was overpriced and the result was higher stock prices. 
After he finished his testimony on Friday, the trial was adjourned for the weekend. 
Musk is expected to return to court on Monday to answer more questions.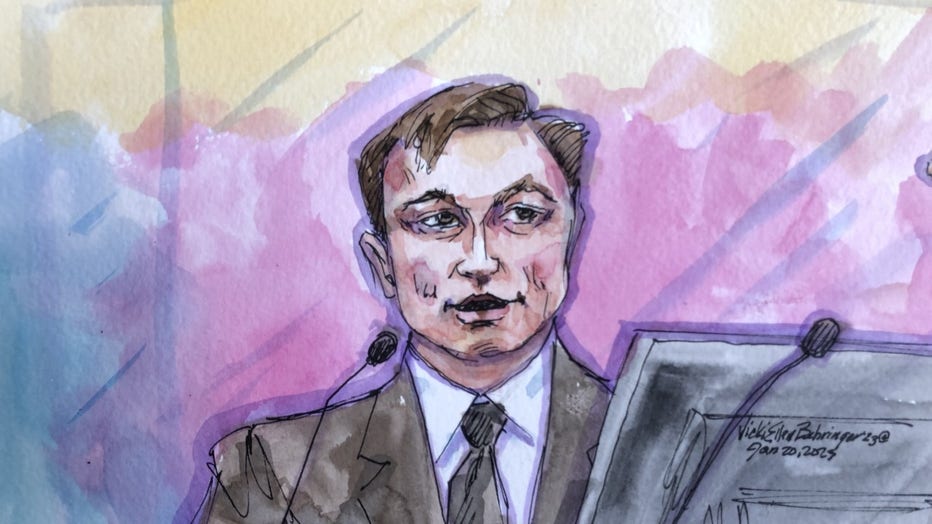 A courtroom sketch on Elon Musk on the witness stand in the trial over a 2018 tweet in which he claimed to have secured funding to take the automotive company private. (Sketch artist: Vicki Behringer )
The billionaire's lawyer unsuccessfully tried to move to Texas, where Tesla is now headquartered, on the premise that media coverage of his tumultuous takeover of Twitter had tainted the jury pool.
The trial hinges on the question of whether a pair of tweets that Musk posted on Aug. 7, 2018, damaged Tesla shareholders during a 10-day period leading up to a Musk admission that the buyout he had envisioned wasn't going to happen.
In the first of those two 2018 tweets, Musk stated "funding secured" for a what would have been a $72 billion buyout of Tesla at a time when the electric automaker was still grapping with production problems and was worth far less than it is now. Musk followed up a few hours later with another tweet suggesting a deal was imminent.
After it became apparent that the money wasn't in place to take Tesla private, Musk stepped down as Tesla's chairman while remaining CEO as part of the Securities and Exchange Commission settlement, without acknowledging any wrongdoing.
Those tweets also resulted in a $40 million settlement with securities regulators.
The Associated Press' Michael Liedtke also contributed to this report.