Emergency proclamation in San Jose ratified, waives permitting fees to flood victims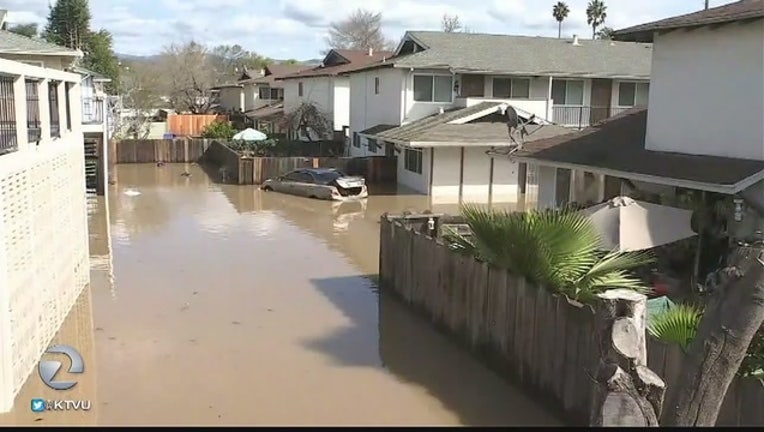 article
SAN JOSE (BCN)— A week after the Coyote Creek flood, San Jose City Council ratified the proclamation of a local emergency this afternoon.
   
The proclamation was first issued on Feb. 21. State law requires the council to ratify a declaration of local emergency within seven days of it being issued.
   
The council also voted to waive or defer permitting fees to flood victims.
   
City council today also decided to hold the first public hearing on the flood on March 9 from 3 p.m. to 9 p.m.
   
More than 400 households are still out of their homes, Mayor Sam Liccardo said. About 600 households are considered to be in extreme financial need.
   
The new shelter at Seven Trees Community Center provides laundry, a fitness center and proximity to a library and a park, but city officials are seeking other short- and long-term solutions for housing.
   
PG&E and the San Jose Water Company have both agreed to provide grace periods to those affected by the flood. PG&E will extend payment due dates by 30 days and the water company by eight weeks.
   
"I want to reemphasize that our top priority now is helping the victims and neighborhoods affected by this flood," city manager Norberto Duenas said. "We must learn all we can from this event so we can make sure this does not happen again."
   
Complaints that the city did not adequately notify residents, 350 of whom had to be rescued by firefighters as floodwaters rose in their neighborhoods, have resulted in much discussion among city officials.
   
"We all need answers," Assistant City Manager Dave Sykes said.
   
City officials have ordered three new long-range acoustic hailing devices, which can be mounted onto cars and programmed to announce messages in different languages.
   
The Santa Clara County Board of Supervisors adopted its own emergency declaration resolution for the county, which estimates $102 million in flood damage, only half of which took place in San Jose.
   
Monday's estimate of $50 million in damage to private property and $23 million of damages to public property has not changed, according to deputy city manager Kip Harkness.
   
Harkness said at a news conference this afternoon that creek levels were continuing to recede, as the Anderson reservoir is no longer overflowing.
   
Volunteers have swarmed the flooded neighborhoods, Liccardo said, tallying over 2,000 since Friday. On Saturday alone, 1,200 community members showed up to help.
   
Other volunteers who wish to help have been asked to sign up at http://helpindisaster.com/sanjose.
   
The Local Assistance Center at Shirakawa Community Center extended its hours to 7 p.m. tonight and starting Wednesday, will be open from 10 a.m. to 8 p.m. each day.
   
All of the county social service facilities on Senter Road were reopened today.
   
CalFresh recipients who lost food purchased with CalFresh benefits in the flood can request replacement items by March 23, according to the office of Board of Supervisors president Dave Cortese.
   
Medications that were exposed to floodwater can be refilled one time by the Santa Clara County Pharmacy Medication Replacement Service.