Employees of Oakland Starbucks, Trader Joe's file to unionize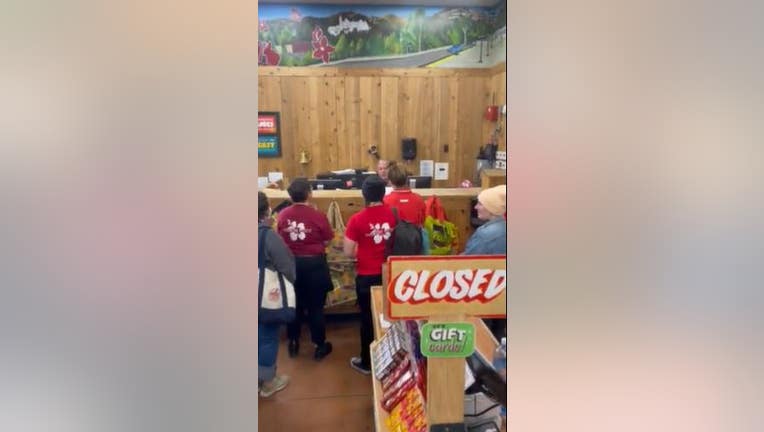 article
OAKLAND, Calif. - Employees of a Starbucks store and Trader Joe's, both located in Oakland, have filed to form unions, union officials said. 
Trader Joe's United, a worker-led movement organizing to unionize the grocery store, on Wednesday said crew members filed for an election with their union. The union posted video of the employees "Marching on the Boss." LA Times reported part of the workers' grievances has to do with employee safety, financial security and that there are about 150 staff members at the Trader Joe's location. 
A day earlier, employees of an Oakland Starbucks store became the first in the city and the second in less than a month in Alameda County to seek to form a union, union officials said.  
The Tuesday announcement pertains to a store at 1211 Embarcadero. Workers at a store in Pleasanton filed a petition in early March. 
Fourteen people work at the Oakland store, and a supermajority are in favor of unionizing, a barista said in a phone interview Tuesday. 
"There's numerous concerns," barista Nick Ratto said regarding the reason for filing the petition. 
The store has been understaffed, Ratto said, and while workers got a pay raise recently, managers cut employees' hours.
"At the end of the day, it ended up being a pay cut," Ratto said.
The understaffing has caused stress for workers, who are doing the job of 1.5 to two employees, he said.
Employees, or "partners" as Starbucks calls them, want their store to be an "enjoyable place to work" and they want to earn more money, Ratto said. 
Starbucks spokesperson Andrew Trull said in an email Tuesday, "We believe our direct relationship as partners is core to the culture and experiences we create in our stores. We recognize that a subset of partners feel differently--and we respect their right to organize and to engage in lawful union activities."
Fewer than 3 percent of U.S. company-owned stores have chosen to petition for union representation, according to Starbucks. 
"Should partners at our Estuary Cove store on the Embarcadero in Oakland vote in favor of union representation, we look forward to meeting Workers United in-person to begin the single-store collective bargaining process," Trull said. 
Starbucks partners Wednesday at a store in San Francisco went on strike for one day, saying their employer is engaging in union busting, according to the union Starbucks Workers United.  
Workers picketed outside the store at 4094 18th St. in the Castro neighborhood from 6 a.m. to 2 p.m. 
Workers will be back to work Thursday, said Melissa Palominos with the union. 
Eighteen Starbucks stores in California so far have unionized, Palominos said. That includes stores in Berkeley, two in Santa Cruz and one in Capitola, she said. 
Trull responded to the union-busting allegation, which the company "strongly denies," saying, "Starbucks has fully honored the process laid out by the National Labor Relations Board and remains fully committed to our partners' right to organize and engage in lawful labor activities. Starbucks is also defending the right of its partners to cast secret ballots through in-person, NLRB-supervised voting."
Starbucks denies violating any labor laws, Trull said. 
"No case initiated by Workers United related to the current organizing campaign has made its way through the entire litigation process, up to and including the federal courts of appeals," said Trull. "In many instances, the NLRB is also attempting to use cases against Starbucks to change existing labor law--not because Starbucks is failing to comply with the law as it exists today."
KTVU contributed to this story.