Ex-Warriors coach Mark Jackson defends role as TV analyst for NBA Finals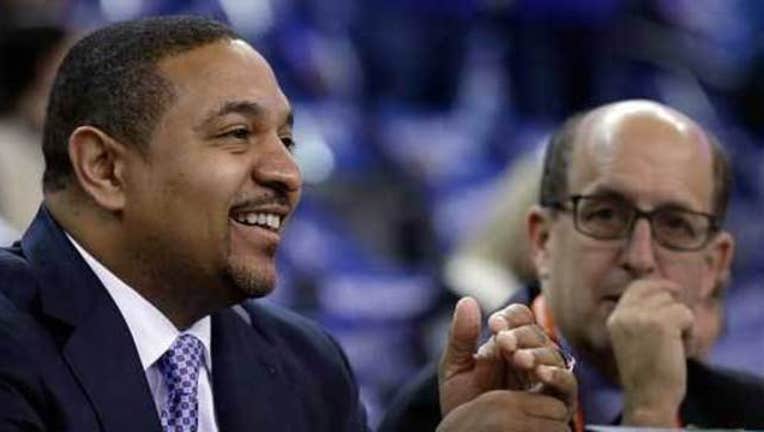 article
OAKLAND, Calif. (AP) — As awkward as it might appear, Mark Jackson believes his job analyzing his former Golden State Warriors team is really quite simple.
"To me, it's an assignment, and my job is to tell the story," Jackson said. "Sometimes people don't like the stories, but it is what it is. So to me, I absolutely feel like no matter, if I'm calling a game between my brothers or my parents, the facts are the facts. The story dictates itself to me, and I relay the message to the viewers as good as I possibly can. That's going to be my job whether it's the Warriors or anybody else."
Jackson has had plenty of practice in the year since the Warriors fired him and he returned to his old job as one of the lead analysts on NBA coverage for ABC and ESPN. He called a handful of Golden State games in the regular season and the first two rounds of the playoffs and then did the entire Western Conference finals.
Jackson will be sitting center court Thursday night calling Game 1 of the finals between the Warriors and Cleveland.
In a task some people have compared to being a videographer at an ex-spouse's wedding, Jackson's every word has been dissected for any signs of bias or bitterness.
"I read articles that I shouldn't be doing it," Jackson said. "To me, it was laughable. I'm absolutely winning and having the time of my life calling games with incredible friends and incredible people and working for an incredible organization. So it's been a blast for me."
Jackson had a mostly successful tenure at Golden State, posting a 121-109 record and the team's first back-to-back playoff appearances in more than two decades in his three seasons.
He was still fired after losing a seven-game first-round series to the Clippers last year with co-owner Joe Lacob saying he believed a different coach was needed to take the team to the next level.
Jackson's replacement, Steve Kerr, has done just that, earning universal praise and the coach of the year award.
Jackson, who backed Kerr for that honor, has had a complicated relationship with his former team as his role as an analyst has caused him to take unpopular stances.
In his first game back in Oakland in January, Jackson memorably delivered the line "You cannot disrespect the caterpillar and rave about the butterfly" during a discussion about how praise for Kerr had unfairly turned into criticism of Jackson.
Jackson said later that game that a "rim protector is overrated in this league" in a discussion about the importance of Warriors center Andrew Bogut.
Bogut's feelings toward Jackson were evident last week when he answered a question about Kerr hiring experienced assistants for his staff with this zinger: "Whenever you have a head coach that's not full of himself, it makes a huge difference," Bogut said.
Bogut isn't the only Warriors player who has been puzzled by Jackson's comments. After Jackson told a radio show in April that he believed Houston's James Harden should be MVP ahead of Stephen Curry, Curry said he was surprised to hear that. Curry later omitted Jackson in his lengthy acceptance for the MVP award that included thanks for countless others.
Curry said it was "weird" the first couple of times Jackson called Warriors games but that is no longer an issue.
"I don't really think about the connection to last year as much just because we're so wrapped up in the here and now," Curry said. "We've obviously talked all year about how important he was to changing our identity as a team and organization and what he did for us those three years. Obviously, we still believe in that. But we're about this year and kind of moving forward."
Jackson was complimentary of the Warriors fans, players and coaches in the closing moments of their clincher in the Western Conference finals last week against Houston.
When asked his emotions after Draymond Green came over to give him a hug and thanks during the trophy presentation, Jackson's voice cracked as he talked of his pride.
"To me, people blew out the emotional — a guy came over and said thank you," Jackson said. "If you came to my church, you would say, Well, he cries every week. People say thank you. People show appreciation. I'm an emotional guy. That was all it was."