Fast food workers, students throughout Bay Area stage tax day strike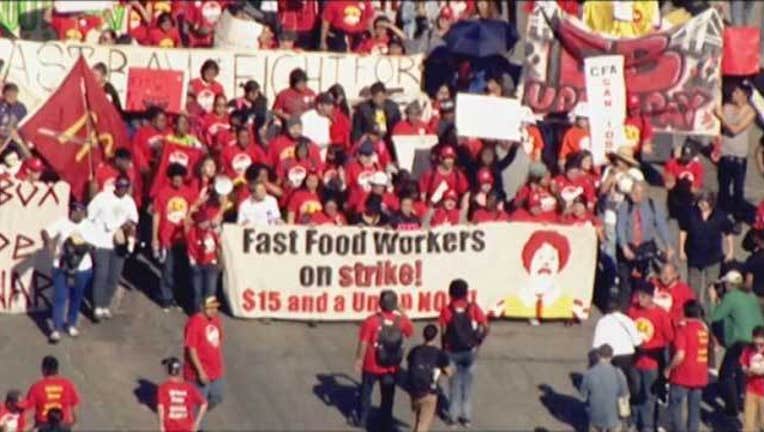 article
SAN FRANCISCO (KTVU and wires) -- Workers throughout the Bay Area were protesting Wednesday and calling for a $15 per hour wage, arguing that low pay forces many workers to rely on taxpayer-funded public assistance programs for survival.
Hundreds of people marched through Berkeley streets near the Cal campus early Wednesday evening to support raising minimum wage.
The group started at Sproul Plaza and headed to a McDonald's located at Shattuck and University, only to arrive shortly before 5:30 p.m. to find that the restaurant was closed.
As of 5:30 p.m., the group was continuing its protest at the intersection, blocking Shattuck and University in both directions.
Wednesday morning, the action began in San Francisco with a 6 a.m. demonstration at a McDonald's franchise location at 24th and Mission streets, where fast food workers went on strike in solidarity with other protests happening around the country. Similar strikes are occurring today in Oakland, San Jose and San Rafael.
Robert Reich, a professor at University of California at Berkeley and former U.S. Secretary of Labor in the Clinton administration, spoke at a demonstration in Oakland.
Minimum wage earners are no longer teenagers looking for extra money. They're adults and there are more of them than ever, many of whom are the primary breadwinners for their families, according to Reich.
"When employers are not paying their employees enough to get them and their families out of poverty, the rest of us are obligated to pay additional taxes to support food stamps, Medicaid and other public assistance," Reich said. "In a way, our tax dollars are subsidies for McDonald's, Wal-Mart and other companies that refuse to take that responsibility."
"The moral issue is clear," Reich said. "No one who is working full-time in America should be in poverty."
McDonald's employee John D'Amanda said he's on strike because he can't make ends meet. He's working with demonstrators to ask for a wage increase to $15 per hour, as well as the opportunity to unionize.
D'Amanda said that many fast food workers are on food stamps, Medi-Cal or other forms of financial assistance.
"That's costing taxpayers money, both state and federal," D'Amanda said. "And that's because fast food businesses refuse to pay a decent wage."
D'Amanda lives and works in Oakland, but said he still has to travel a lengthy commute to get from his home in West Oakland to his job in the Fruitvale district because he takes two different bus routes with a long layover at the transfer and cannot afford BART fare.
"I'm barely able to afford the $75 monthly bus pass," D'Amanda said. "That's a lot of money when you're only working 25 hours a week. Even though I'm making $12.25 an hour it's still not enough."
McDonald's issued a statement regarding the wage protests, saying that 90 percent of their franchise locations are independently owned and wages are set by the franchisee based on job level and local laws.
"Recently, McDonald's USA announced a wage increase and paid time off for employees at its company-owned restaurants and expanded educational opportunities for eligible employees at all restaurants," McDonald's spokeswoman Lisa McComb said in a statement. "This is an important and meaningful first step as we continue to look at opportunities that will make a difference for employees."
McComb also said McDonald's respects the right to peacefully protest, but that their restaurants remain open.